If Musashi's sushi bar was a person, it would be that good friend you go to for advice—it's straightforward, unintimidating and reliable.
Gokan by Musashi's, however, is his sexier and more stylish jetsetter cousin with whom you'd probably like to become better acquainted.
---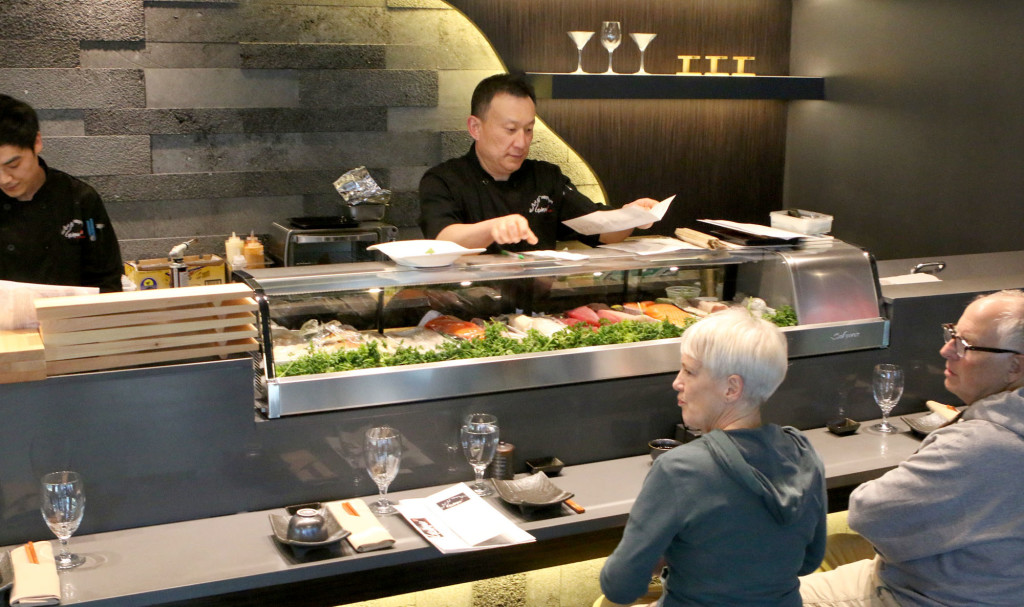 Capitol Hill's newest sushi bar by chef Jun Park features two wooded tatami rooms surrounded by water fountains, a tiled bar, and an authentic feel to accompany the food. photo by Taylor de Laveaga
---
Musashi's, the always-packed sushi joints in Bellevue and Seattle owned by Jun Park, is a favorite among college students (or at least this particular college student) for its filling meals at affordable prices, it's no-bullshit menu and its oh-so-heavenly $14.50 chirashi bowls. That's why when Park opened up a new sushi joint called Gokan last week just a stone's throw away from Seattle University, I nearly hopped out of my seat at the opportunity to taste it.
Gokan, which means "five senses" in Japanese, is aptly named. As I made my way onto East Union Street to meet my colleagues at the restaurant for Thursday dinner, what I saw through the windows immediately caught my attention: a modern, dark-tiled interior accented by sleek glass lighting installments and pops of red color throughout. Changing out of my hiking gear for dinner was definitely a wise choice, something I would have never considered if dining at the casual-but-charming Musashi's.
Once inside, my ears perked to the sound of trickling water, a melody that complemented my now-grumbling stomach.
When dining at Asian fusion restaurants, I don't usually have high expectations. I find that the flavors clash, the menu is trying too hard to be innovative and after a few bites I can't tell which culture's food I'm even eating. But given Park's reputation, I went into Gokan with an open mind and started ordering some rolls. With rolls priced around $10-15 named Green Lake Monster, Capitol Hill, Pike and Union Street, the restaurant draws inspiration from around our beloved city.
I ordered the Seattle U ($12)—because how could I not—a roll filled with tempura green beans, topped with fresh avocado and spicy shiso, chili and mayonnaise sauces. At first I was troubled by how basic the roll was, considering its association with what I perceive as our anything-but-ordinary campus community. But the ingredients were fresh, the flavors meshed well, and if the roll is a metaphor for how our students are soft and spicy on the outside, but satisfyingly crunchy on the inside, then hey—I can get on board.
Capitol Hill's newest sushi bar by chef Jun Park features two wooded tatami rooms surrounded by water fountains, a tiled bar, and an authentic feel to accompany the food. photo by Taylor de Laveaga
That theme of fresh, compatible ingredients permeated throughout the rest of our meal, including rolls like the SOS ($13), Kamikaze ($15) and B & B ($13). For each roll, it was clear which flavors took the lead and which flavors were supporting players, breaking my pre-conceived notions of Asian fusion as confused and messy.
At Gokan, presentation and taste both took center stage with artfully plated meals invoking the spirit each specific roll. The Kamikaze, for example, was a crunchy and sweet concoction of soft shell crab and eel, and was twisted around the stone plate like the elongated fish from which it was made.
But before I could make a conclusive judgment about Gokan, it had to undergo a maguro nigiri taste-test, the method by which I judge the caliber of all sushi restaurants. Two sizeable pieces of beautiful, deep-red maguro nigiri ($6) arrived in front of me, and while the flavor wasn't necessarily mind-blowing, it certainly did not disappoint.
As we were eating, my dining companions and I mused that Gokan, with its sleek interior and tasteful menu, would be better situated in a high-rise overlooking the city. But perhaps with the new presence of Slab, Meat and Bread, and Lark also on the same block, Gokan is at the forefront of a changing food and drink atmosphere on Capitol Hill.
Towards the end of the meal, one of my friends ordered the Salmon Lovers roll ($14)—spicy salmon, avocado and cream cheese topped with black tobiko and, get this, a slice of lime wedge. I'm not used to seeing limes on my sushi, but I had to give it a try—and it was absolutely inspired. It was refreshing, flavorful and probably my favorite thing I tasted that night.
As we were exiting the restaurant close to 10 p.m., a group of sharply dressed twentysomethings were pouring in to occupy the bar, highlighting the major difference between Musashi's and Gokan: Gokan isn't the place to be if you just want a casual meal. It's the kind of place where you take someone for a date and where the waitstaff doesn't laugh at you when you drop your chopsticks clumsily and fail to catch each stick mid-tumult (yes, that happened to me).
So despite the final bill amounting to triple digits for the four of us, Gokan was certainly worth getting to know. Gokan is like that no-nonsense kind of friend. Sure, at first it may seem like he's trying too hard to seem cool, but then you realize, maybe Gokan really is actually just that cool.
Melissa may be contacted at [email protected]