Sports Coverage: an Uneven Playing Field
On the first day of a class I once took, we were instructed to introduce ourselves and we were interested in. After two of my male classmates expressed interest in sports journalism, my professor got excited, and asked them their favorite teams and what they thought of the Seahawks this year.
When I told him that I was interested in being a sports broadcaster, my professor smiled and asked why. After explaining my love of sports he pondered this for a second and then asked, "have you maybe thought about exploring any other type of journalism?"
Why was it that my desire to enter into the world of sports journalism, specifically broadcast, was questioned, while my male classmates were readily accepted?
---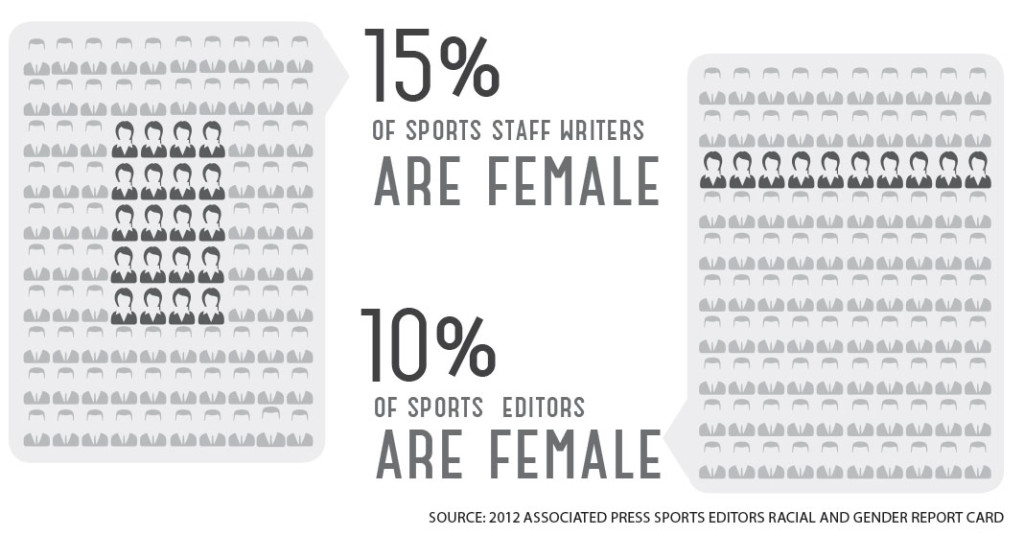 ---
Professional sports and all that surrounds it, has always been, and continues to be, a male-dominated industry catering primarily to men.
Specifically, sideline reporting has become a place for women to be objectified and treated as eye candy instead of a professional building block to the booth. Granted, female opportunities have come a long way. However, while women have advanced in almost all other fields, it seems as if sports media is a step behind. Even with Title IX, when Lesley Visser became the first NFL beat writer in 1976, her media credential actually said "no women" in the press box.
Women weren't even allowed in the locker room until 1978 after Amanda Ludtke took Major League Baseball to court after not being permitted in the locker room at the end of the 1977 World Series. Even now, derogatory comments from players, coaches, and fans continue to be a constant struggle.
While it's true you rarely see a less than attractive person on television, there seems to be extra emphasis on women on the sidelines.
"[Erin] Andrews is the subject of worshipful YouTube videos and the object of salacious comments and trashy gossip on Internet chat boards," the Washington Post noted. "Something Dick Enberg or Joe Buck probably never had to contend with".
Not only do women have to be perceived as attractive, when they get what is deemed as too old, they are replaced.
As of July 2014, every female sideline reporter was under the age of 50. In contrast, their male counterparts are much older: Jim Nantz, 55, Phil Simms, 60, Al Michaels, 70, Lou Holtz, 78, and Lee Corso, 79.
Women also report of a need to prove their knowledge on the game. It appears that some people believe that the ability, and want, to know sports is an inherent value of the Y chromosome. It seems unfathomable, and almost impossible, that women could reach the level of knowledge that men are born with.
In another class I took, we were instructed to give a presentation on a figure of our choice. I chose Ernie Davis, the first African American Heisman winner. When I told my professor whom I had chosen, he asked me if my dad was going to help me with the project. When I said no, I know a lot about him already, he laughed.
Another barrier is the stereotype; if you didn't play the game, you don't know the game. Howard Cosell, widely regarded as one of the greatest, and most controversial, sportscasters of all time, never played any of the sports he covered. Bob Costas, Dick Enberg, or Al Michaels never played sports professionally, but are legendary in the business.
"Our industry is filled with a lot of sports reporters who have never played the game of football," said Alex Flanagan, a female reporter for the NFL Network. "So what's the difference between you as a (male) sports reporter, or sportswriter, who never played the game of football, and me as a female who has never played the game of football, in knowing the game of football?"
Though it appears that this misogyny is at a level left for big name ESPN reporters and sports writers to solve, it is still present in our community. . Women have long had the potential, ability, knowledge, and overall drive not only to be prominent figures in the sports journalism industry, but to be in the same booth as their male counterparts. Gaining access to play-by-play calling and analyst positions may be one of the last major steps for women in the field. The first step though is a change in attitude, not only within the industry, but close to home too.
The editor may be reached at [email protected]ctator.com
Leave a Comment