Upon the shelves surrounding me in the Henry Art Gallery, neatly placed stacks of newsprint paper sit side-by-side. Each stack contains a different short passage. One of them quotes a line from Margaret Atwood's 1985 dystopian novel "The Handmaid's Tale,":
"Behind me I feel her presence … A woman made into an angel, waiting to be found. By me this time."
This stirs something within me, so I take it—picking it up from the shelf and placing it in my bag.
No, I am not breaking any rules. I am supposed to do this. Unlike many exhibitions with tiny plaques next to the art that read, 'please do not touch,' this artist, Ann Hamilton, encourages the opposite in her exhibition, titled "the common S E N S E." She takes it a step further by allowing visitors to take any piece they want to keep (a free portfolio is provided for this purpose).
Navigating through the different rooms of the gallery, there are more shelves with different stacks of paper—some shorter than others, and some spaces, where stacks once resided, are now empty.
At the center of the rooms are glass cases filled with various objects—ones not for taking—ranging from old books and puzzle pieces to scissors and taxidermy animals.
The largest room, which extends into two additional rooms, has its walls covered in dead animals scanned and printed on various sizes of newsprint paper, available for visitors to rip off from the wall and take home.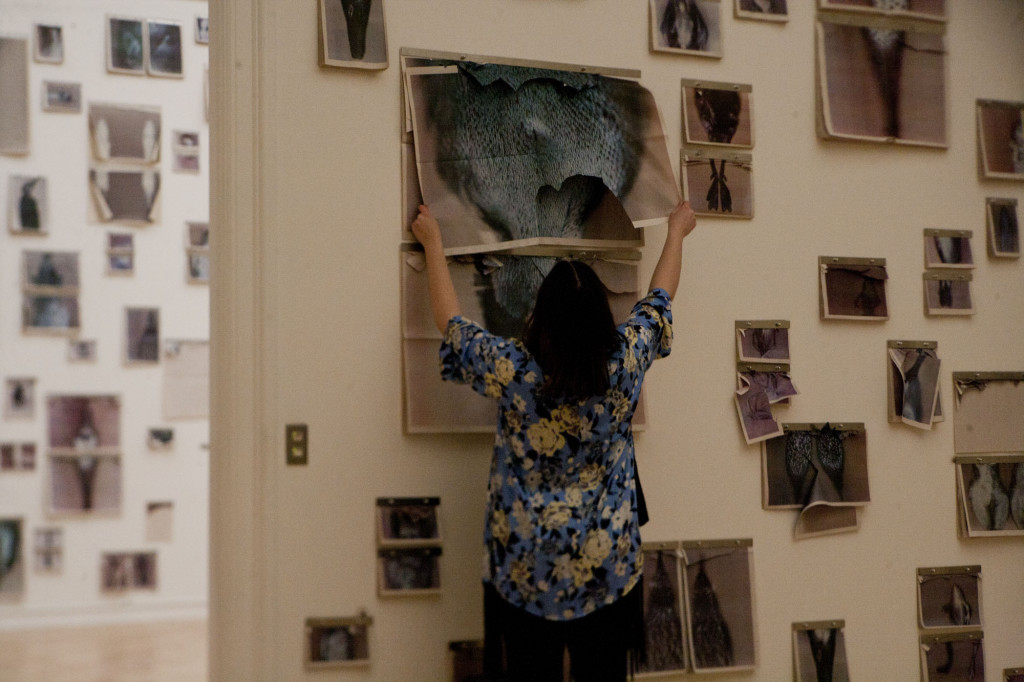 The Ann Hamilton exhibit is showing at the Henry Gallery, located on the University of Washington campus.
At the bottom floor of the gallery, there are carts covered with curtains (think hospital beds in an emergency room curtained off). I part the curtains of each cart to peek inside and find a bed with articles of clothing made from animal skin. Hanging from each cart is a tag, in mortuary style, identifying the type of clothing, what animal it is made from, and what year it was used. By whom? That, I do not know—someone, simply, from the past.
There is something calming and poignant stirring within me as I read the different texts, as I explore the large room of images or stand amid what feels like hospital beds. It is also a bit shocking and unsettling as I remind myself that the animals in the images and the animals sewn into the clothing are all dead.
So what exactly do these texts, objects, images and clothing have in common?
They all speak to the common sense that each living thing possesses: touch.
The texts are instances of touching and being touched, literally and figuratively. They explore relationships with other people and animals, the experience of physical and emotional touch, and the lasting impression people, places and things leave behind.
The taxidermied animals themselves were alive once and have certainly touched this earth in the same way other beings have touched it. And even after their deaths, these preserved animal bodies are still touching visitors in a way—their presence becomes part of the visitor's experience in this exhibition.
The images of the scanned dead animals have a similar story. The torn remnants left behind of images and stacks of papers slowly shrinking serve as evidence that many others before me have come to touch part of this exhibit—to play a part in a conscious instance of experiencing and touching something that will no longer be there once the exhibition closes later this month.
The words, objects and dead animals serve as reminders of fleeting moments; they are a reminder of our own finite bodies which will one day also be something that has just passed through moments of life, touching other lives and nature both directly and indirectly.
It is also evident that this exhibition has touched many others who have passed through since it first opened in October last year. While stacks of papers with printed text have shrunk over time, a new kind of stack was generating—this time one of distorted and blurred photos of the visitors who have passed through. It is an optional part at the end of the gallery where people can, if they so choose, have their photo taken and printed, which will be displayed a week later as part of the gallery. This one cannot be taken home.
I was informed there was no way to access this image besides coming back in a week to see it displayed with the others. But I opted to have my photo taken anyway. After all, part of touching is reciprocating. I took many things from this exhibit, and now I'll let it take a piece of me in the form of a photo. This way I can leave my own unique fingerprint on something that has touched me.
The last day to touch this exhibition is Sunday, April 26.