Put Some Spring in Your Style

1. Spring Bling
This season, the bigger and bolder your jewelry, the better. With spring's long-awaited arrival, those colorful gems you've kept hidden away are more than ready to come out of hibernation. Show off your cute hand game with an assortment of different sized rings, or let your necklace do the talking and make it your fashion statement for spring!
2. Blossoms & Blooms
Get the fashion bees buzzing all about you and your flower power. This year, the tried and true floral trend is still one to be owned. Rock the spring queen title and crown your locks with a soft floral headband. Want to let your hair flow in the wind instead? Let the flowers traipse around on your outfit—maybe a cutie will stop to smell the roses and pick you instead.
3. Modest Proposal
The length of your skirt doesn't need to be short to be fun. Why not let the hem of your dress flirt with your ankles instead? The resurgence of this old favorite is bound to turn heads nonetheless. Pair your lacy crop top with a flowing maxi skirt or opt for a button-up dress that falls just below your knee to give you that touch of innocence.
4. Sandaled in Seattle
Do your feet feel suffocated in boot prison and yearn to feel the blades of grass again? Fear no further, because as the temperature goes up your used-sock count goes down. Slip on your treasured pair of strappy sandals and strut your stuff. And don't forget to treat yourself to a pedicure before you do—those toes are practically begging to be painted!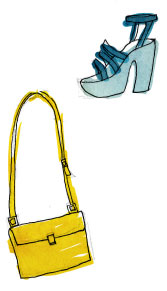 5. Sunshine Bright
With such a wide array of color palettes at your disposal, which one should you choose to don this spring? Top designers say yellow is the way to go. Liven up any outfit with this cheerful color and you will be sure to dazzle anyone and everyone in your path. The brighter the shade, the more you'll shine and stand out from the crowd!
6. Shirt-Dresses and Frills
With the comfort of a t-shirt and the style of a dress, button down shirt-dresses are all the rage this spring. Play it up with a bright cardigan and a cinching belt, or go for the more sophisticated look with neutral wedges and a posh purse. Add frill detailing around the top to tie the whole shebang together.
7. Silky sweet Robes
Tired of the drab top and bottom combo? Need that little extra pizzazz but don't know what to add? You should hit the streets dolled up in a silk robe. Wear it long or short, patterned or boldly colored, this versatile slip-on will make you feel like an effortless spring goddess. The perfect mixture of sexy and sweet—what more could you ask for?
Vikki may be reached at [email protected]
Leave a Comment