"I love her," is something people usually say about their friends, family members and sweethearts. But a new photo exhibit on campus proposes that it is also something people should say about themselves.
Seattle University juniors Monica Lloyd and Kathy Rizzo met during their freshman year. Lloyd was one of the first people with whom Rizzo shared a secret she had been keeping from most other students: due to an autoimmune disease called alopecia, she had no hair.
She had been diagnosed when she was in the third grade, and all of her hair was gone by seventh. By the time she met Lloyd, she was wearing a hairpiece.
"I didn't enjoy who I was or how I looked, which is really sad," Rizzo said. "I think that that's a tragedy for any person."
Lloyd, who had been interested in photography for years, was given an assignment in one of her classes to shoot a portrait of someone she loved and cherished. She thought immediately of Rizzo.
During the shoot, they decided that Rizzo would remove her hairpiece. Thrilled with how the photos turned out, Lloyd posted them to Facebook that day, and Rizzo made one her profile picture.
It was a coming out of sorts—and the response was overwhelmingly positive and encouraging.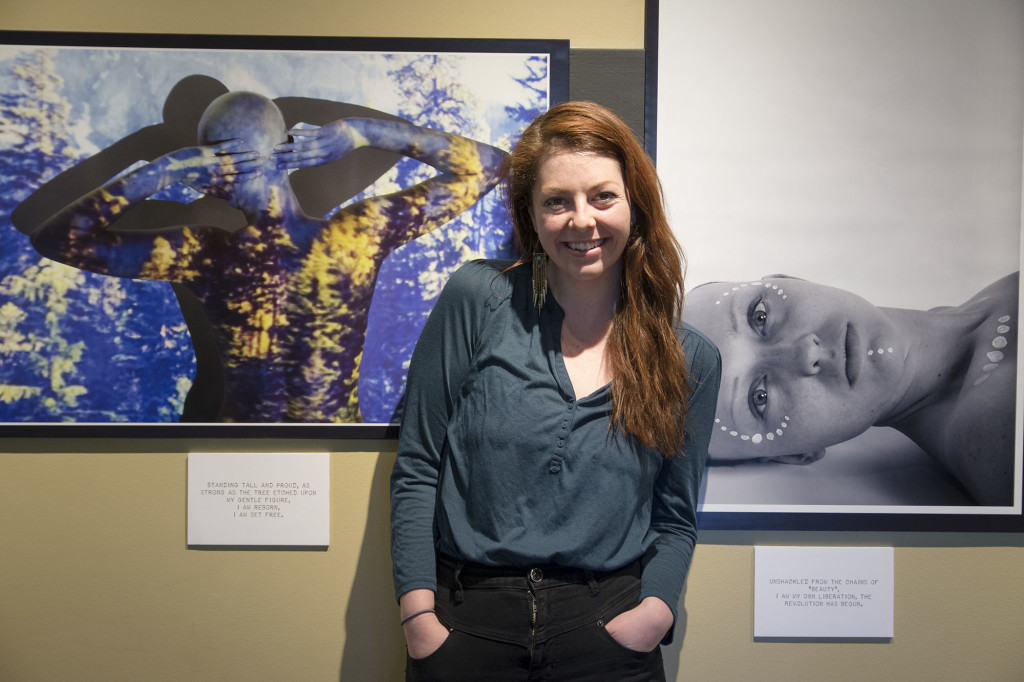 Photography student Monica Lloyd poses with her photo show that is currently being featured in front of the Bistro.
"I was able for the first time to see myself from the eyes of someone else, and recognize what I saw as truly beautiful," Rizzo said. "And that was the first time that happened for me."
The photos became a catalyst for Rizzo's own self-acceptance and love. For the next couple of years, Rizzo and Lloyd continued doing photoshoots, changing and developing as Rizzo grew more comfortable with herself and as Lloyd grew more comfortable with the camera.
Now, a selection of photos from those shoots has been compiled to create an exhibit called "Metamorphosis," which is on display outside of the Hawk's Nest Bistro on campus until the second week of May.
According to Rizzo and Lloyd, these photos aren't nearly so much about alopecia as they are about the journey of self-love.
"My photography was a catalyst to help Kathy see the way I see her," Lloyd said.
In the photos of Rizzo, trees appear thematically in almost every shot. According to Rizzo, Lloyd's incorporation of trees in the photos was a way to capture the essence of her soul. Both say that this is due to Rizzo's deep connection with nature.
"I like to compare her to Eve from Adam and Eve when people ask me about her—it's really kind of my go-to comparison," said Lloyd.
These days, Rizzo has a full head of hair, which she says helps her to see what is beautiful in the mundane.
"Some things that people just don't even notice anymore—I will stop in the middle of my day just to feel the wind blow through my hair," Rizzo said. "Because it's like, that hasn't happened in eight years."
Under each photo is a short poem written by Rizzo. After choosing the photos they wanted to present in the exhibit, Rizzo examined each one for a few minutes and decided what she wanted to write. Together with the photos, the verses narrate a journey of self-acceptance and self-love—something they say is reflected in Rizzo's appearance, but not limited to it.
According to Rizzo, everyone has something they try to hide, or something that they are uncomfortable with. But they chose the title of "Metamorphosis" for a reason: it shows, most primarily, a change in the view of oneself.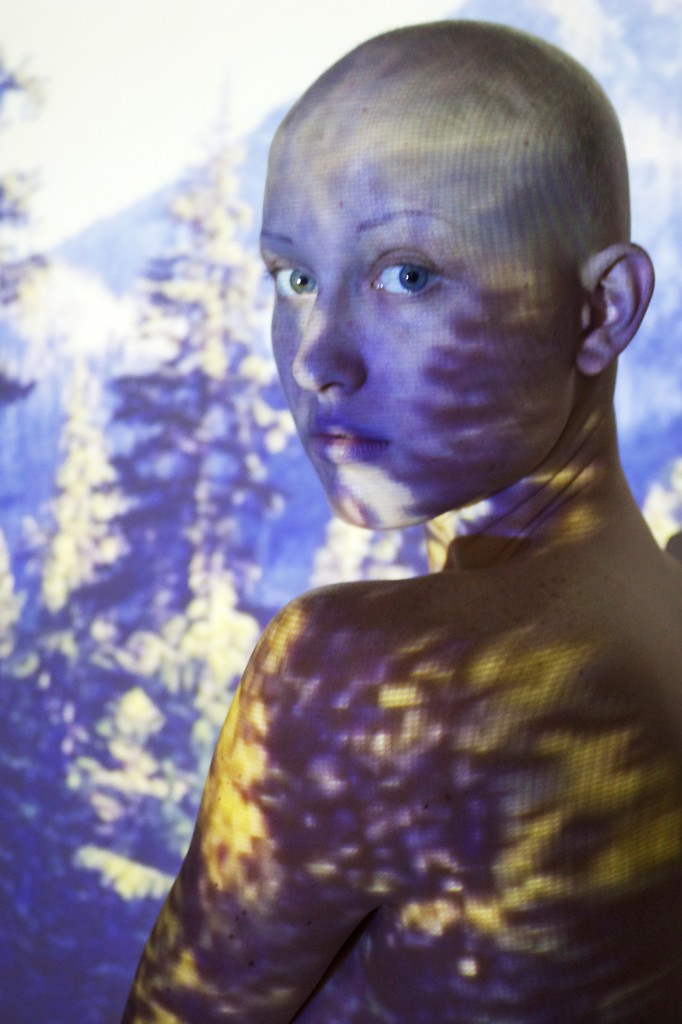 Rizzo and Lloyd hope that people will take from this exhibit the desire to cherish and celebrate themselves. The last photo in the exhibit shows Rizzo front and center, not obscured by anything, her stark eyes looking directly at the camera. The last line of the poem beneath it says "I love her." It is clear that she is referring to herself.
"I think it's about more than just hair, although that's a really great visual catalyst for this journey. I think it's about self-love," Rizzo said. "I think it's about being at peace with yourself, and not just liking yourself, but f**king loving yourself."