Choir Says 'Come to the Water' Before Finals
With finals just around the corner, stress levels are getting higher and higher. It helps to take a much-needed (and well-deserved) moment to step back, reflect and immerse yourself in a calm environment. This weekend, Seattle University Choir is offering just that.
The Lenten Prayer Choir Concert, titled "Come to the Water," is an annual gathering in the Chapel of St. Ignatius to celebrate the Lenten season.
"Lent is one of the penitential seasons when you're stripping away stuff that you don't need and taking in things that you do need," said Assistant Choir Director Dr. Lee Peterson.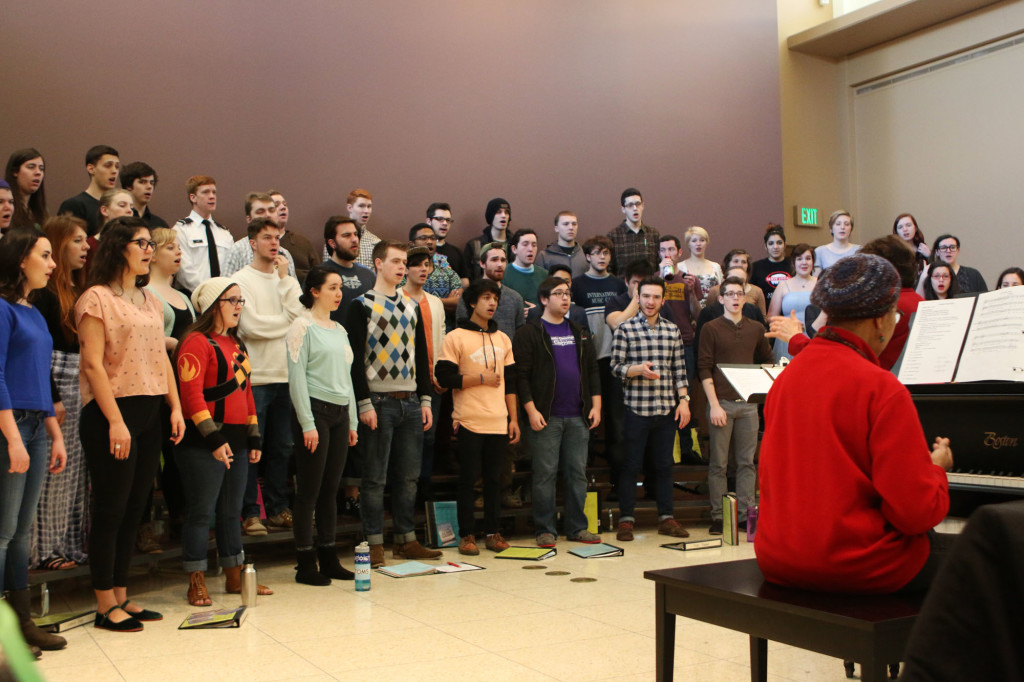 The Seattle U Choir rehearses for their Lenten Prayer Concert with Assistant Choir Director Dr. Lee Peterson on piano.
For this reason, the Lenten Prayer concert will have no applause, "So we move seamlessly from one piece of music to another, helping people to create a state of contemplation and reflection," Peterson said.
The silence will allow the audience to tune into their consciousness through the music.
The group will perform a variety of pieces at the concert, including a gospel song, a classical song, a chant song and many more. The musical program will also feature pieces written by Peterson and Choir Director Joy Sherman.
"It's a huge variety of music that all kinds of people can hook into," Sherman said.
One unifying theme that is present in many of the pieces is water, a Lenten image commonly associated with rebirth. There is a song written by a Jesuit composer titled, like the concert itself, "Come to the Water," and a song performed just by the men in the choir, from Isaiah 44:3, "For I will pour water upon him that is thirsty."
The program includes pieces sung just by the women in the choir, as well.
"I'm really excited to hear the women's choir pieces that we have," said junior voice major and choir member Kelvin Mason.
The first song that the choir sings as a whole is one written by a German composer who is known for his Lenten Prayer music.
What all the pieces have in common is that they're "talking about the fulfillment of the blessing of God," Sherman said. But the music also has an important message that nonreligious performers and audiences can take back with them.
"When you're performing, you need to think not about what you're going to get out of it, but what you're giving," Sherman said. "This concert is always about giving and sharing with each other."
"When we're singing, everyone's vibing off each other … It's a group effort," Mason said.
At the end of the performance, the choir will stand around the perimeter of the audience as a way to promote this giving to others.
"I have had students tell me that through the singing of our music, they have experienced their first spiritual experience," Sherman said.
Whether or not you are religious—and the majority of people on this campus are not religiously affiliated—you are sure to find something within yourself.
"[The audience should] get whatever they want to get," Mason said.
Aside from religious themes, the pieces also express messages of community and caring through music. In fact, this notion of love and support extends into the choir's rehearsals and even their auditions.
The members of the choir are deeply encouraging of one another. While auditioning for the solos in the pieces that they will be performing at the concert, everyone in the choir was in the same room. After each singer finished their audition, their peers snapped their fingers.
This positive, welcoming energy is an important part of the choir's ethos, both onstage and off. And this weekend, that energy will feed right into the audience.
"I'd like to encourage people, that when they come, not only to listen, but be aware that … Lenten Prayer is something that everyone does together," Peterson said. "They will bring something and they will come back with something."
And what better way to share in this sense of community than through music?
"[Music] settles into our souls and it changes our lives, so it goes into us just like God is in us," Sherman said.
The Lenten Prayer Concert is this Saturday, March 7 at 8 p.m. in the Chapel of St. Ignatius. There is no admittance cost.
Siri may be reached at [email protected]
Leave a Comment