Panel Tackles Racial Bias in Drug Arrests
Seattle has a reputation for being sensitive about social justice issues. However, that reputation is quite far off.
"Seattle was the second most extreme midsized U.S. city in racial disparity in drug arrests," said Lisa Dauggard, referring to Seattle's comparative ranking in biased law enforcement prior to 2007.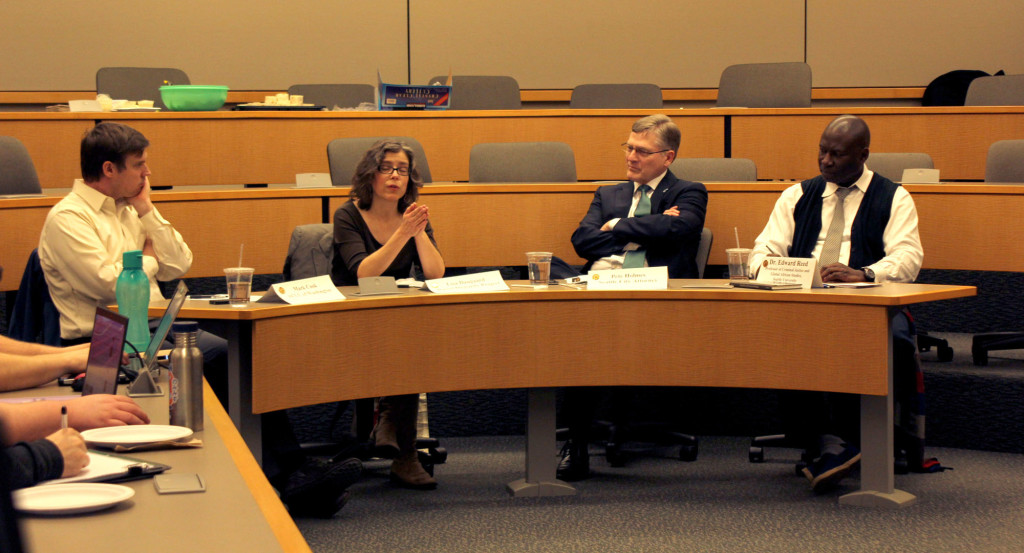 Mark Cook of ACLU of Washington, Lisa Daugaard of the Racial Disparity Project, Pete Holmes, a Seattle City Attorney, and Dr. Edward Reed a Professor of Criminal Justice and Global African Studies at SU were panalists for a discussion on the U.S. drug policies.
Dauggard is a member of the Racial Disparity Project at the Defender Association, a Seattle based project aimed at improving racially biased police tactics. She was on a panel discussing U.S. drug policy in Seattle University's Sullivan Hall this weekend.
"Any idiot could tell that the only people being arrested for drug crimes in Seattle were black," Dauggard said.
Seattle U professor of criminal justice and Global African Studies Dr. Edward Reed, Seattle City Attorney Pete Holmes and Mark Crook from the ACLU of Washington also sat on the panel. The speakers addressed the ways in which the war on drugs is used as a justification for many government interventions into the lives of ordinary citizens. Their comments tie into a larger national story concerning the unconstitutional practices of police in both Newark, N.J. and Ferguson, Mo.
Specifically, the panel addressed issues of selective enforcement in drug related arrests, the ineffective quality of drug criminalization, and the violations of civil liberties posed by the war on drugs.
"We have to stop thinking about this issue as a matter of 'just a few bad seeds' within a larger community of officers who don't abuse their power," said sophomore Madison Grimsby, referring to police misuse and abuse of the law. "We have to look at officer training and screening programs currently in place."
Grimsby's opinion is indicative of the national tension that has built between police and the citizens they serve. Police departments have been under increasing scrutiny as more and more incidents of police abuse of power have made their way into the public sphere.
Dauggard did present some hopeful news, however. Her work with the Racial Disparity Project has birthed programs like Law Enforcement Assisted Diversion, which works to divert low-level drug and prostitution offenders into community-based treatment and support services, instead of processing them through traditional criminal justice system avenues. But still, her point was underscored by criticism from the other speakers of the Seattle Police Department as well as Washington's larger legal system
The SPD has a record of selective enforcement in drug-related arrests, and many speakers on the panel admonished officers for their abuses of power, similar to the larger national admonition of officers in Ferguson and Newark. Reed spoke to the SPD's failure to adapt their policing tactics to more effectively handle community disorder and drug issues. Reed asserted that the SPD, and other departments across the country, failed to utilize community policing—a style of policing that is personalized, relational and decentralized.
In a community-policing model, officers work to establish relationships with community members, identify areas of community "disorder" and address that disorder in a way that best suits the community in question. Reed pointed to Seattle U Public Safety officers as setting a precedent for community policing in Seattle.
While the SPD has adopted a small community-policing program that has been hailed as a possible model for other departments, the panel expressed concern that the SPD program lacked substantive value.
"It was not a model at all, [the SPD program] consisted of very few people and funds besides the federal money that was invested in the program," Reed said. "It was traditional policing with [garnish] and there was no serious commitment made to community policing."
Pete Holmes spoke to the invasion of privacy and freedom performed by law enforcement officials when concerning drug arrests. His concern was ending the war on drugs, or in his words, the "war on marijuana." Holmes spoke at length about the values behind drug law reform.
"The basic bargain between society and its government states that police power can only be wielded with the consent of the governed," Holmes said. "We must reconcile our egalitarian aspirations with our slaveholding past" and be conscious when our laws are working against minority citizens.
For Holmes, ending the war on drugs means further limiting the power officers have to intrude into the lives of citizens on the grounds of investigating a drug-related crime. While marijuana legalization certainly accomplished this in Washington, Holmes remains insistent that further work needs to be done in order to reform drug law in the future—what he called the "nuts and bolts" of
the legislation.
Leave a Comment