Redhawks Smother Utah Valley For Win
Seattle University smothered Utah Valley (UVU), 53-33 in a key WAC contest Saturday night during the Redhawks' homecoming. They flipped the script from early January's 70-52 defeat in Utah.
"We definitely remembered that," said guard Isiah Umipig, who tallied 12 points on the night. "They hit you on screens, they box you out. They're a physical team, so we wanted to come out and
match that."
It was hideous, ugly, and yet a thing of beauty. In your face, hardnosed, hands on the glass basketball. The kind of hoops you want to be playing down the stretch of the
conference schedule.
The Redhawks allowed just 27.3 percent shooting from the Wolverines, including 0-17 from beyond the arc, and forced a ludicrous 4:13 assist to turnover ratio. Seattle U's matchup zone appeared to shift from a one-two-two, to a box and one, and even a two-three. They clogged the lanes and extended to every shooter throughout the game. It was a defensive nut UVU simply couldn't crack.
"It's a credit to the guys, executing the scout, contesting, being animals in loose ball and rebounding situations, we were able to hold them to one shot pretty much all night long," Head Coach Cameron Dollar said. "That's yeoman's work and it isn't for the faint of heart."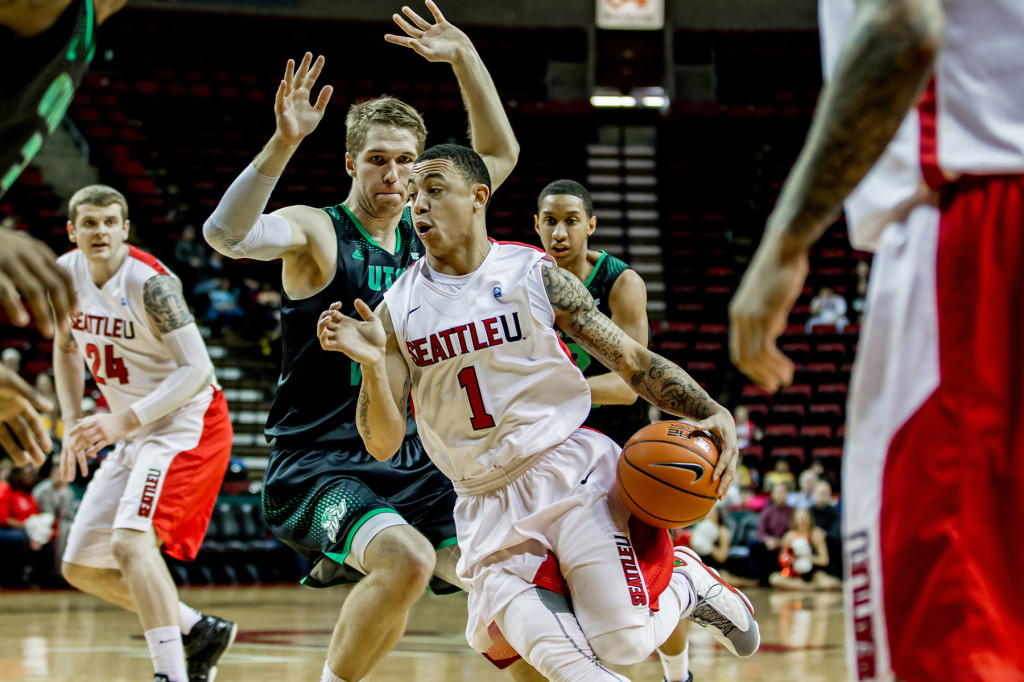 Defense went both ways though, especially through the first half. Nearly seven minutes into the game, Seattle U found themselves down 8-2. Jarell Flora and Umipig hit back to back threes to get things rolling. Flora would lead the way for Seattle U with 14 points followed by Umipig.
Seattle U surged forward on a 12-5 run to go up 26-19 at the break. Shore Adenekan finished the half strong with a tip in and a pick-and-roll lay up through traffic off an Umipig assist.
After trading buckets through the first nine minutes of the second, the Redhawks soared ahead with a 9-2 spurt for a 44-30 with six
minutes remaining.
Emerson Murray, who led the way with four assists, found Adenekan with a 20 foot alley-oop, which Murray followed with a baseline jam of his own. Then he found Adenekan for another flush to cap the run. Adenekan ended with 10 points to go along with seven rebounds.
"The game plan was for Jarell and Zeke [Umipig], but when they sucked in and both Shore and Jack [Crook] were open so I just tried to make the right read," Murray said.
Crook also contributed 12 boards and five offensive, which led to some second chance opportunities.
It was a slow death for the Wolverines who only had five field goals in the second half.
The win brings Seattle U back to .500 in both conference (4-4) and regular season (11-11) schedules as they great ready for a two game road trip that includes New Mexico St. and Texas Pan-American.
Leave a Comment