Seattle University bands are preparing for battle and getting their weapons of choice—musical instruments—tuned, shined and ready to go for this Friday.
Organized by Student Events and Activities Council, Battle of the Bands has been held on campus every winter quarter for the last 26 years. This year's lineup includes bands from all different genres, ranging from rock to indie pop to electronic.
Here is what to expect from some of the bands that are going to be battling it out:
CHAMPAGNE BABYLON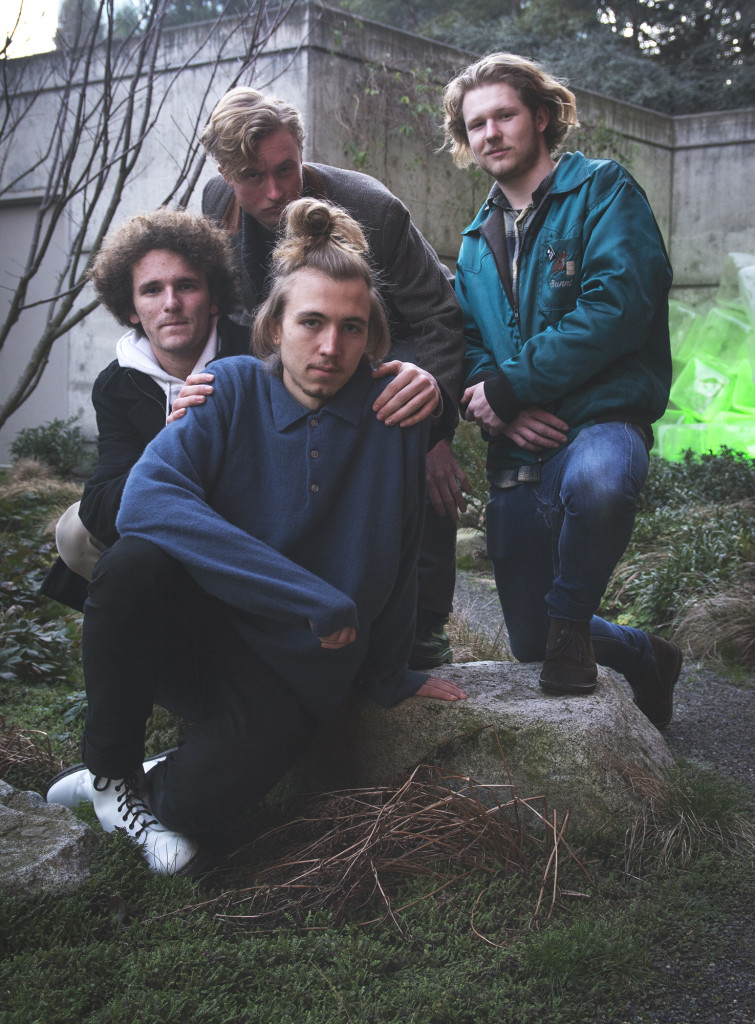 The band Champagne Babylon will be performing at Battle of the Bands. Members are Paul Fitzpatrick, Cody Sargenti, Bryce Pierce and Ryan Young.
Originally from Lake Forest, California, Champagne Babylon is now a Seattle-based four-piece alternative rock band.
Drummer Cody Sargenti and keyboardist Paul Fitzpatrick met in sixth grade, long before they knew how to play any instruments. Still, they liked the idea of being in a band, so they began writing songs and, eventually, they learned how to play. In high school they met saxophonist Ryan Young and guitarist Bryce Pierce and formed the full band.
The name "Champagne Babylon" came about during a camping trip in Joshua Tree, California.
"We said we felt like we were in Babylon there, and we happened to have a bit of champagne," Sargenti said. "And so when searching for a name later on … we were trying to combine a very luxurious sounding word with something dirty, historical."
Their sound mirrors the roots of their name, in that it is "rock at its core," Young said. In the mix, there are also elements of soul, jazz, pop
and rap.
"I like making up my own genres," Fitzpatrick said.
Their influences include Kanye West, Bruce Springsteen and The Format.
Champagne Babylon has released a self-titled full-length album, and they have been working on an EP. They plan on playing songs from this upcoming EP, coming out this spring, at Battle of the Bands. They will also be performing in "Sound Off!" at the EMP Museum on Feb. 13.
WRINKLES
WRINKLES will also be performing this Friday at Seattle University's annual Battle of the Bands event.
This group may be named after something odd—wrinkles in swim trunks—but that does not mean WRINKLES isn't a great band. Their indie pop music will make you dance all over Campion Ballroom.
Originally from Montana, the band formed after singer Jon Cardiello's freshman year at Seattle U.
"A few of us all went to college and came back and just decided we wanted to start playing music together," Cardiello said.
Drawing inspiration from LCD Soundsystem, The Beatles, Modest Mouse, and David Bowie, their music "has a youthful, danceable sound," Cardiello said. WRINKLES could be described as synth-driven indie rock.
WRINKLES is playing with another Seattle U band, Albatross, at Barboza on Feb. 8 and will be performing as part of Treefort Music Festival in Boise in late March.
ANIMALS IN THE ATTIC
You may recognize Animals in the Attic by one of their previous band names: Youth Aquarium, or most recently, Lumos, after the Harry Potter spell.
However, according to drummer Geoff Luoma, "no one could pronounce or spell it right." They decided to change it to Animals in the Attic.
"We wanted something that rolled off the tongue really well," Luoma said, "And we all share a love for animals."
The group plays synth-heavy experimental music inspired by the likes of Pink Floyd and MGMT.
Animals in the Attic is playing a show for Seattle U's radio station KXSU on Feb. 19. They will hit the studio soon.
PARALEXIS
Singer and Seattle U freshman Aprille Perez joined forces with Alex Bonilla to make an electronic dream pop band, originally thinking about naming it Paradise.
"That didn't take off very well," Perez admitted. So they took the Greek root "para" out of the word, meaning "beyond," and started going
from there.
"We came up with this big list of a bunch of words that we liked,"
Perez said.
One of the words on this list was "lexis," a noun to describe all of the words known in a language.
"[Paralexis] means anything beyond what words can describe," Bonilla said.
"That's what we think our music represents," Perez added.
The pair performs electronic music featuring a lot of bass, but it would not be described as "electronic dance music." Some of their musical inspirations are Purity Ring, Banks, Lorde and Lana Del Rey.
ISLAND OF ICE
The only band out of the bunch originally from Seattle, Island of Ice is a four-piece group blending the sounds of jazz, indie, rock and funk to make for a fun performance. They draw inspiration from Frank Ocean, The Antlers and The Postal Service.
The band was unreachable for an interview with the Spectator, but when SEAC asked them to describe their music in five words, the band chose "sensual, smooth, ketchup & tater-tots, [and] arousing."
In addition to a voted audience favorite, music professionals will also help select the winners. The winning band will have the opportunity to play at this year's Quadstock in spring quarter. Decide for yourself which band you like the most by rocking on over to Campion Ballroom this Friday, Feb. 6 at 7 p.m. Tickets are $5.