Existential Crisis, Now On Tap At Stout
Last week I wrote about state-sanctioned killing, so this week, naturally, I write about beer and a new dig on Capitol Hill apparently dedicated to the craft.
I have nothing profound or important to say about beer that you don't already know. I'm sure writers have already concocted precise descriptions of beer's allure in all its variations. I won't attempt such a feat. Let's simply suffice to say that beer is Good, we should drink it slowly and do so in places that make us feel rad.
The recently-opened, beer-centric locale kitty corner from Cal Anderson on 11th Ave. and Pine Street is called Stout. And, like the onset of brutally modern apartment buildings currently enveloping—and soon swallowing—Capitol Hill, it's big. 5700-square-feet of big, in fact. Perhaps this matters; I'm not really sure. But if I must take a stand on the issue for the sake of food writing conventions, then I confess that the grandiosity of the place initially induced eye rolls.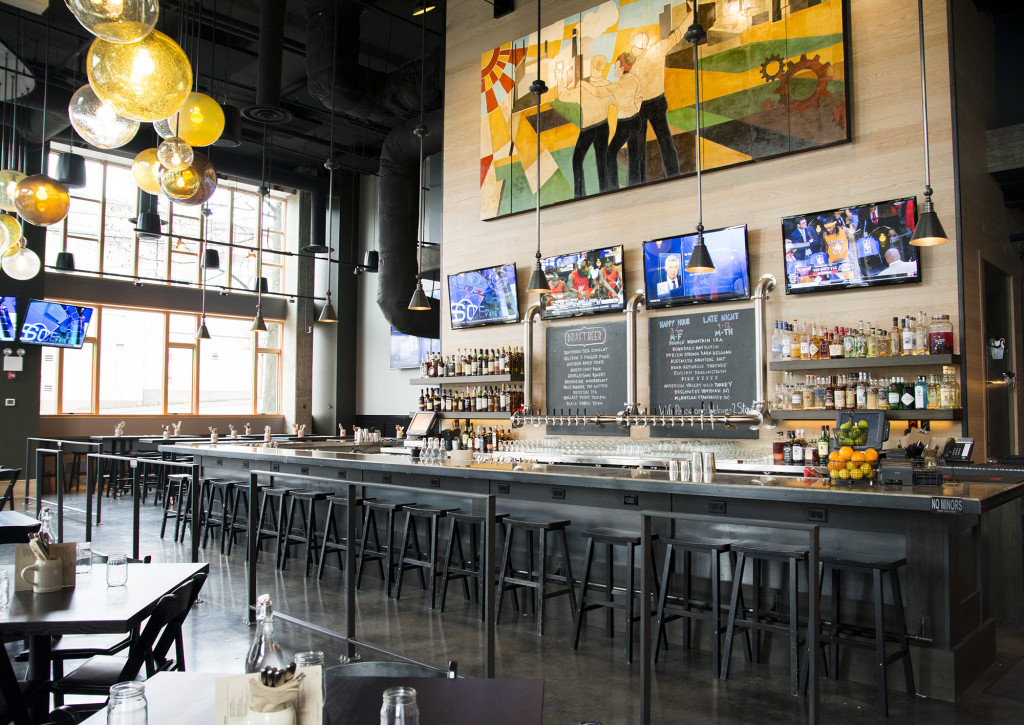 Stout is located on the corner of 11th and Pine, right across the street from Cal Anderson park.
I had envisioned something milder, something more intimate, something that was conducive to philosophizing and/or heart aching. In my current state of mind, what Stout provided was UFC and college basketball, booze bottles illuminated by that nauseating blue and green glow, and the potential that, at any moment, this place could become overrun by the same strand of humanity that migrates to Rhein Haus on Friday and Saturday nights. (Don't get me wrong, my former self would have enjoyed this portrait, but the last four years of off-and-on feminist education have made me less, albeit not entirely, concerned with fulfilling the fictional expectations of masculinity, which, at first glance, is what Stout seemed to be aspiring toward.)
In short, I was disappointed by what I perceived as Stout's excessive grandeur and male bravado.
But I soon tempered my exasperated and probably somewhat pretentious inclinations. Seated across from me sipping Stout's version of an Old Fashioned was my editor, Caroline, a budding young food writer (and feminist) of the finest order. She told me that good food writing involves dismantling expectations. This ran counter to part of my worldview, that we inevitably construct self-satisfying narratives based on any amount of information we have whether that's prudent or not, but I obliged her anyway.
My beer arrived and I began to feel less critical. Giving Stout the benefit of the doubt was surprisingly freeing.
Adjusting to my fresh, liberated spirit, I asked Dayna, our waitress, about the bar and about my beer, which she had recommended. Her response might have been pre-meditated, but she delivered it with such grace that I couldn't help but be convinced that it truly was authentic. She spoke authoritatively about the notes of my Elysian stout and about its drinkability and full-bodiedness.
For weeks, Dayna told me, the wait staff had been learning about the full line-up of draft beers that Stout offers—a diverse docket of about 20 curated taps mostly from the Northwest. This beer affinity, I now understand, is no surprise. Stout's owner Paul Reder also helms the expansive Tap House Grill downtown that boasts an impressive 160 beers on draft.
Aside from beer, it turns out that Reder is also concerned with other important life principles—like investing in the local community. A vibrant, sprawling mural by Seattle artist Tina Randolph sits above the blue-green glow and a handful of flat-screen TVs. It's pleasant on the eyes and a rewarding escape from the barbarian escapade taking place on the screens below.
Another compatriot, Bianca (this paper's managing editor), offered me a slice of her pasilla chile roasted cauliflower flatbread. For Seattle's meager spice standards, it had a decent kick, but the real kick is its happy hour price. Four bucks. Beyond flatbreads, Stout serves up a wide array of what is known as "New American" food, which, according to Wikipedia, refers to a "fusion" or "assimilation" of different American and foreign cuisines. Whatever that means.
I began to think to myself that perhaps this place does work for me. Once a bro—diamond studs and snap backs and all—I nowadays find myself concerned with preserving the non-bro culture of Capitol Hill. The truth, however, is that I pretend to care more about the arts and "high" culture and the other seemingly dear touchstones of our neighborhood's character than I probably actually do. And so maybe my initial rejection of Stout's aspirations was really a reflection of my own existential conflict. I actually love this shit, but feel like I shouldn't.
Eventually Caroline snagged my yellow legal pad, where I had been incessantly scribbling notes. Presence is what good food writing demands, she said. She might not have realized this, but her maxim hinted at a larger social truth: that we go out to bars to chat, and the obvious measure of success for this endeavor is good conversation. Good conversation requires presence. I put down my pen.
Maggie, this section's editor and an encyclopedia of musical knowledge, began talking to me about a handful of Impressionist piano pieces she has been working on lately. Confused, I inquired about Impressionism. Beside me, another friend was rambling about his German language aspirations. And it turns out that Caroline's mom is an expert Pétanque player (Google it).
We could have been anywhere. But halfway through our drinks and deep in cultural exchange, Stout—and all its familiar bravado—felt just right.
Leave a Comment