D1 Improv Team's Big Homecoming Plans
Seattle University's D1 Improv Team may be used to coming up with quick-witted jokes on the spot, but this weekend they've got some pretty big plans. They'll be kicking off Seattle U's homecoming weekend by putting on a show in collaboration with SGSU.
"The cool thing about this show is that we have a lot of SU communities coming to it, which is really exciting," said senior James Cashman. "We've got people from the athletics department, the trustees who bring money to the school and administration—so it is an exciting opportunity for us to perform in front of such a diverse group."
The group says this show's theme will likely be centered around the Redhawks, in the spirit of homecoming.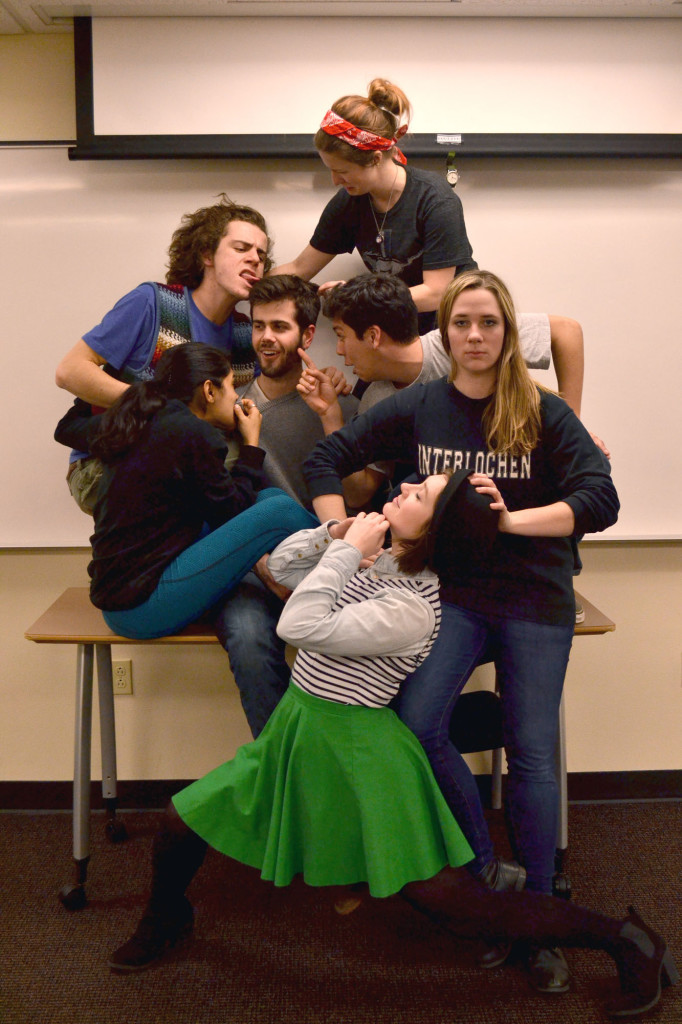 SU D1 Imiprov team members Erik Thorne, Diego Hyndman, Devika Parmar, Jillian Foote, Samantha Hobson, Erica McIntyne, and Peter King.
Prior to D1's performance will be a show by Seattle U band Champagne Babylon, who is also competing in Battle of the Bands the next day. The improv group will also be unveiling brand-new jerseys for the show.
This will be the team's fifth performance of the year and, since the group practices together twice a week, they have grown close.
"This has probably been the one group that I am most comfortable with in college," said freshman Diego Hyndman. "It's pretty awesome, and when we say we are a family, we really feel like we are a family."
Not only do the members of D1 enjoy spending time with one another, but they truly enjoy putting on a show for their peers.
"There is just something so awesome about bringing laughter to other people," said sophomore Lilly Newell. "When people are laughing at us, on purpose, it feels good to do that for someone else."
Perhaps surprisingly, D1 improv has not been around for a very long time. This is their fifth year, and their popularity has quickly grown around campus. When the club started out, they performed for audiences of about 20 people in Bannan. Now, they are performing in Pigott for audiences of almost 200 people. This homecoming show is expected to be their biggest show of the year.
"The cool thing about improv is that it is a completely unique experience every time," said senior Erica McIntyre. "Unlike seeing a play or your favorite piece of music being performed, seeing an improv show is almost like sharing an inside joke with a friend. It is something you'll remember, and every experience is unique and fun."
Earlier this month, D1 Improv performed in an intercollegiate improv competition. Through the process, they were able to meet with several other improvisers and learn new formats to perform in.
"We met a lot of cool teams and will be looking to set up some collaboration shows at SU, so stay tuned," McIntyre said.
Their upcoming performance will take place this Thursday, Feb. 5 at 7 p.m. Champagne Babylon will kick off the show at 6:30 p.m.
---
To give a quick preview of the group's on-the-spot creativity, we asked each member of D1 who they would be if they were a Seattle University superhero. Responses have been paraphrased.
Erik Thorne: The Bon App Bottom Feeder who can get a whole plate of C Street food for under $1 and fights against price inflation.
James Cashman: The SuperUgg who eradicates Ugg boots. Thus, his enemy is the Ugg Boot.
Stephen Singleton: The Ghost of Admin who haunts the halls and messes with students. His nemesis is the Ghostbusters.
Sam Hobson: The E-Triple Extraordinaire who can live in small spaces and climb on things to get to where she sleeps. Enemy is the
lofted bed.
Erica McIntyre: The SuperLib 200, who can print a piece of paper and is enemies with students who attempt to print a piece of paper half an hour before their class.
Lilly Newell: The Lazy Student who can transport anywhere on campus with a snap of her fingers, and fights against the light drizzle that leaves you soaked after a while.
Peter King: Batman, with the powers of being rich and smart. Fights against students who don't do the reading and make insubstantial comments in class.
Jillian Foote: The Homework Accomplisher, who can finish Latin homework hella quick and is enemies with anything Latin.
Devika Parmar: Clssc Albrs who can throw a pizza party on a minute's notice and fights against group projects and specifically the one person who doesn't do anything.
Diego Hyndman: The Netflix Hero, who is present in all students' lives and is enemies with Hulu Plus and HBO Go.
Leave a Comment