Seattle University women's basketball shrugged off the Kansas City Roos, 60-46 Saturday evening. A strong inside presence backed by rebounding on both sides of the ball allowed the Redhawks to maintain a firm grip on the game.
University of Missouri-Kansas City had a strong start to the game, with Callie White and Samantha Waldron setting the pace on the perimeter. White and Waldron each finished with four assists each, often finding Grace Mitchell in the post. Mitchell led all scorers with 16 points.
However, Seattle U's consistent rebounding allowed them to get second chances offensively, and quell the UMKC attack. Wilma Afungo led the way in the paint for Seattle U, who finished with a game high-nine rebounds. Seattle U converted 16 second chance points, compared to just five for the Roos.
Seattle U head coach Joan Bonvicini stressed the importance of winning home games, especially against conference opponents. "This was the first sweep we've had all year, and it's really important because these are conference games. It's the first time we're over .500 [in conference play]."
Seattle U used a strong run at the end of the first half to push ahead of UMKC, who lead early on. By halftime the score was 36-23, with Seattle having shot 44 percent from the field. Seattle U was successful with getting the ball inside to Afungo and Taelor Ross, who combined for 20 of the Redhawks' 42 points in the paint. UMKC struggled to cope with Seattle U's rebounding and finished with only 24 inside points.
Bonvicini also noted that her team worked both sides of the ball well.
"We did a really good job defensively, we produced a lot of turnovers and we were able to capitalize on those turnovers by going both inside and outside."
Seattle U's form took a dip early in the second half, allowing UMKC to get within five points. However, that was the closest they would come for the rest of the night. Bonvicini was full of praise for her squad's mentality and ability to hold on to a lead.
"It's the first time all year when people have made a run like that we stopped, refocused, and then went back and finished the game strong."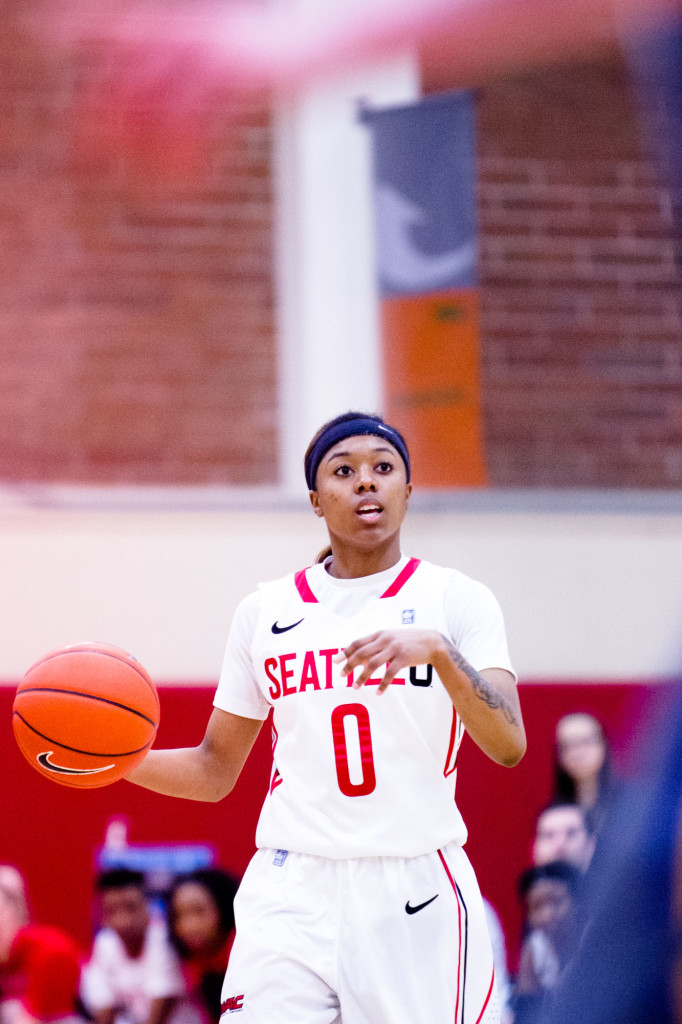 Freshman Jazmine Johnson joins Seattle University's team this year as a point guard.
With another home game coming on Jan. 31 against Bakersfield, Seattle U hopes to take the momentum from this conference win and move up the Western Athletic Conference standings. With this victory the Redhawks tied with Bakersfield for third place. To continue the progress made against UMKC, Bonvicini felt that her team needed to take more high
percentage shots.
"We need to get our field goal percentage up, but I do like our rebounds, and I do like how we are taking care of the ball."
Seattle U finished the game with only twelve turnovers, compared to UMKC's 21.
After facing Bakersfield next week, Seattle U will finish the season with five of their final seven games on the road.