Chop Suey Closes up Shop, SU Bands Reminisce
"Another one bites the dust," as Queen sings—and as Chop Suey appropriately named its farewell concert.
The beloved nightclub, which has spent the last 14 years at the corner of Madison Street and 14th Avenue in a 77-year-old building, said goodbye to Capitol Hill this last Sunday, and officially closed on Tuesday.
Among other music venues near campus that are primarily 21 and older—Neumos, Comet Tavern and Barboza, to name a few—Chop Suey was one of the few where Seattle University musicians of all ages could go to play shows.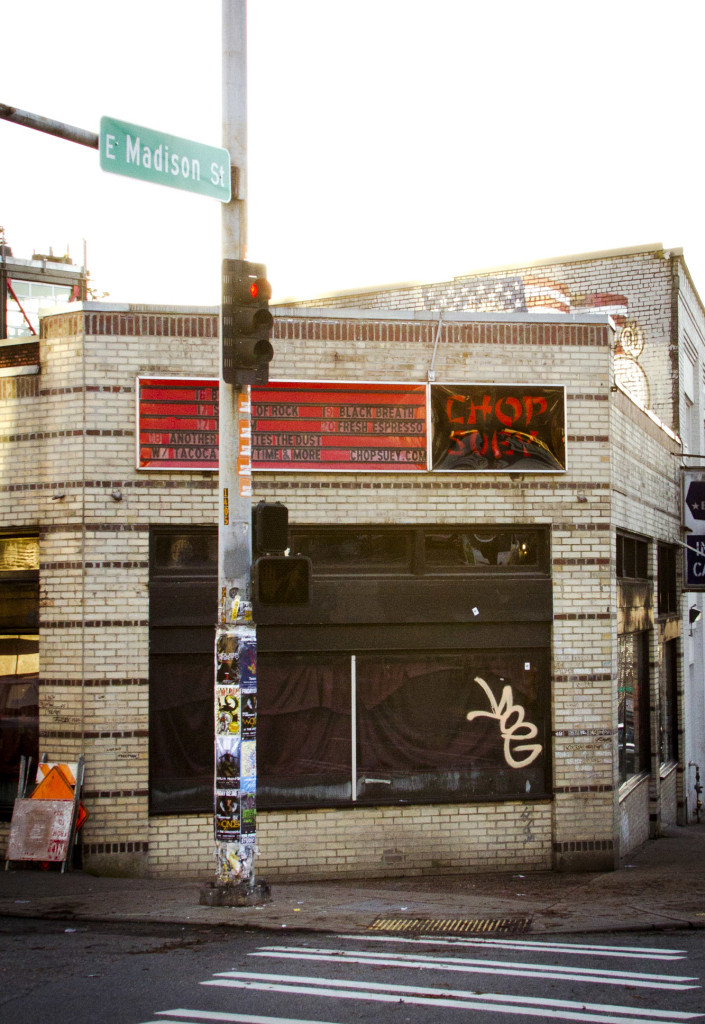 Chop Suey held its final show Jan.18 with performances by Tacocat and Chastity Belt. A Capitol Hill hot spot since 2001, the venue was sold due to high rent.
Sean Clavere, vocalist and guitarist of five-piece rock 'n' roll band The Ramblin' Years—and a Seattle University alumnus, along with his bandmates—saw his first show in Seattle at the venue.
"A buddy and I went to see Alternative Roots," he said.
Seattle U alumnus Ian McCutcheon, aka Tin Woodsman, the drummer of four-piece "treepunk" band Kithkin, remembered seeing a solo act who made music from his own brain waves.
Chop Suey used to be a Chinese restaurant—a "divey" one, as Clavere described it. When it finally became a hip-hop and alternative rock music venue in the early 2000s, management decided to keep all of the red
Chinese décor.
McCutcheon and Kelton Sears, aka Spirit Treader, the bassist of Kithkin (and former editor-in-chief of the Spectator), vividly remembers the broken, gold and dusty 60-foot long fire-breathing dragon on the ceiling.
"It brought a lot of color to the neighborhood," said Laura Germano, Seattle U senior and vocalist of indie-rock band COHO.
Clavere remembered there being gum on the floor and stickers all over the bathroom wall.
"Exactly what you'd expect from a low-coverage venue," he said.
Despite the borderline negative visual descriptions of the venue, Chop Suey will go down in Seattle history for always supporting up-and-coming Seattle U bands. Both Clavere and McCutcheon praised the booker, Jodi Ecklund, for being the rock of this support.
The Ramblin' Years had their first show at Chop Suey in 2012 at the beginning of their senior year.
"Everyone except the drummer had been studying abroad," Clavere recalled.
Alex Barr, the guitarist of Kithkin, was working in booking at Chop Suey at the time. A band that was booked to play bowed out at the last minute, so Barr called Clavere up, asking if he would want to get The Ramblin' Years back together to step into the now-open spot.
"That performance was what made me want to keep doing [music]," Clavere said. "[Chop Suey] really helped us grow and get our act together."
In addition to Barr, McCutcheon also interned at Chop Suey, and later worked there for about six months. In fact, Kithkin owes a lot of their early exposure in the Seattle music scene to Chop Suey.
When Kithkin had the idea to have a Star Wars themed show on May the Fourth (get it?) Chop Suey was completely open to the idea.
"They weren't afraid to fail," Sears said.
While that show was a surprising success, "[Chop Suey wasn't] disappointed if you didn't bring 200 people," McCutcheon said.
"When you're starting a band, it's hard to get booked places… [Chop Suey] was a good stepping stone," Sears said.
Germano of COHO agreed.
"The more shows you play, the more likely you are to get booked at other places," she said.
COHO, a group of students who are still attending Seattle U, performed at Chop Suey for the first time alongside The Ramblin' Years about a year ago.
"It was one of our first legit shows," Germano said. "Chop [Suey] was always very welcoming and accommodating to us."
These Seattle U bands have all grown up a lot since their early days at Chop Suey, though. The Ramblin' Years are now coming out with their first studio album in March, which will be followed by a tour. Kithkin have since released their first studio album and are three songs into their second. They have also played at Bumbershoot, Iceland Airwaves and Sasquatch. COHO is releasing an EP in April and are in the process of trying to organize a tour for this summer.
"I really wish we got to play one last show [at Chop Suey]," Clavere said. He expressed disappointment that "Every new generation of Seattle U bands won't have that outlet."
Still, "Young musicians are going to always find a way to play [shows]," McCutcheon said.
Siri may be reached at [email protected]
Leave a Comment