There are a wide variety of skills that students expect to have mastered by the time they graduate­—a thorough understanding of human physiology, statistics and economics, or perhaps another language. But what about which fork to use first at a career luncheon?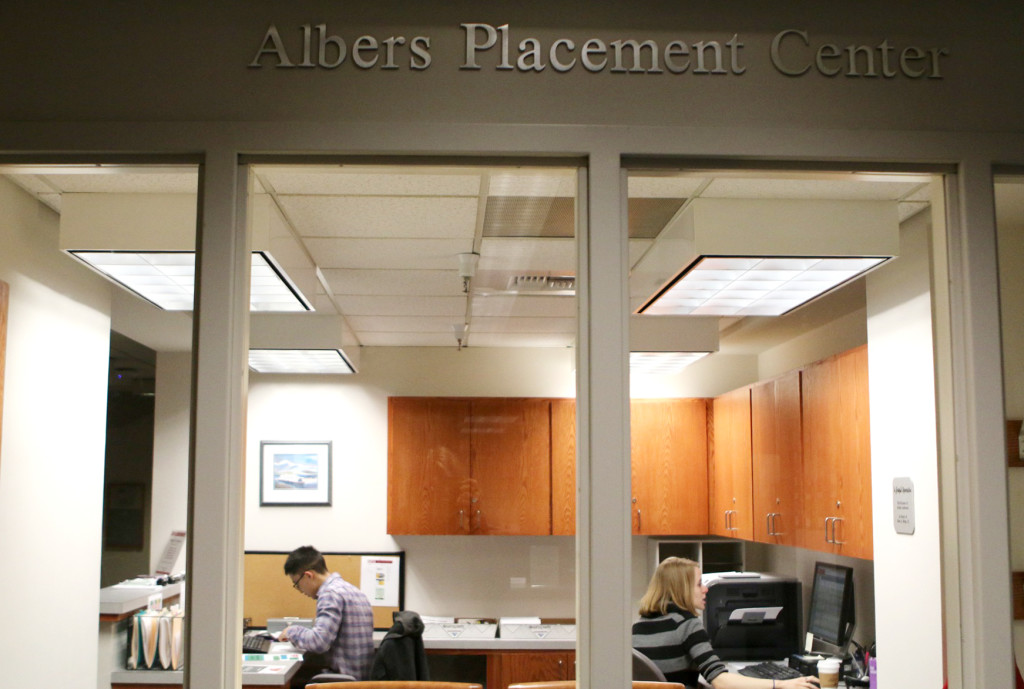 Signs advertising the upcoming Etiquette Dinner at Albers' Placement Center. photo by Taylor de Laveaga
The Etiquette Dinner at Seattle University is one of many events aimed at providing helpful tips to aid students with networking and etiquette in the professional world. In addition to providing unique skill sets, there are also a number of resources that students can take advantage of in order to reduce the stress of choosing a career and securing a job or internship. The Albers Placement Center and Career Services are two places students can turn to for advice and guidance on taking this next step in their lives. These two offices have partnered up to host an etiquette dinner on Jan. 27, in which all Seattle U students are invited to attend.
"We'll be going over dining and business etiquette that can be used in a variety of situations—everything from a job interview to attending a wedding," said Manager of Albers Experiential Programs Megan Spaulding. "It's meant to be fun. There are no employers there. This is the place to make mistakes and laugh."
Last year's speaker Crystal Stanfield will return to host the three-course dinner workshop. Also helping out with the event is the Albers Business Center's Undergraduate Student Advisory Council, a group of about 10 students who assist the Placement Center in organizing events year-round.
Junior Sergiu Ispas, a business major, joined the council at the beginning of his sophomore year.
"I really enjoy being involved with the school, especially with the school I'm studying with specifically," Ispas said. "The Etiquette Dinner can sometimes be misconstrued as an event for business students explicitly, but I think what you learn at the dinner is helpful to anyone."
The Etiquette Dinner is just one of many pre-professional events offered at Seattle U throughout the year. Other opportunities include resume reviews, practice job interviews and internship fairs. In February, for example, the Society of Women Engineers at Seattle U is hosting a resume night specifically for engineering students, and Career-Services is hosting a university-wide internship fair.
Both the Albers Placement Center and Career Services offer one-on-one advising appointments for students who have questions about how they should be planning for the future.
"I think both of those resources on campus are somewhat intimidating, and because of that, they're underused," Ispas said. "Initially, I was kind of nervous to go when I was a freshman because I wasn't really sure how they could help me. But the earlier you start going the better."
Career Advisor Alissa Strong meets with students from all different departments across campus and talks on occasion with alumni who still have questions about their own transitions.
"There are definitely some basic guidelines that everyone can benefit from, but based on the major, there will be different skills that are sought out," Strong said. "We're tapping into the students' unique strengths and abilities, and telling them how they can showcase that. Once they're more aware of that, we can usually help by showing different options for them in terms of career path ideas."
Senior Jenna Davison will graduate this year with a degree in biochemistry and a minor in mathematics. Davison has been involved with on-campus research since her sophomore year, working alongside chemistry professor Ian Suydam, and visits Career Services regularly.
"The one-on-one experiences you get with faculty here are extremely valuable," Davison said. "It's something you're not going to get [at other schools] unless you work ridiculously hard, and even then you still might not get it when you're in a lab with fifty or sixty other people."
Davison, who plans to attend medical school next year, believes she is leaving Seattle U with experiences that will give her a huge advantage in the professional world.
"In the organic chemistry lab, they have us write journal entries—portions of papers—that could be published in the Journal of Organic Chemistry," Davison said. "And I've felt that throughout my chemistry degree, just writing those papers has been really helpful in preparing me for being able to do research in the future for something I might study."
Whether students choose to attend events like the Etiquette Dinner or to work with professors in pre-professional research, they're taking steps toward becoming prepared for life after Seattle U.
"What I've noticed is that when I see students' resumes here, versus other places I've been, students have already had a lot of great opportunities to engage in their community," Strong said. "So they seem to have this larger perspective and a more reflective mindset. That is really key in the job search process because you really need to know yourself and understand how to articulate what it is you really care about."
The Etiquette Dinner will take place on Jan. 27 from 6-8 p.m. in the Campion Ballroom. Tickets can be purchased for $10 at the Albers Placement Center in Pigott 331 or at Career Services in Pavilion for Leadership 110.