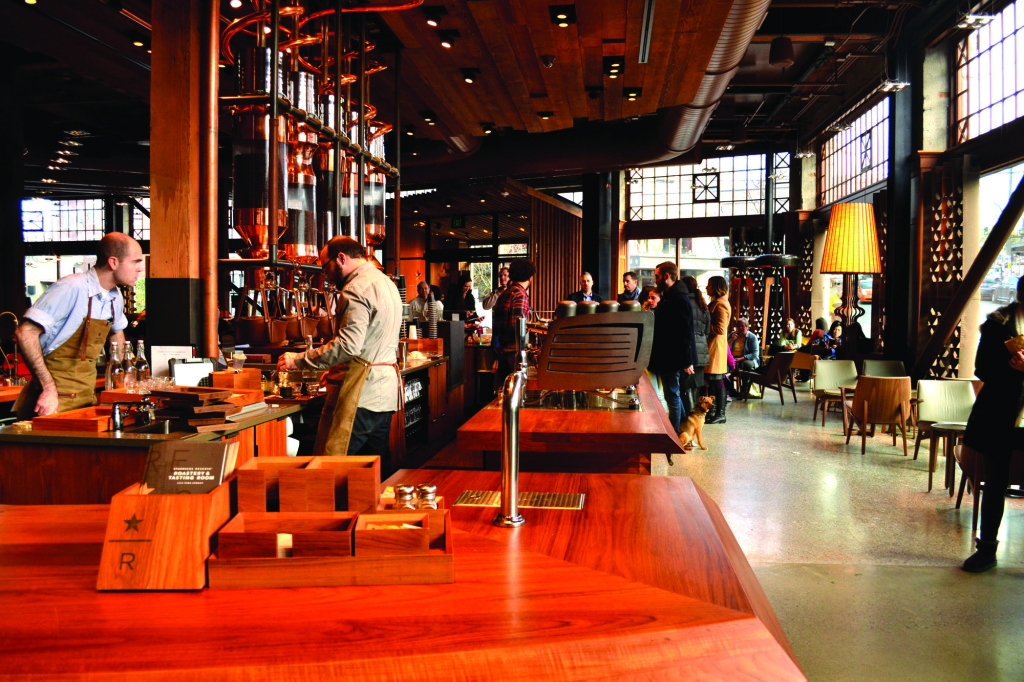 The Starbucks Reserve Roastery & Tasting Room on Capitol Hill is the new roasting site for Starbucks' Reserve line of beans.
Growing up in Seattle, I feel the same way about Starbucks as I do Microsoft. I much prefer Apple computers, but I have a sense of Seattle pride when someone mentions the company name. And while I am a big believer in supporting local coffee shops, I am not opposed to Starbucks. After all, their white chocolate mochas are delicious, and if you walk into a Starbucks in Berlin or Buenos Aires or Tokyo, it is going to have the same quality as it does in the company's hometown of Seattle.
Seattle is known as a coffee city—I once ordered a complicated drink when I was in New York City and I heard someone whisper that I must be from Seattle—and Starbucks has always been as serious about its coffee as Seattleites stereotypically are.
The place that is officially titled "Starbucks Reserve Roastery & Tasting Room" has only been in the neighborhood for about a month, and it already has garnered a nickname: simply the "Starbucks Roastery." The 15,000-square-foot building elevates coffee to the same level as wine. On rainy Seattle mornings, one can find flocks of Starbucks aficionados there, some even putting their coffee up to their nose as if it were a wine glass filled with an expensive, authentic French Cabernet Sauvignon.
I was not sure what to expect when I first walked into the roastery, but my first impression was that it was like a coffee museum. The entryway immediately told me it was going to be extravagant, with the large double doors and the famous Starbucks siren perched towards the top of the building, as if the architect put her there to watch over the building.
For those who prefer the crème Frappucinos over the espresso classics, there is much more than just coffee available for purchase at the roastery, such as mugs, coffee grinders, espresso machines and even books. It has visually appealing elements: the hissing, steampunky espresso machinery, the gorgeous glass containers full of coffee beans.
The aroma of coffee permeates down the street and throughout the building. While the building itself is not made of coffee, it would not be hard to believe if someone told said it was.
On the main level, there are glass cases showcasing pastries and food specific to the roastery itself, brought to the glass case by Seattle resetaurant Serious Pie, owned by Tom Douglas. Orders are brought out to customers on a wooden tray. This is not just a Starbucks café; it has been turned up a notch into a veritable Starbucks restaurant.
Off to the right, there is a counter featuring all different kinds of exotic coffees to buy and taste test at the Roastery: coffees from Colombia, Panama, Nicaragua and Ethopia. My favorite was the Ethopian.
Down the stairs, customers can watch the machines roasting and packaging all of the coffees. As I stood in the coffee workshop, I felt like Charlie witnessing all of the operations of Willy Wonka's magical chocolate factory.
For the more scholarly coffee enthusiast, there is a coffee library downstairs which, while it is the quietest part of the building, is still quite loud with the sounds of the machines. When opening the sliding door, you are surrounded by bookshelves overflowing with what I can only assume is intellectually enticing coffee literature. In front of you on the wall you see more bookshelves and a large, long wooden table. More than likely, there will be someone sitting on their laptop, typing away, maybe giving you a stare as if you are interrupting his very important thought process.
In all, the Starbucks Reserve Roastery and Tasting Room is worth going into if you are a coffee fanatic, even if you are not as much of a Starbucks fanatic. The employees there are all very friendly and cheerful, despite the place being incredibly busy, even at 12:30 p.m.
Be warned, if you go over the weekend the Roastery is even more packed, with lines out the door as if it's some trendy new nightlife hot spot.
Still, in a city overflowing with coffee shops, for better or worse, the Roastery does seem to stand out above the rest.
Siri may be reached at [email protected]