Time Out Sessions: Conversations With SU Athletes featuring Stephanie Verdoia
Welcome back!
This quarter we'll be starting a new column to expand upon Student Athlete of the Week and to help the Seattle University community get to know its athletes. The column will focus on how Seattle U athletes were introduced to their respective sports, what their experience has been and what goals they have for the future.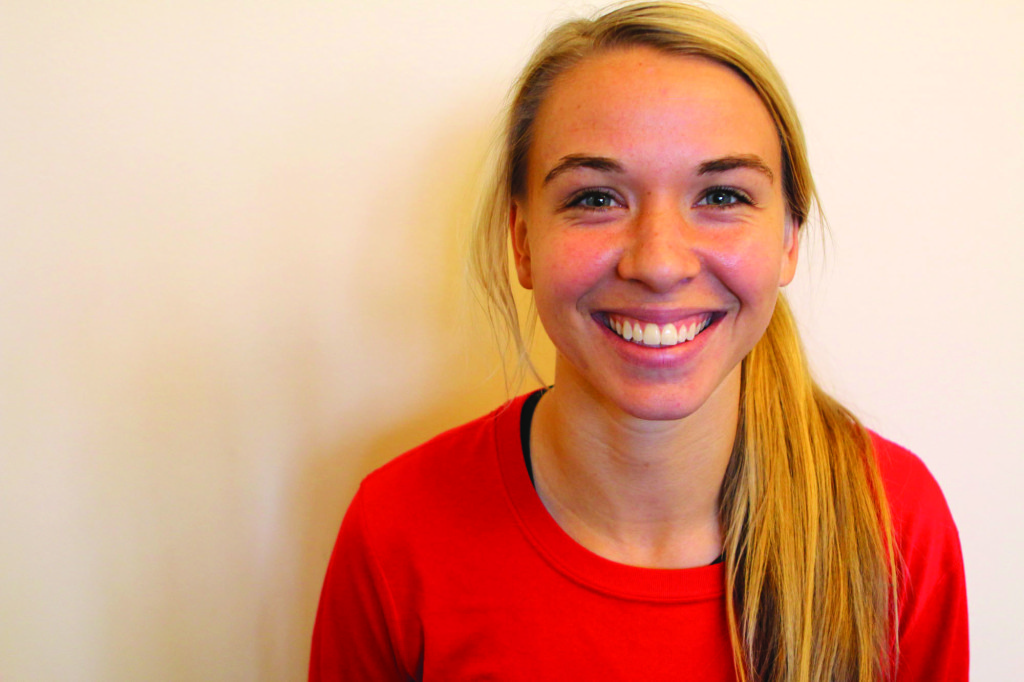 First up, we have senior Stephanie Verdoia from the women's soccer team.
At age three, Verdoia's parents had her join a recreational soccer league near her home in Salt Lake City. It was the beginning of a long athletic career.
"I started playing and I loved it," Verdoia said. "And I was terrible for quite a while, but I got better and got into club, played in high school and wanted to keep playing in college."
Verdoia has played many positions and was exposed to several of those when she played for the Olympic Development Program in Utah. However, she has mostly played forward.
Playing soccer at the collegiate level was an incredible experience, she said.
"As a freshman I came in extremely nervous," Verdoia said. "I don't remember the last time I was that scared on that first day of practice. In my very first game I scored a goal, which is unreal for me still to think about because I was not the player I am today. I was really nervous, and it was a lot of self-discovery learning how to play college soccer."
Verdoia continued to develop her soccer abilities as she went through college. Her coaches gave her more responsibility during her sophomore year and she was named a captain during her junior and senior years.
During her junior season, the Redhawks won the WAC and got to play in the NCAA tournament. This year, in her senior season, they managed to win the WAC again, but this time they earned a victory in the first round of the tournament­—taking the team further than they ever had been before.
After winning the WAC for the second straight year, the Redhawks went to Pullman to take on the Washington State Cougars in the opening round of the NCAA tournament. The game went into overtime and Seattle U left with the victory after Natasha Howe scored the winning goal.
"It was unreal," Verdoia said. "We were obviously the underdogs, but for some reason I was so confident in our team and really thought we were going to win that game. It was super exciting and [Howe] hit a great shot and we won. I had never felt anything like that on the soccer field before. Just knowing that we broke through a path for our university, our team and program was a great feeling."
In the round of 32, the Redhawks traveled to North Carolina to take on the University of South Carolina. The game went all the way to a shootout before Seattle U's season came to an end.
"It didn't end the way we wanted it to, but we fought the whole game," said Verdoia. "It wasn't like we didn't belong there, we definitely belonged there. I think going forward our program will be one of the best teams in the nation."
Along with the team success, Verdoia experienced noteable individual achievements as well. She was named to the first team All-WAC and won the WAC offensive player of the year award after leading the conference in every offensive category and finishing second in the nation with 18 goals scored. Additionally, and perhaps most impressively, she was selected as the Capital One Academic All-America of the Year for Division I Women's Soccer.
"That was a huge surprise," said Verdoia. "I really value Seattle University and think it's a great education. It meant a lot to me that I could put a good face to our university and show what kind of education we are getting."
Now that she has wrapped up her final collegiate season, Stephanie will be looking toward the future. At Seattle U, she has been studying political science with a legal studies specialization.
"Eventually my goals are toward law school," Verdoia said. "The law really interests me and I want to do something around that."
But Verdoia's soccer career may not be over quite yet. This Friday she will be traveling to Philadelphia to attend the National Women's Soccer League draft.
"If I get picked up by a team there that would be cool and, if not, I may try out some teams like the [Seattle] Reign," said Verdoia. "Also, depending on my academic choices, I may go play overseas next year."
Verdoia has played through an incredible career, and it seems the future undoubtedly holds big things for her.
"My teammates, my coaches, this university and the support I have had on campus—it has been an unreal experience, and I am so grateful to have had it."
Leave a Comment