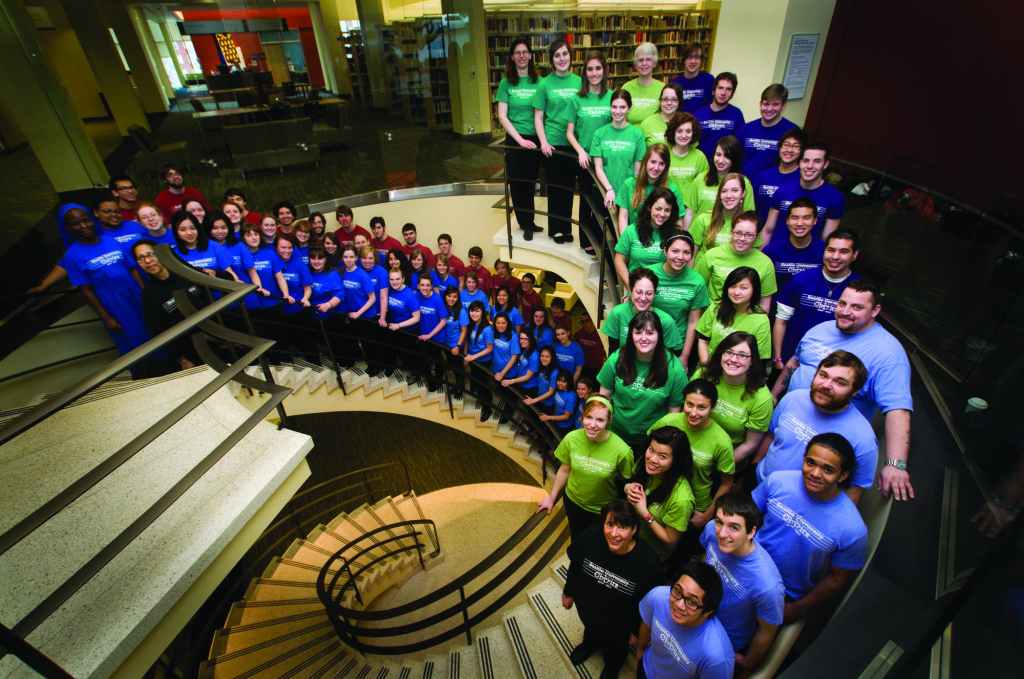 The Seattle U Choir looking festive on the Lemieux Library spiral staircase.
It has been a hard year—violence abounds both locally and around the world. People could use a little hope, and Seattle University's "Christmas Concerts: A Festival of Christmas" is offering some for the taking.
Seattle U's annual Christmas choir concert at St. Joseph's Church has been a university tradition since 1991. But you don't have to celebrate Christmas to attend.
"Just come with an open spirit," said choir director Dr. Joy Sherman. "And see what there is that can feed the soul."
The choir performs a few signature songs at the Christmas concert that remain the same each year, including "Betelehemu," "Silent Night," and "The Sussex Carol."
The opening procession through the church is also a concert tradition. With singers in the loft and on both sides of the audience, the choir explores all aspects of the elegant space.
"It's a really cool experience not just for the audience to be surrounded by it, but also for us to be able to hear the parts from far away," said soprano section leader Katie Maxwell. She noted that with the acoustics of St. Joseph's, the music sounds best with more people in the audience.
Sherman, affectionately called "Doc" by her students, always includes new and unique pieces on the concert program in addition to their yearly classics. These include songs from different cultures and languages.
"I feel a responsibility to expose the students to as great a variety of music as possible, different styles, because I think that's part of the educational process," Sherman said. "And being exposed to different cultures and different languages I think is really important."
As for the compositions in English, tenor section leader Jake Malpocker says you don't have to celebrate Christmas to get something out of them.
Though Malpocker identifies as an athiest, the compositions still invoke thought and meaning for him.
"We're singing a piece called 'O Magnum Mysterium,' and it directly translates to 'Oh Great Mystery,'" Malpocker said. "And it's supposed to be the mystery of faith, right? The idea of believing in something that you can't see, something that you don't know exists, but still holding onto that belief. And for me that goes for not just believing in God or faith, but believing in anything."
Student conductor Hayden Chandler said that for him, the important part is the sound and mood of the pieces.
"Of course the message is powerful, and the text is powerful, but I think as long as you're willing to you can take it however you want to, and enjoy it and take from it what you need to feel better and feel happy and fulfilled in whatever way you want," Chandler said.
"It is something that everybody can enjoy," Maxwell said.
Sherman hopes the concert will be a source of hope in a time when it's deeply needed.
"That's what the concert brings," Sherman said. "It brings us a sense of renewed hope, which we need so much in this world right now when we're so desperately lost. There's so much violence and hatred, and everywhere you turn in the news somebody's hating somebody, somebody's killing somebody, and we need to feel that there is some hope. There's something that's beyond us that's holding this together."
Sherman says that even though the arts are rarely acknowledged for their peacemaking role, they are what make the world go round.
This notion is embodied in a piece the choir is performing by Sergei Rachmaninoff, a composer who wrote during a time of revolution in Russia.
"It was protest," Sherman said of the piece. "It was a protest of love. Of peace."
Malpocker echoed this sentiment.
"We want people to love, we want people to be peaceful in their lives," Malpocker said. "And we think this music does that."
Sherman wants audience members to leave the concert feeling "filled up."
"We're so much in our heads—and it's our habit, we're a university, and we're being educated and we're educating," Sherman said. "So we're in our heads, and we need to get in our hearts."
"Christmas Concerts: A Festival of Christmas" will take place this Friday Dec. 5 and Saturday Dec. 6 from 8-10 p.m. at St. Joseph's Church on Capitol Hill. Tickets are $7 for students, $20 for general public and $35 for reserved seating.
Lena may be reached at [email protected]