Vachon's New Exhibit Has 'No Boundaries'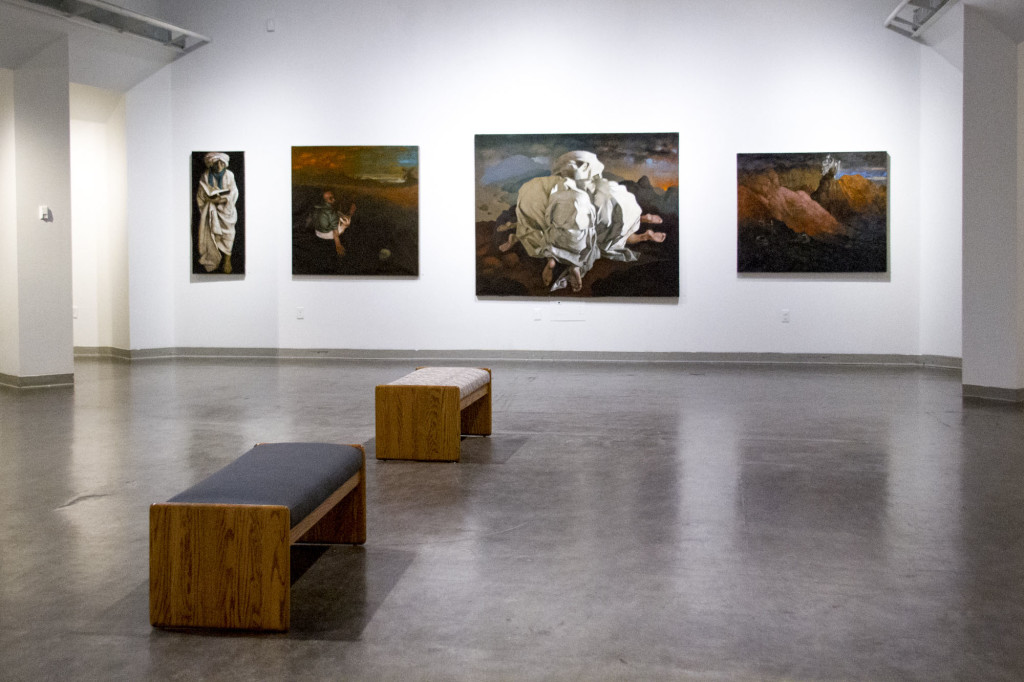 Vachon Gallery's current exhibit features paintings by Vaho Muskheli. The artist is originally from Tbilisi, the capitol of the Republic of Georgia.
Experiencing the world is a task that artist Vaho Muskheli confronts with a paint brush.
Originally from the country of Georgia, Muskheli's work is now being featured in Seattle University's Vachon Gallery. The one-room exhibit, titled "No Boundaries," includes the artist's complete set of paintings as it stands—anything that he still has is now in the gallery.
According to Muskheli, all of his works—including the 29 canvases currently hanging in Vachon—are self-portraits.
"I could [make the comparison] that creating a painting is kind of like a woman is giving birth to a child," Muskheli said. "It was not physical pain, but mental pain."
The paintings do not all depict his physical figure, but rather a product of his internal process, which, he said, should be included in art.
"You can cover the surface and the painting won't work, it won't say anything," Muskheli said. "So you have to always go beyond the surface."
He tries to paint things like a mirror: to reflect himself, but also to go beyond himself.
Muskheli says that it's the dive below the surface that opens up room for a conversation with yourself, which he said is very different from a conversation with anyone else.
"You cannot lie to yourself," Muskheli said.
According to him, this internal conversation leads to a more thorough understanding of your place and meaning in this world.
"[By] exploring yourself more, understanding about yourself more, then you can explain the outside world better, and your existence in this outside world," Muskheli said.
Muskheli uses his paintings not just as a conversation with himself, but also as a way of connecting with those who view his art.
"They walk in this world, and they might identify themselves in this," Muskheli said. "And they could find some answers for themselves. You are describing their world that they can't see themselves."
Naomi Kasumi, Associate Professor of Digital Design in the Department of Fine Arts, is one of those people who has a particular connection with Muskheli's art. She is the curator of his exhibit in the Vachon Gallery.
She said she finds Muskheli's paintings to be dark, powerful and haunting—like a black hole. She was introduced to him at one of her own exhibits by Tina Kouratachvili, a piano instructor in Seattle U's Fine Arts Department.
Kasumi had a special interest in curating Muskheli's exhibit, and she hopes visitors will have time to connect with the paintings.
The exhibit opened Thurs., Nov. 13—but Kasumi says that openings are usually too busy to get quiet moments alone with the work.
"I'm looking to see the returning students and the guests that have their own space and time, [people who] really engage with the individual painting that really speaks to them," Kasumi said.
Kasumi hopes that viewers will see the depth behind Muskheli's canvases; not just the aesthetic appeal, but the thought-provoking darkness present in each one.
Muskheli takes inspiration for his paintings from anything ranging from politics all the way to personal tragedy—anything that he feels he needs to explain for himself.
"It's very tragic that the bad things are staying in you much longer than happy things," Muskheli said. "You never think how to deal with this happiness, you always think how to deal with tragedy, with this hard time."
He says that happiness hits you and bounces away, but tragedy hits you and stays within you.
"It's the only fighting tool I have, the brush," Muskheli said.
Muskheli's exhibit "No Boundaries" is open for viewing in the Vachon Gallery located in Seattle U's Fine Arts Building until Dec. 10. This Thursday, Nov. 20, Muskheli will give a lecture on his exhibit and philosophy, accompanied by poet Lyn Coffin to speak on "Wrestling with Demons: A Poetic Response to Vaho Muskheli's Art." The lecture is from 5-7 p.m.
Admission is free.
Lena may be reached at [email protected]
Leave a Comment