'Love's Labor's Lost's' Long-Lost Sequel
There is a faint, muffled sound of footsteps and chatter coming from the ceiling speaker in the green room. Seattle University theatre major Connor Fogarty, otherwise known as Lord Dumaine, is twisting his tie every which way trying to figure out how to properly put it on, as Dylan Zucati, or Lord Longaville, tries to help.
The Lee Center for the Arts is packed with actors and actresses who are wearing their intricate costumes and stage make-up, both courtesy of costume designer Harmony Arnold. One actress tells an actor, "Let's go over scene five!"
It is clearly tech week for Seattle University's upcoming production of "Love's Labor's Won."
"It is the second day of tech and we've only been through three scenes," said Zucati, a theatre major who plays the role of Lord Longaville in the play. But he's familiar with all of the hard work, patience and commitment that go into putting on a production.
"[Acting] is something I couldn't imagine not doing," he said.
A lot of blood, sweat and tears go into theatre productions. Making a play like "Love's Labor's Won" come together is no exception.
Seattle U is welcoming Scott Kaiser as director and writer of the play. Kaiser is the Director of Company Development at the Oregon Shakespeare Festival, and is currently a Pigott Family Endowment for the Arts artist-in-residence at Seattle U.
"I've enjoyed working on campus… it's a great piece for college-aged students because the characters are the same age," said Kaiser.
This is the first time Kaiser's "Love's Labor's Won" has ever been put on the stage. It is the play's "academic premiere," as Kaiser called it.
This is a fact that the entire cast is excited about.
"It's really humbling," said theatre major Ariana Chriest, the actress portraying Jaquenetta.
"Love's Labor's Won" is meant to be the lost sequel to William Shakespeare's "Love's Labor's Lost," one of his few comedies that has no clear resolution.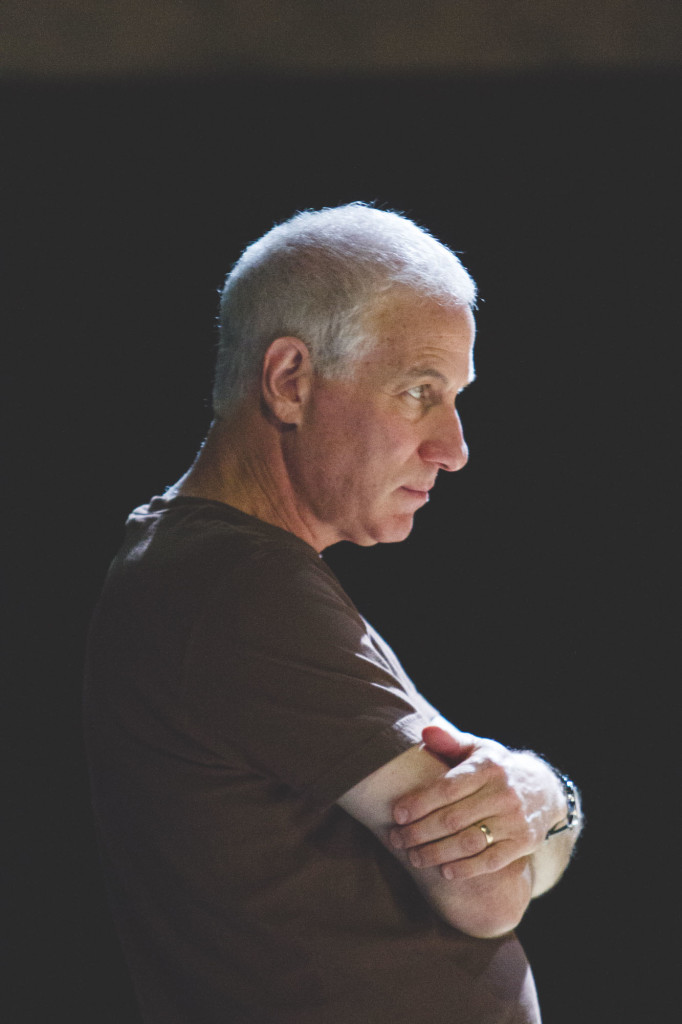 Thanks to the Pigott Family Endowment for the Arts, Scott Kaiser was brought in as the artist-in-residence to direct his play, "Love's Labor's Won." Kaiser is the Director of Company Development at Oregon Shakespeare Festival.
The original play tells the story of three lords, Berowne, Longaville, and Dumaine, who take an oath of scholarship which requires fasting and avoiding women for three years. However, when the Princess of France and her ladies arrive, each of the lords falls in love and a chaotic mess of romance ensues. The play leaves off with the couples promising to see each other again in a year.
"Love's Labor's Won" lets us see the young couples reunite.
"I think people will be interested to see what happens to these characters," Kaiser said.
Rather than having one or two lead roles, the play gives many students an opportunity to take the stage.
"Every character is a lead," said Zucati. "We all get pretty equal
stage time."
For instance, Lord Longaville performs a long monologue in the play, and Jaquenetta even has the opportunity to sing.
"For me, it's been a really big challenge to sing and act at the same time… But it's been really cool to also express myself through music," Chriest said.
The play honors the rhyming scheme, language, and iambic pentameter that Shakespeare uses, but don't let that make you uncomfortable.
"Since it's written in modern times, it's a lot more accessible," Fogarty said. "Shakespeare is something people see as complex and they normally get scared away, but when they see it fleshed out, when they see it acted out… it becomes accessible."
"Love's Labor's Won" is set in 1918 Versailles, which you may know is when the Treaty of Versailles was signed. The war in Europe preceding the Treaty of Versailles has set back the lovers' promise of reuniting for another four years.
However, this historical context is not necessary to understand the play.
"There's nothing in the script that says it's in 1918 Versailles," Kaiser said. The history of the play is not quite as important as the subject matter.
"The play is about loss and coping with loss," he said.
"Love's Labor's Won" previews Nov. 12 and opens Nov. 13 at the Lee Center for the Arts. Shows are Wednesdays through Saturdays at 7:30 p.m. and Sundays at 2:00 p.m. through Nov. 23. Tickets for the preview are $5, and all regular showings are $6 for students, $8 for faculty and staff and $10 for the general public.
The editor may be reached at [email protected]
Leave a Comment