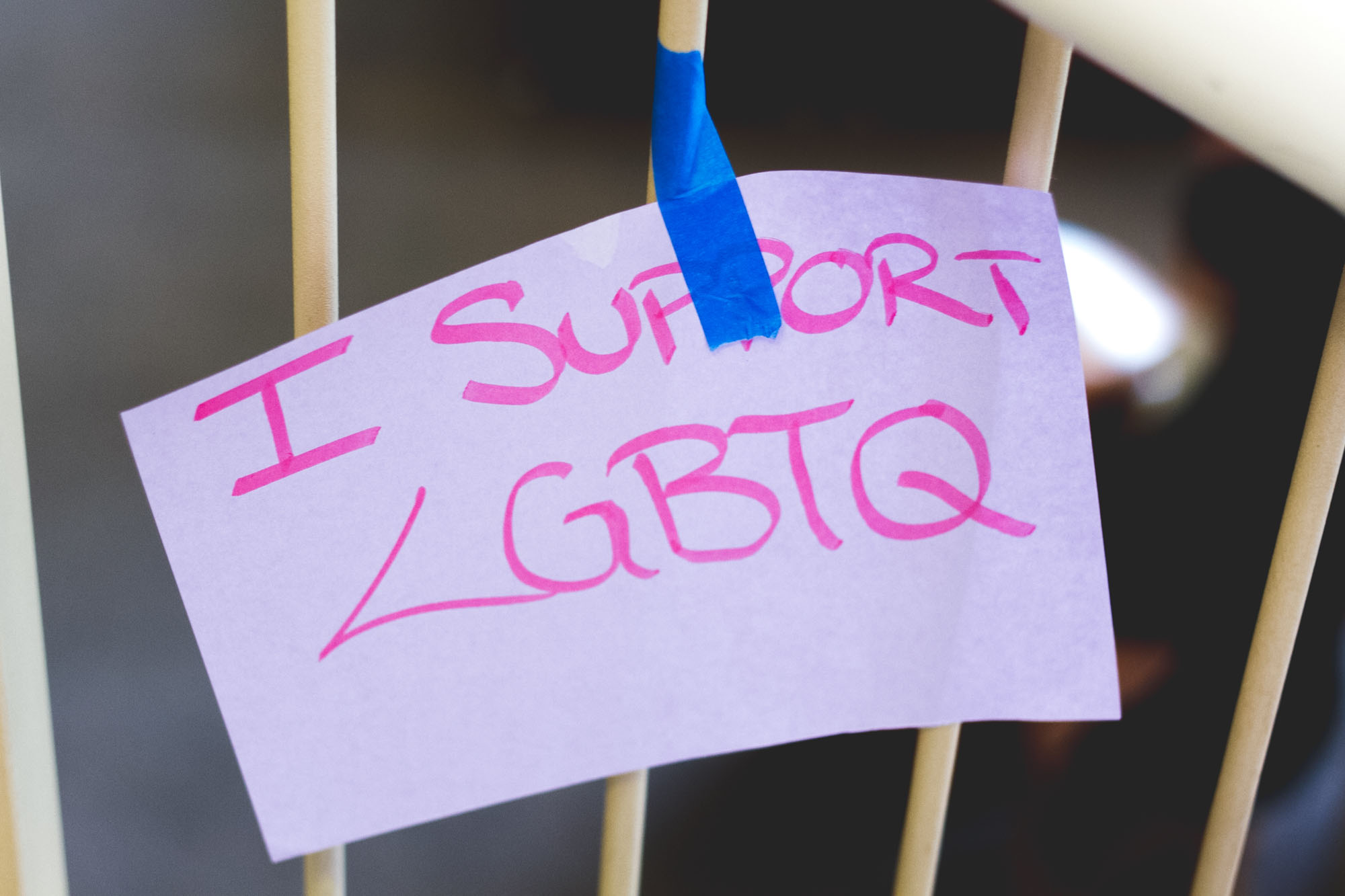 Written messages supporting the LGBTQ community could be seen throughout the student center on National Coming Out Day.
Last Saturday, the United States celebrated National Coming Out Day, a time for people of all ages to share and claim their sexual orientation and gender identity while being supported by the global LGBTQ community and LGBTQ allies.
On Friday, Oct. 10, Seattle University's Triangle Club celebrated with a photo booth station where students could be photographed coming out "as whatever they want," said club president Cy Enseñat.
Campus Ministry's Gender and Sexuality Programming (GASP) Committee also hosted an event called Coming Out To God on Oct. 9. At this event, which Campus Ministry intended to be more discussion than lecture style, students read prose and poetry from LGBTQ authors. GASP member Jaime Wipf, described this event as a way for LGBTQ students to "explore spirituality in a safe way for whatever that means to them."
"Coming Out Day is a time to be proud of any oppressed identity, any uncelebrated identity that you may have," said Enseñat, who is a double major in Cultural Anthropology and Gender Studies. "It's a time to be proud of yourself and the things that you have accomplished … in a society that sometimes tells you that those things should not exist, whether that be sexual orientation, gender identity, race or culture."
National Coming Out Day was first celebrated on Oct. 11, 1988, on the anniversary of the 1987 March on Washington for Lesbian and Gay Rights in which half a million people participated. Organized and founded by Robert Eichberg, a psychologist from New Mexico, and Jean O'Leary, an openly gay politician from Los Angeles, the first Coming Out Day was administered in West Hollywood from the offices of the National Gay Rights Advocates. To this day National Coming Out Day continues to promote a safe community for LGBTQ individuals to live truthfully and openly.
Students Brittany Remillard and Joselyn Chavez wrote messages to be hung in the student center. Remillard's paper celebrated being a One Direction fan.
Another reason Coming Out Day continues to be celebrated is to remind activists to stay committed to raising awareness for LGBTQ rights. Contributors to online sources agree that knowing a person who identifies as LGBTQ is pivotal to understanding and support for LGBTQ rights and equality under the law. The anecdotal evidence that personal relationships with members of the LGBTQ community foster support for LGBTQ rights is often cited as an additional benefit to being open about sexual orientation.
On Monday, Pope Francis and 200 other Catholic bishops issued a document that many religious experts have described as groundbreaking. One called it "revolutionary"; another said it reflected an "earthshattering shift in tone."
The document stated: "Homosexuals have gifts and qualities to offer the Christian community: are we capable of welcoming these people, guaranteeing to them a further space in our communities? Often they wish to encounter a Church that offers them a welcoming home. Are our communities capable of proving that, accepting and valuing their sexual orientation, without compromising Catholic doctrine on the family and matrimony?"
At the Human Rights Campaign's Time to Thrive Conference earlier this year on Feb. 14 in Las Vegas, actress Ellen Page gave a speech that she concluded by coming out as gay. The overarching public reaction to Page's coming out is described as a "national shrug" as opposed to the shock with which it might previously have been met in recent years.
In today's arguably maturing society that receives such news with acceptance, some are beginning to wonder if Coming Out Day is unnecessary.
"There is no simple answer," Enseñat said. "I think that yes, we have made huge strides in the past years, and for the younger generations it is a totally different experience than even 10 years ago. Coming out is about celebrating that your community accepts and supports you."
In an opinion piece for Time magazine titled "Is Coming Out Really Still 'Brave'?," writer and professional dancer Brandon Ambrosino wrote. "Yes, there is still work to be done. We must continue to strive for justice wherever it is denied. But we need to be honest about acknowledging how far we've come."
Enseñat explained, however, that attitudes like Ambrosino's are indicative of a greater issue: the belief that LGBTQ equality is achieved by marriage equality alone.
"While it may not seem 'brave' for a cisgender lesbian to come out, it is still an act of bravery for others. I mean trans women and especially trans women of color are significantly more at risk of being sexually assaulted or murdered. It is brave to look at those statistics and still want to be who you are and let the world know who you are."
Darlene may be reached at [email protected]