The World's New Evil: A Look at the Islamic State
The barbarity of the Islamic State—the beheadings, the public crucifixions, the near genocide of a religious minority—is only part of the story.
Across Iraq and Syria, these Sunni extremists have set fire to a region already in shambles.
Destroyed by America's legacy of war, the Iraqi state is struggling to stay afloat after the last of American troops left in 2011. Since Saddam Hussein's fall in 2003, rebuilding under the leadership of the sectarian former Prime Minister Nouri al-Maliki has only perpetuated division and fueled Sunni unrest, which helped galvanize the Islamic State group, also known as ISIS or ISIL.
Now, civil war looms in Iraq once again.
Syria, on the other hand, is engulfed by an increasingly fragmented and ruthless internal conflict that has claimed 191,000 lives, led to the flight of almost 3 million people and the displacement of nearly 6.5 million. The chaos, in part, provided the perfect conditions for the Islamic State's path to power in certain strategic areas of the country.
The Islamic terrorists now control 35,000 square miles of Sunni-majority territory in Iraq and Syria, an area the size of Jordan. They freely travel across the now disintegrated border—not with passports, but with AK-47s.
The complexity of the issue is sobering. To grasp it completely may require near-fluency in Islam, Middle East politics, the history and evolution of terrorism, war theory, and American foreign policy. An important place to start, however, is with a simple question: Where did the Islamic State come from?
In the aftermath of 9/11, a new brand of terrorism was forming alongside al-Qaida. In 2004, Abu Musab al-Zarqawi, a Jordanian who headed the terrorist group known as the Army of Sham, joined forces with Osama bin Laden. The rationale for combining the networks, generally speaking, was simple: it would strengthen both groups. The Army of Sham had merged with al-Qaida in Iraq.
But, it turns out, Zarqawi had different aims than bin Laden and his followers—and a different, bloodier plan to achieve them. His goal was to establish a caliphate, a Muslim nation led by a supreme ruler, and he would realize his ambitions via a deliberate, calculated strategy. That strategy, of course, has shocked the world.
Their brutality even prompted al-Qaida to sever all ties with the group in February. The violence committed by these terrorists is hard to fathom; it seems truly barbarian, senseless, psychopathic. Certainly not rational. Commenting on films that Zarqawi's group used to post boasting the success of suicide bombings, the New Yorker's Dexter Filkins wrote, "Videotaping a mass murder is not politics; it's pornography."
U.S. bombs killed Zarqawi in 2004, but his violent zeal lives on even more powerfully in what is today the Islamic State, now led by Abu Bakr al-Baghdadi. But key to understanding the madness is resisting the temptation to disregard the violence as irrational, and to avoid overemphasizing the group's religious ties. Their behavior, according to experts, is not historically unprecedented, and it is not uniquely Islamic. Think Rwanda, the Lord's Resistance Army in Uganda, the Khmer Rouge in Cambodia and the Holocaust. Beating down on civilians as a specific, intentional strategy is not new.
The logic behind the Islamic State's violence can be understood, in part, as terrorism used to accomplish radical political and social goals—namely, the caliphate. The savagery is strategic. And, yes, like so many crimes against humanity committed before, it is as ghastly and unpardonable and inhumane as we all believe.
A U.S.-led international coalition, which includes Arab states, agrees. The increasing global unity in response to the Islamic State has set the strong precedent that this evil must be stopped.
Sadly, the story has only just begun.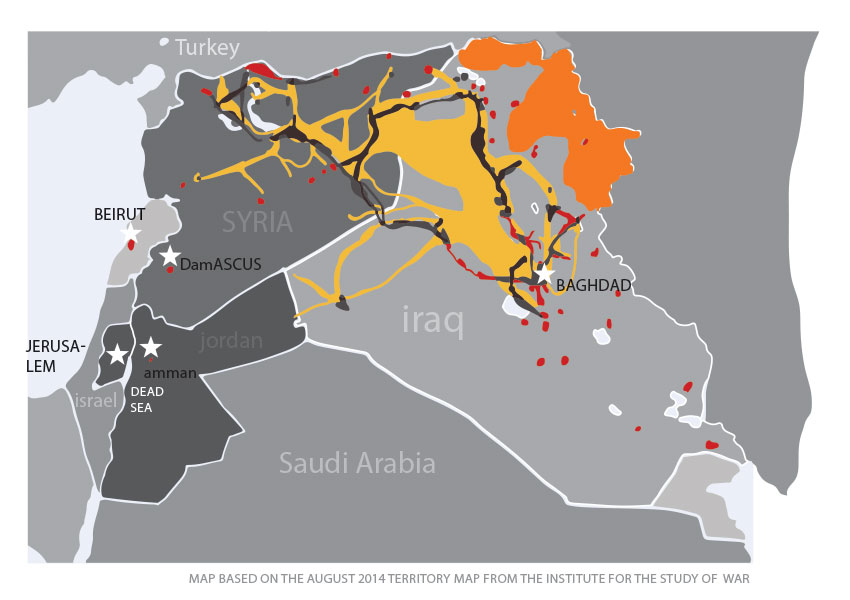 ---
Timeline: Islamic state actions since Feb. 2014
---
February
Feb. 3, 2014 – Al-Qaeda cuts ties with the Islamic State.
The Islamic State changes its focus to creating an Islamic caliphate that covers the region.
April
Apr. 30, 2014 – Iraq election bloodshed. Elections were held in Iraq and Prime Minister al-Maliki's coalition seemed to be in a strong position, setting off post-election attacks that were the worst level of violence since Shiite-Sunni clashes in 2008.
May
May 2014 – Kurdish schoolchildren kidnapped . The Islamic State kidnaps more than 140 Kurdish schoolboys, aged 14 to 16, from Syria and forces them to take daily lessons in radical Islamic theology. Their lessons involve watching videos of executions and suicide operations.
June
June 9-10, 2014 – Complete takeover of Mosul. On Monday night into Tuesday, the Islamic State completes takeover of Mosul. The neighboring countries of Saudi Arabia and Jordan begin to strengthen their border patrols.
June 11, 2014 – Complete takeover of Tikrit.
June 15, 2014 – Islamic State posts evidence of massacres. They post pictures on the Internet of thousands of dead Iraqi soldiers who fled from the terrorists.
June 21, 2014 – Complete takeover of the towns Al-Qaim, Rawa, Ana and Husaybah.
June 29, 2014 – Islamic State declares Islamic caliphate. Abu Bakr al-Baghdadi is declared the authority over all Muslims.
June 30, 2014 – The United States provides support. The United Nations announces that 1.2 million Iraqis have been forced from their homes. The Pentagon also announces that the U.S. is to send an additional 300 troops to Iraq, bringing total U.S. forces in Iraq to nearly 800.
July 10, 2014 – Al-Maliki called to resign. Kurdish leaders call on al-Maliki to resign after he accused Kurdistan of hiding Islamic State troops, a charge they deny.
July 19, 2014 – Christians asked to convert to Islam. Islamic State in Mosul give Christians still living in the city the choice to convert to Islam or leave the caliphate.
Thousands fled two days later.
August
Aug. 8, 2014 – U.S. intervention. President Obama authorizes airstrikes if needed to protect U.S. personnel from IS fighters. Two U.S. F/A-18 jet fighters bomb artillery of Sunni Islamic extremists in Iraq.
Aug. 14, 2014 – Prime Minister Nuri al-Maliki resigns.
Aug. 19, 2014 – ISIS decapitates U.S. journalist James Foley.
September
Sept. 2, 2014 – ISIS decapitates U.S. journalist Steven Sotloff.
Sept. 10, 2014 – Obama's address. President Obama gives a television address in which he promises to "degrade and ultimately destroy" the Islamic State.
Sept. 13, 2014 – Islamic State decapitates British aid worker David Haines. The executioner also threatens the life of Alan Henning, another captive British citizen.
Sept. 22, 2014 – United Arab Emirates strike mission. Maj. Mariam Al Mansouri, the first female fighter pilot in the UAE, leads a strike mission against the Islamic State.
Sept. 23, 2014 – U.S. airstrikes. The U.S. carries out an airstrike against Islamic State focused on Raqqa, a city in northern Syria.
October
Oct. 6, 2014 – Possible takeover of Kobane. An Islamic State flag is seen flying over a building in Kobane. Kurdish female suicide bomber Dilar Gencxemis kills dozens of Islamic State militants. Capturing the town would mean that the Islamic State has control of a long stretch of the Syrian-Turkish border.
Leave a Comment