Businesses Cope with Seawall Construction
The appearance of ominous "closed" signs all over Seattle waterfront businesses this month have many Seattleites worried that the city will lose a crucial aspect of its identity while businesses are shuttered this winter for construction.
The second season of the seawall construction began on Oct. 1, putting 15 waterfront stores from Piers 54 to 57—including the beloved Ivar's Acres of Clams, Elliot's Oyster House and Ye Olde Curiosity Shop—out of business for nine months.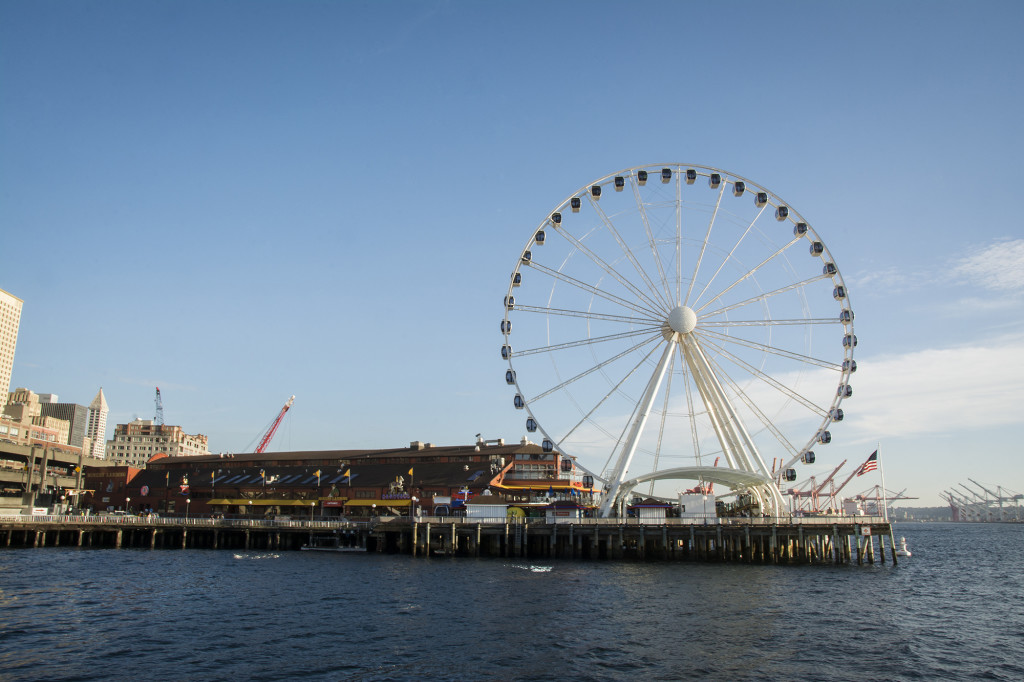 With the construction going on down by the water front, having access to local businesses and tourist shops has become very difficult.
The seawall construction project is a continuation of efforts to improve critical infrastructure and transform the waterfront into a vibrant new public space complete with a wide pedestrian promenade, a new park, a bicycle track, colorful tideline terraces and a public plaza at the front of the Seattle Aquarium. Other proposed redevelopments included a swimming-pool barge, a Seattle Aquarium remodel and full replacement of Piers 62 and 63, but those plans have since been cut back after Seattle Mayor Ed Murray gave a presentation to the City Council in September about the exorbitant costs.
"Some of these things are an incredible idea, but I'm not sure they're practical," said Murray. "I think we need to spend more time sorting out what is practical."
The present seawall was built out of old-growth timber piles that have slowly deteriorated over time, severely compromising the city's protection from coastal storms and shoreline erosion. The new seawall will meet current seismic standards and last more than 75 years, according to the Waterfront Seattle website.
In the long-term scheme of public safety and economical growth the remodel sounds like a good idea, but business closures have put as many as 900 employees out of work.
According to a Puget Sound BizTalk article, it is also estimated that the combined businesses will lose between $22 million and $27 million during the nine-month construction period and the city has agreed to reimburse business owners up to $15 million. Some Seattle U students wonder what this could mean for their favorite hangout spots.
Senior Natalie Truong first found out about the seawall construction while walking along the waterfront with a friend in mid-June.
"We were just going down enjoying the day and there we saw a lot of signs about the closure," Truong said. "It really shocked me."
The Seattle Waterfront Arcade, a family-owned arcade that closed on Sept. 22, is one business that will not be coming back after the nine-month construction period. The characteristically noisy, colorful and lively local business was operating under a month-to-month lease agreement for 20 years on Pier 57, but according to a King 5 News article, the business owners are unsure of how they will fit in to the new and improved waterfront.
Truong was disappointed by this news.
"It was sad," Truong said. "The waterfront has never really changed."
Despite these changes, many agree that renovations are much needed.
"Long-term wise, the businesses will have more people coming because of the increased popularity of the construction afterwards," said senior Francis Tran.
Tran usually visits the waterfront with friends for special occasions. Though he thinks nine months is a long time, he understands the city's decision to close down businesses. He also knows that there are other attractions that will remain open and are worth visiting.
On Oct. 4, businesses held the New Waterfront Festival on Alaskan Way to remind residents that places such as the Aquarium, Argosy Tours and the Great Wheel would remain open. They celebrated with food, music, activities and a light show to convince people that the Seattle waterfront will not be as direly affected by the seawall construction as some may think.
"I don't think the loss will be that much, but it is sad for people in the area," Tran said.
The guiding principles for the project, created in collaboration with the Central Waterfront Committee, emphasize a sustainable waterfront that reconnects the city and its people.
While many are still suspicious of how the changes will transform the identity of the Seattle waterfront, the goal of redevelopment is ultimately to benefit the city and all its residents.
Leave a Comment