In a blast from the not-so-distant past, Seattle University's Student Events & Activities Council got the year rolling with a successful 90s-themed dance last Saturday night. Students showed up dressed to the nine-ties and danced the night away to classics (remember the Macarena?). This kickoff event was just the beginning for SEAC, which will host events for students throughout the school year.
Some of SEAC's most popular events include Fall Ball, Battle of the Bands and Quadstock. Fall Ball will be coming up later this quarter on Nov. 15 at the Experience Music Project at the Seattle Center. Ticket prices have yet to be determined but will soon be available for purchase at the Campus Assistance Center.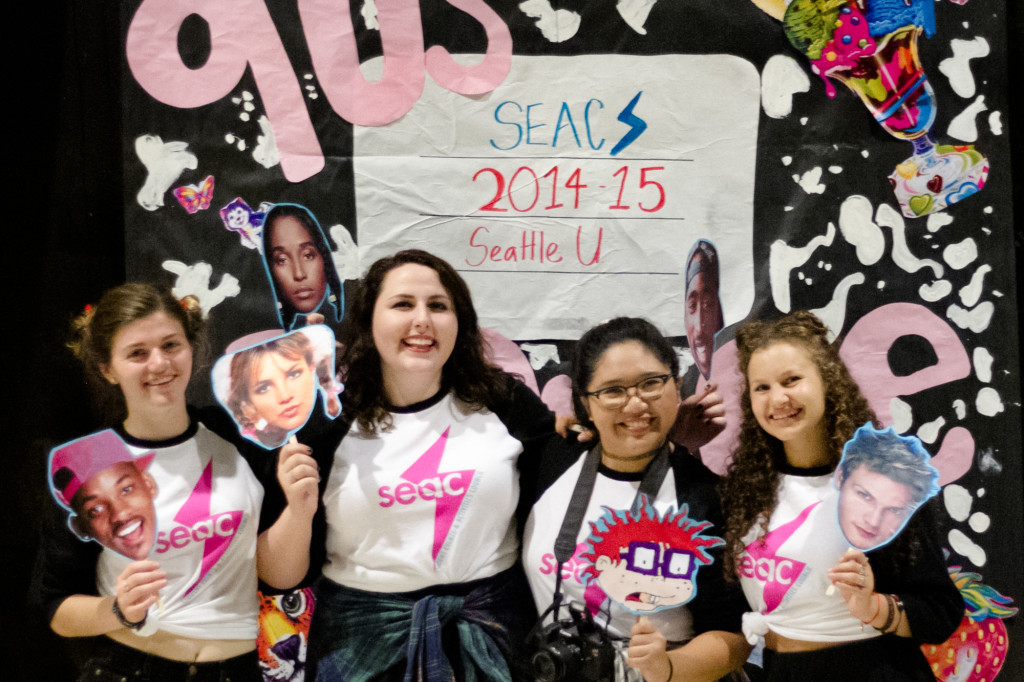 Members of Student Events & Activities Council pose in front of their backdrop for the photobooth at this years 90s dance. It came equipped with props with faces of 90s icons like Britney Spears and Will Smith.
Aside from these well-known events, SEAC puts on eight smaller events each quarter. The entertainment, film, music and art chairs host two events each quarter. In the past, each chair planned only four events per quarter, but SEAC President Kimi Kogachi is excited about the change because having just two events to focus on per quarter will give chairs the opportunity to expand the range of their planning.
"It's one of the most significant changes we've made," Kogachi said. "It was done for the purpose of making more intentional programs to cater specifically to different sects of the [Seattle University] population."
In order to more greatly appeal to the student body, SEAC will also be teaming up with several clubs across campus to create fun events for students.
"I'm really excited about co-sponsoring opportunities because we have really been emphasizing that," Kogachi said. "I'm excited for SEAC to collaborate with well-known clubs on campus. Most of our successful events have come from that."
Along with participating in SEAC events, students have the opportunity to participate as members of SEAC as well. Every quarter, interns are hired to help create programs and get involved with a leadership role on campus. Interested students can pick up applications in Student Center 350.