Fall Flavors on Capitol Hill
While the chilly autumn season gave us a rude awakening from our sunshiny summer, it did not arrive without its perks. Instead of groaning about the sun's disappearance until next spring, you can appreciate the reappearance of drool-inducing fall flavors on Capitol Hill. As college students surrounded by local, award-winning restaurants, we cannot afford to be amateurs when it comes to food this season. Experienced eaters know that autumn means more than cliché, over-marketed drinks, but also reimagined flavors worthy of hype.
This fall, ditch the Starbucks coffee cups, renounce your affair with pumpkin spice lattes and embrace the indulgent treats this city has to offer. Capitol Hill establishments are experts at transforming classic autumn flavors into beers, ciders, baked delights and even savory sauces, turning pumpkin skeptics into fall flavor fanatics.
---
SKILLET DINER
Pumpkin isn't just for sweets anymore. It may sound a little unusual at first, but the Skillet Diner on Capitol Hill has created a line of pumpkin ketchups that can be used in the same way as traditional ketchup, for fry-dipping or as a flavor base. The distinctive taste will make you see pumpkin in a whole new light.
Skillet's Brown Sugar and Apple Vinegar Pumpkin Ketchup goes well with a panini or as an ingredient in pasta sauce. The Chipotle Pumpkin Ketchup is a smoky sauce that is great for marinating steak. The Thai Coconut Pumpkin Ketchup is arguably the most unusual of the line, and makes a great dipping sauce for Vietnamese spring rolls. Jars of these ketchups are available for purchase on Skillet Diner's website.
---
Caramel Brandied Pear, Pumpkin Ale, and Tipsy Apple cupcakes from Cupcake Royale.
CUPCAKE ROYALE
Cupcake Royale has stepped up their booze game this season by teaming up with local breweries and farms to deliver happy hour-friendly products that embody the spirit of autumn. Their Tipsy Apple Cupcake and Caramel Brandied Pear Cupcake are both made using Finnriver Farm & Cidery's fruits and ciders. The Washington apples and pears are shredded just moments before they are incorporated into flavorful buttercreams and batters.
Elysian's Imperial Pumpkin Ale and fresh pumpkin puree ordered from Stahlbush Island Farms are two ingredients in the Pumpkin Ale Cupcake. The German Chocolate Stout Cupcake is made with Two Beers Brewing Company's Jive Espresso Stout, giving this classic cake a tangy and nutty finish.
As if choosing between these cupcakes isn't hard enough, Cupcake Royale has also created a hard apple sorbet made with Seattle Cider Company's cider, and a Pretzels, Bacon, N' Stout ice cream made with Hilliard's Beer's Murdered Out Stout. These tasty treats, available through Oct. 31, will make you unsure of whether to say "Bottoms up!" or "Let's dig in!"
---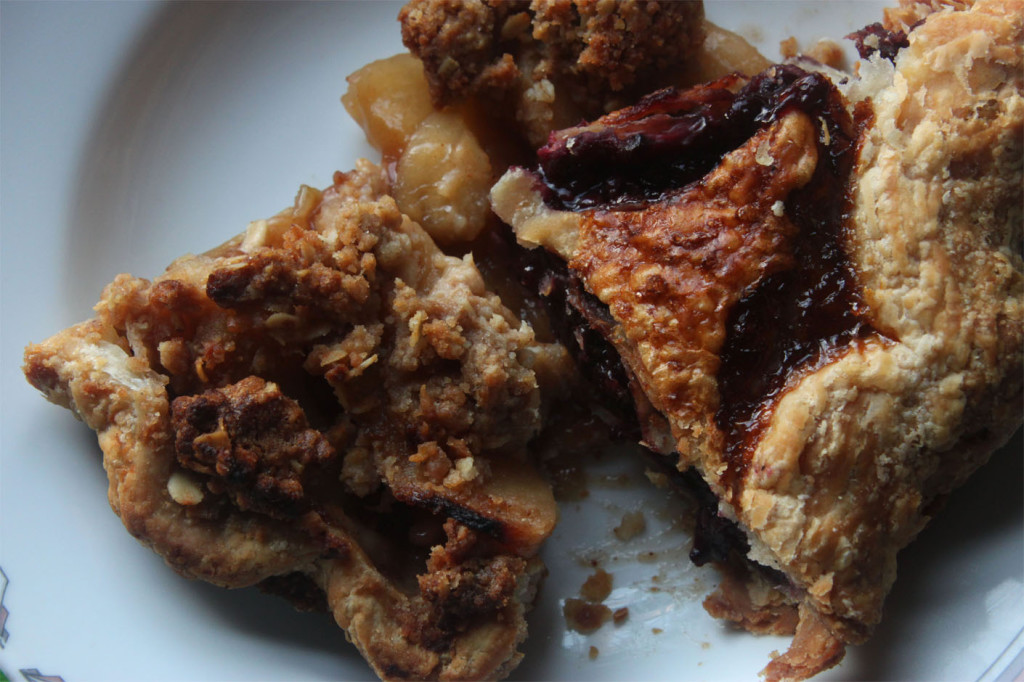 Pie feeds the soul. Specifically double blackberry pie and the traditional yet scrumptious apple pie from none other than Capitol Hill's very own High 5 Pie.
HIGH 5 PIE
High 5 Pie stays true to their commitment to deliver vintage, modern and delicious coffee and pies no matter the season, and they utilize organic, local and fresh ingredients whenever possible. While the pie shop consistently offers classic flavors such as apple, cherry almond, vanilla cream and key lime pie, during October they offer a pumpkin pie that may ruin you for grocery store pies. Throughout November they will also offer other seasonal favorites such as caramel pecan and sweet potato.
---
MOLLY MOON'S
True ice cream lovers can appreciate frozen treats all year round regardless of the cold, especially the flavors made by Molly Moon's. This homemade ice cream shop uses locally made beers and ciders to capture the full flavors of fall. This autumn they are debuting 11 seasonal flavors including pumpkin clove ice cream, Reuben's Robust Porter ice cream and ginger pear cider sorbet in October. Other flavors such as wine grape sorbet, cinnamon ice cream and eggnog ice cream will come out sometime in November and December.
THE ELYSIAN
This Oct. 3–4 marks the Elysian's 10th Annual Great Pumpkin Beer Festival, a joyful and quirky event featuring more than 80 pumpkin beers at the Elysian Brewery in Seattle's Georgetown neighborhood. While the event is already sold out, pumpkin ale lovers can still try great seasonal flavors, bottled and on tap, at the Elysian Brewery on Capitol Hill.
The Elysian's Night Owl Pumpkin Ale has a light body and is available throughout October. The Dark O' the Moon, a chocolatey, pumpkin stout, the Punkuccino, a coffee pumpkin ale, and the Great Pumpkin, a classic autumn spiced ale will continue to be available throughout the fall. Warm up with these seasonal beers and remember to drink responsibly.
Melissa may be reached at [email protected]
Leave a Comment