The Spectator's Guide to Capitol Hill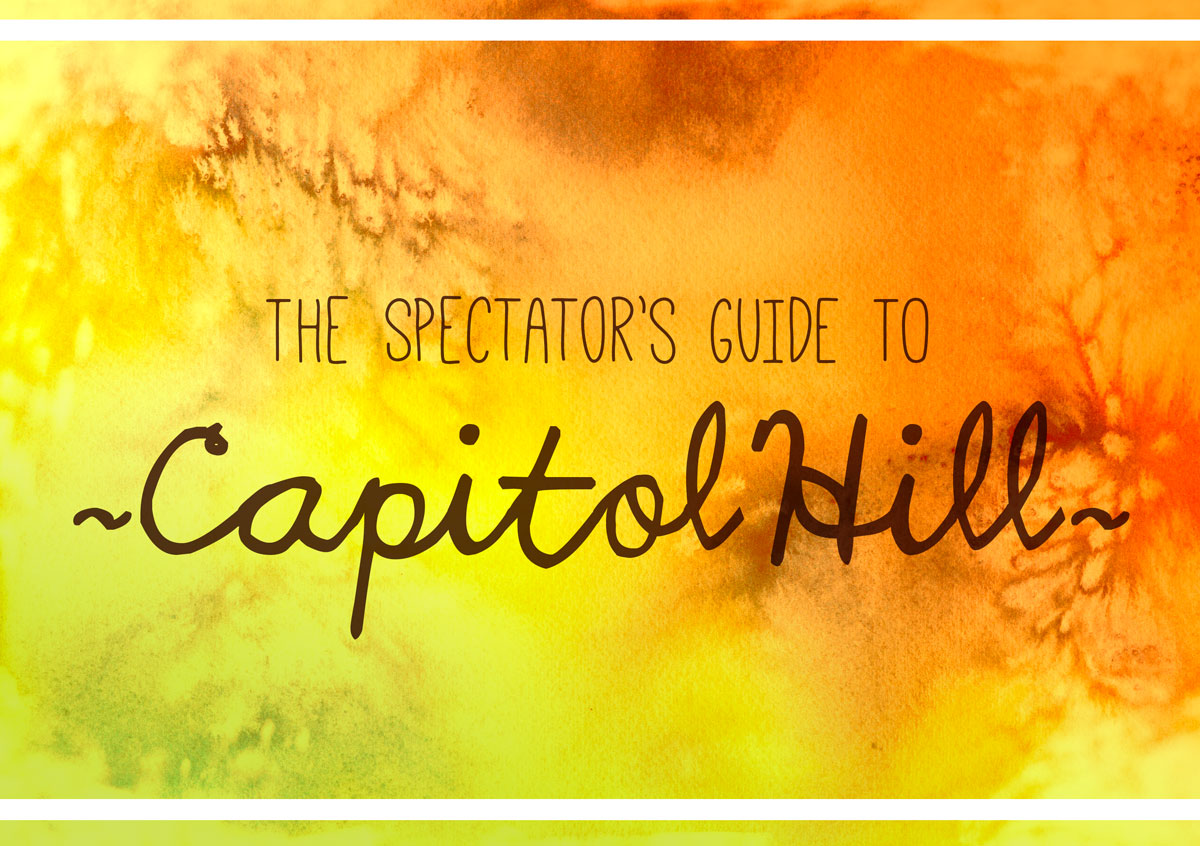 All the spots you'll need to know about to make Capitol Hill feel like home. And if you've lived here for years, it just might make your old home feel new all over again.
---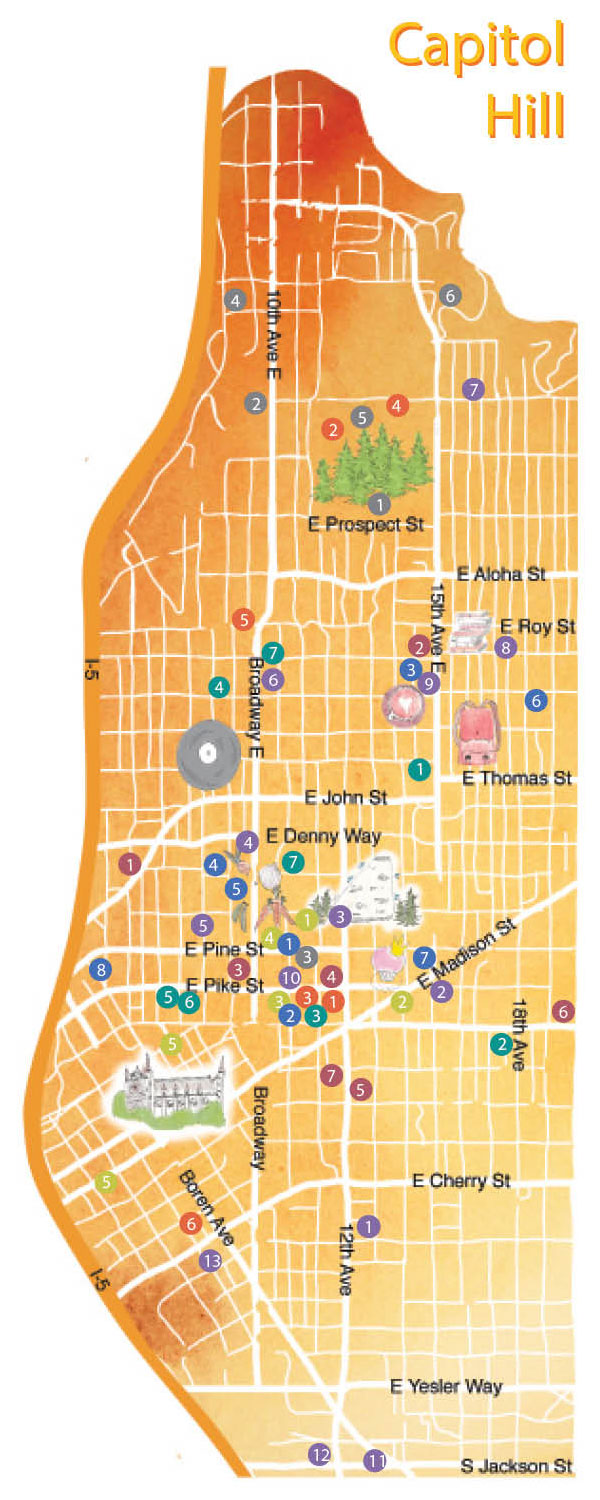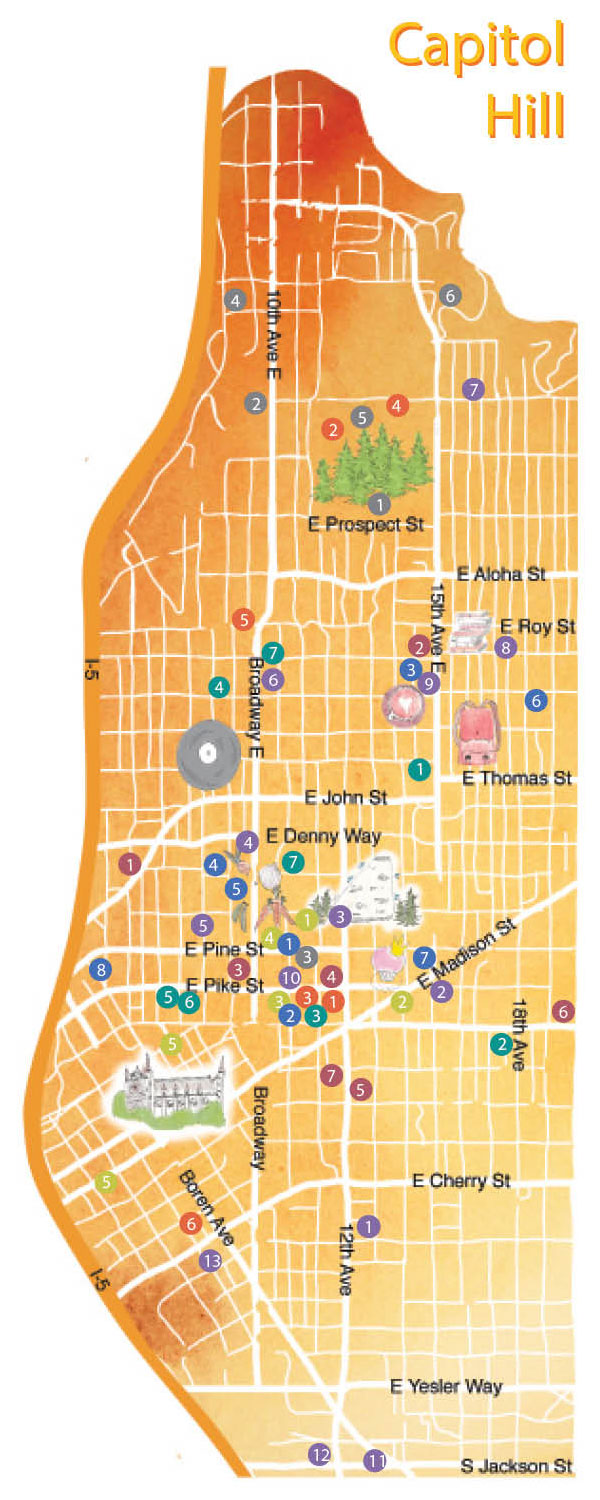 Eat
Oma Bap: Reasonably priced and almost on top of campus, Oma Bap has put authentic and accessible Korean food on the Capitol Hill menu.
Little Uncle: Kick start your lunch hour with some quick, cheap and tasty Thai.
Octo Sushi: Some of the best sushi on the hill—and they deliver.
Annapurna: One of Seattle's best under-the-radar Indian restaurants. Literally, it's underground.
Hot Mama's Pizza: They stay open until 2:30 a.m. on weekends so you can get your late-night pesto pizza fix.
Pho Than Brothers: These guys only serve two specialties: pho and cream puffs. They're the family's secret recipes, and very good ones.
Volunteer Park Café: Simple and delicious meals made fresh daily from produce in season and in their backyard.
Hello Robin: Create your own ice cream sandwich combo with two homemade cookies and Molly Moon ice cream.
Coastal Kitchen: Try the "two buck shucks" at the oyster bar while admiring the rotating local art exhibits.
Via Tribunali: The place to go for delicious thin-crust pizza—$6 during happy hour—and a classy vintage atmosphere.
Saigon Deli: The $3 pork banh mi are said to be among the best in the country.
Huong Binh: Create your own spring rolls at this 20-year-old Little Saigon standby.
Kafe Berlin: This sunny German café serves up seriously legit reubens, wurst, and cold cuts.
---
Drink
The Saint: Save yourself from the terrors of cheap tequila and treat yourself with a margarita from Seattle's tequila experts.
Liberty Bar: Relax and enjoy a wide selection of booze with sushi, and get a sample of whatever intrigues you on their shelves.
Capitol Cider: One of the country's largest selections of hard ciders on tap, with exclusively gluten-free food.
Unicorn: This carnival-themed bar offers more than just drinks, including live shows, trivia, and DJs.
Canon: Known for the vast whisky collection, Canon also offers appetizers and small plates.
Chuck's Hop Shop: Dozens of taps, rotating food trucks, ample patio. Need we say more?
Café Presse: $10-ish bottles of French wine from 4–6pm may be one of the best happy hour deals on the hill.
---
Watch
Northwest Film Forum: A gem for film enthusiasts, showing over 200 independent and classic films annually.
GreenStage: Roll out a blanket to enjoy a picnic on the grass or catch a performance at this brick-backed stage.
The Annex Theatre: This hole-in-the-wall offers $5 student tickets to experimental new plays. Don't miss their monthly variety show.
Seattle Asian Art Museum: One of the highlights of Volunteer Park, this museum is free on the first Thursday of every month.
Harvard Exit Theatre: Built in 1925, this historic theater offers an eclectic mix of independent films.
The Frye Art Museum: From its impressive collection of European art to its lineup of cutting-edge exhibitions, this free First Hill museum is unmissable.
---
Listen
Richard Hugo House: Poetry readings, workshops, events and meet-ups to inspire and support local writers.
Chop Suey: This Asian-themed bar hosts live music nearly every night, from local punk bands to full-blown queer dance parties.
Neumos: This small venue hosts big names in rock, punk, indie, electronic and everything in between.
Rock Box: Rent a private room for you and your friends or blow incoming customers away as you command the public karaoke space.
Town Hall Seattle: If you're into TED talks you'll love this lecture hall, where many events have a low $5 admission fee.
---
Study
Remedy Teas: Cutesy atmosphere and variety of "specialty organic" teas.
Togo Coffee Co: With a rustic and charming décor, Togo offers friendly service and some of the best drip coffee in the city.
Caffe Vita: A spacious cafe for studying or socializing, with spectacular coffee, hot chocolate, and pastries.
Capitol Hill branch library: Check out the Capitol Hill branch of the vast downtown library.
Gay City LGBT library: Over 6,000 books and an extensive calendar of events.
Kaladi Brothers Coffee: Comfy chairs and booths, plenty of outlets, and yummy hazelnut biscotti, this is the consummate study spot.
Espresso Vivace: This café has set the bar for quality coffee in Seattle for decades. Theirs is simply the best latte on the hill.
---
Shop
Everyday Music: Despite its jumbled genres, the vibe its posters give make the experience worth exploring.
Lifelong Thrift Store: Knick knacks you'll convince yourself you need to an entire closet of quirky apparel. Proceeds support Lifelong AIDS Alliance.
Ada's Technical Books: A quirky selection of science books with a full-service café.
Twice Sold Tales: Browse the nooks and crannies at this 20-year-old shop of used books and furry cat friends.
Capitol Hill Farmers Market: Support local farmers at this vibrant market every Sunday, rain or shine.
Cone and Steiner: Whether you need a wheel of artisan cheese or a tomato-scented soy candle, you'll find it at this cute neighborhood general store.
Central Co-Op: A co-ownership of this natural market costs just $60—but you can shop the whole store, including an extensive bulk foods selection, without one.
Melrose Market: Find a sustainable sandwich shop, an organic florist, a raw bar, and more inside this gorgeous Auto Row compound.
---
Explore
Volunteer Park water tower: At the top, find historic placards and gorgeous view of the city.
St. Mark's Sunday Night Compline: Every Sunday night an all-male Compline choir shares a free evening of music with audiences from all over the Seattle area.
Century Ballroom: Shimmy over to this historic ballroom for lessons and performances in swing, salsa, tango, tap and more.
Streissguth Gardens: Explore this quiet, quaint, family-maintained garden with views of Lake Union, downtown and the Olympic Mountains.
Volunteer Park Conservatory: Spend a quiet morning admiring room after room of picturesque seasonal plants, succulents and flowers.
Louisa Boren Lookout Park: This petite park with a stunning view of Lake Washington and the Cascades may be one of the hill's best-kept secrets. Bring a picnic.
---
Map designed by Courtney Decker, Devon Simpson, & Alyssa Brandt
This map has been brought to you by the staff of Seattle University's Spectator. Selections
may be attributed to the incredible taste of the editorial board.
Leave a Comment