With the last of the Redhawks' sports seasons coming to a close in recent weeks, it's about time to look back on the most memorable games of the year. Now, fair warning, not all of them resulted in Seattle U victories, but they all had me bleeding Redhawk red—here are the Spectator's picks for top games of the year.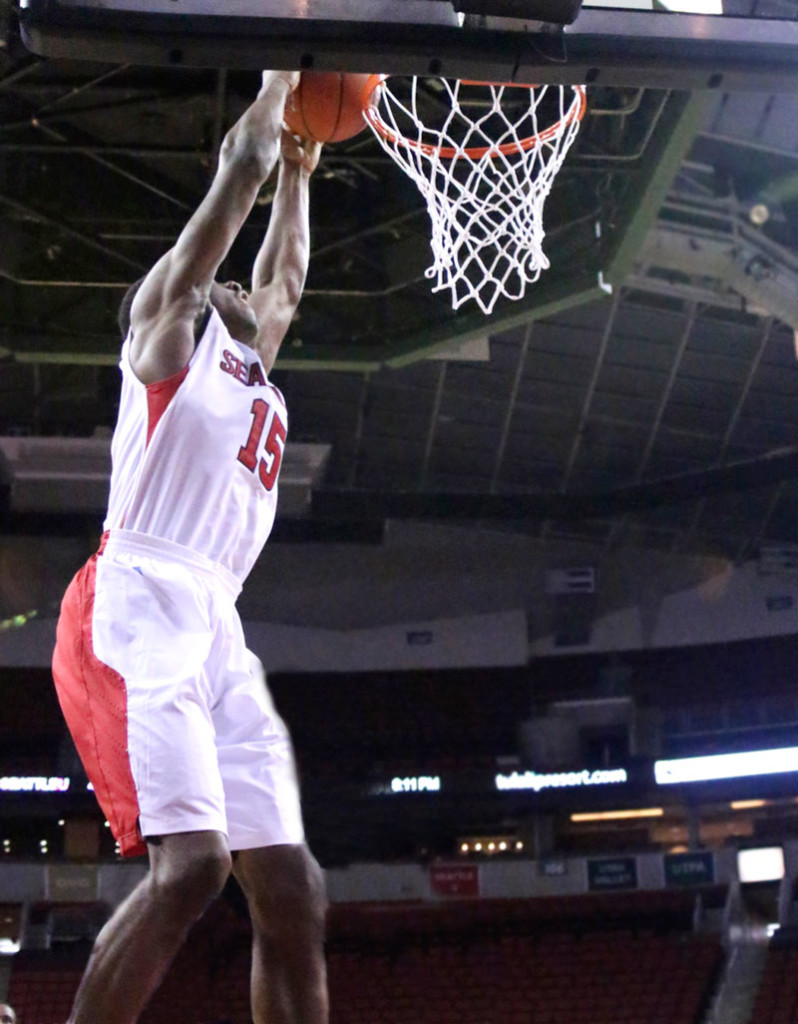 Seattle U junior Shore Adenekan demonstrates his dunking ability in Key Arena.
#5. BASEBALL VS WASHINGTON, APRIL 22
University of Washington came to Bellevue's Bannerwood Park with a nationally touted offense and assumptions of victory. However, someone forgot to tell the Redhawk pitching staff, who shutout the fifth ranked Huskies in a 1-0 grinder. Skyler Genger allowed only three hits in nearly eight innings of work. Seattle U followed up that huge win with a season series clinching victory over UW one week later. Those victories helped Seattle U put up a .500 record versus Pac-12 competition on the year.
#4. WOMEN'S SOCCER VS IDAHO, NOVEMBER 1
After starting the season with a 10-0 conference record, the women's soccer team hosted their senior night against Idaho in dominating fashion. The Vandals never stood a chance as Seattle U cruised to a 3-0 shutout. On this senior day, eight were honored and they played their final home game in a microcosm of the whole season, by crushing a WAC opponent. Seattle U would continue on to win the WAC tourney title and total a 15-0 record against conference opponents. But after the November 1st game and witnessing how they came together for the seniors, it hardly came as a surprise.
#3. MEN'S BASKETBALL VS CHICAGO STATE, FEBRUARY 27
Although this match was not a victory, I'd be remiss not to include the triple overtime thriller against Chicago State. It was a see-saw affair throughout the entire game, which kept the Redhawk faithful on the edge of their plastic seats. As time in regulation floundered, star guard Isaiah Umipig launched a fade away three that absolutely tickled the twine propelling the game to overtime. Baskets were traded through two more overtime periods until Chicago State pulled away to a 84-77 finish in triple overtime. Despite the loss, no one could forget Umipig's shot after leaving that one.
#2. MEN'S SOCCER VS CREIGHTON NCAA 1ST ROUND, NOVEMBER 21
The second best game of the year was played far from Seattle U's home pitch against Creighton in Omaha, Nebraska. With snow flurries making for rough conditions and an early 1-0 deficit, it seemed like the Redhawks would never see the second round. Then they rallied. Consecutive goals from Miguel Gonzalez in the 31st and 72nd minutes gave the Redhawks their most impressive–as well as record setting—win of the year. That win was the first NCAA tournament win for any Seattle U sport in 50 years. It also continued the Redhawks unbeaten streak to 12 games while breaking Creighton's two year streak of reaching the Final Four.
#1. MEN'S BASKETBALL VS IDAHO MARCH 1
You would have thought it was the Sonics' homecoming during senior night for the men's basketball team. Key Arena hadn't been so wonderfully raucous for basketball in years. Luckily the team gave them reason to be, especially Umipig who dropped a career high 36 points including eight three-pointers. The Vandals simply had no answer for him as he created shots at will. Idaho kept it interesting but the Redhawks stretched it out to an eight point victory. Umipig's scoring outburst, which had become second nature throughout the year, coupled with so many electric fans, sent the seniors out in style in the most unforgettable game of the year.
---