Ferguson Takes on EIC Position at Spectator
In the coming months, Caroline Ferguson, the incoming Editor-in-Chief (EIC) of the Spectator, will be working on more in-depth and refined training on the paper staff in order to polish the reputation of the newspaper.
At the end of this year Kellie Cox, the outgoing EIC at The Spectator, will be graduating, thus making room for a new EIC to take her place. Caroline Ferguson is a longtime affiliate of the paper, having written for it since the winter quarter of her freshman year, when she worked as a volunteer. Since then, Ferguson has held almost every writing position possible at The Spectator. After being hired on as a staff writer after one quarter of volunteering, she became a news editor for two quarters, a food columnist, copy chief, managing editor and now EIC.
"I feel that I have a diversity of experience that will allow me to solve problems and work effectively with people at every level of the paper," Ferguson said.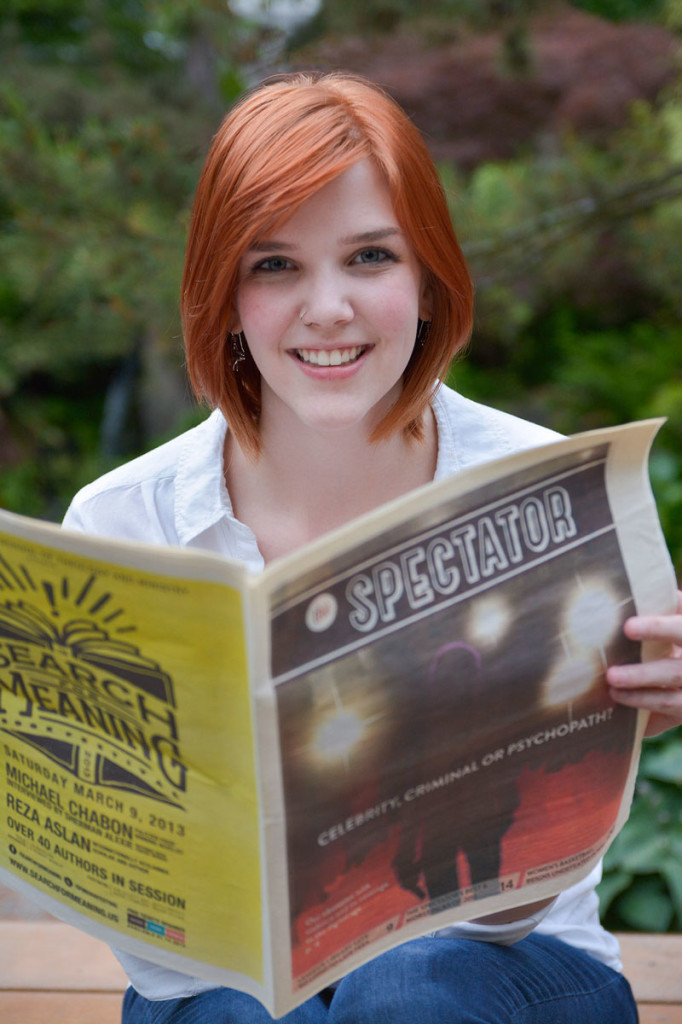 Caroline Ferguson will be succeeding Kellie Cox as the Editor-in-Chief at The Spectator. She hopes to work on further training of the staff.
Her diversity of experiences are what led her to apply for the position in the first place.
"It felt like the logical next step for me," she said. "I feel that the position fits my personality fairly well, given that my ambition and thought process is very integrative—I have trouble focusing all of my attention onto just one facet of the process, so I'm glad that my new position will allow me to have a hand in every part of the process."
In speaking about hiring, Cox spoke about Ferguson's many strengths, and how such strengths naturally lend themselves to a leadership position.
"She's a very intrepid reporter, an amazing writer and she has a strong sense of structure," Cox said. "Further, she's a natural leader. This year she has really been my 'right hand man' so to speak, so I've been able to integrate her into a lot of the processes that make up what was my, and will now be her, job."
Moreover, Ferguson has made an effort to educate herself on what social justice means in a journalistic context.
"She's a very thoughtful person. She thinks hard about what different stories and different images are saying to people. So, from a social justice perspective as well, she has made an effort to understand what is positive rhetoric and what is negative rhetoric when it comes to social justice, and this has helped her stories a lot," Cox said.
Over the past few years, The Spectator EIC's have made large changes in the paper. Kelton Sears, the EIC before Cox, worked to improve the paper's appearance and layout—giving the paper the more weekly-alternative design it has today.
Cox's legacy has largely been helping The Spectator complete the dive into consistent online content. Under her leadership, the paper was able to develop a significant online presence, attempting to mirror The New York Times with its interactive online features.
"Kellie and I have shared a lot of experiences and working with her has been great," said Colleen Fontana, a news editor at The Spectator who will also be graduating at the end of the term. "She had a great vision for the paper, but was still open to new ideas and voices."
Those new ideas and that voice now lies with Ferguson.
When asked what she's learned from her predecessors, Ferguson said, "I really admired Kellie's ability to stand by her staff. I remember when I wrote a controversial story, and she did a great job of making all of us feel like a team and feel supported and understood. I think that being able to direct and correct your staff, but still be on their side, and be a support for them in their work, is such a gift. It's scary, but exciting to know that I won't have anyone to defer to anymore."
In terms of her own goals, Ferguson spoke about increasing the journalistic practices and training already in place at The Spectator, including writer training and further supporting her staff. Furthermore, Ferguson aims to create a section of online content dedicated to breaking news, a rising focus within contemporary journalism.
"I have loved my time at The Spectator," Cox said. "When I look back, my time here will be one of the things I will remember most. That said, I'm really confident with Caroline coming in, and I know that she'll do an amazing job."
Leave a Comment