Seahawks Score New Flock of Hawks
The NFL draft has come and gone and the Seattle Seahawks have acquired a new group of players to add to their already deeply talented roster. The defending Super Bowl champions had nine selections over the course of the draft. As training camp rolls around, these new additions to the organization will try to make their case to make the final roster once the season starts. Say hello to your new Seahawks: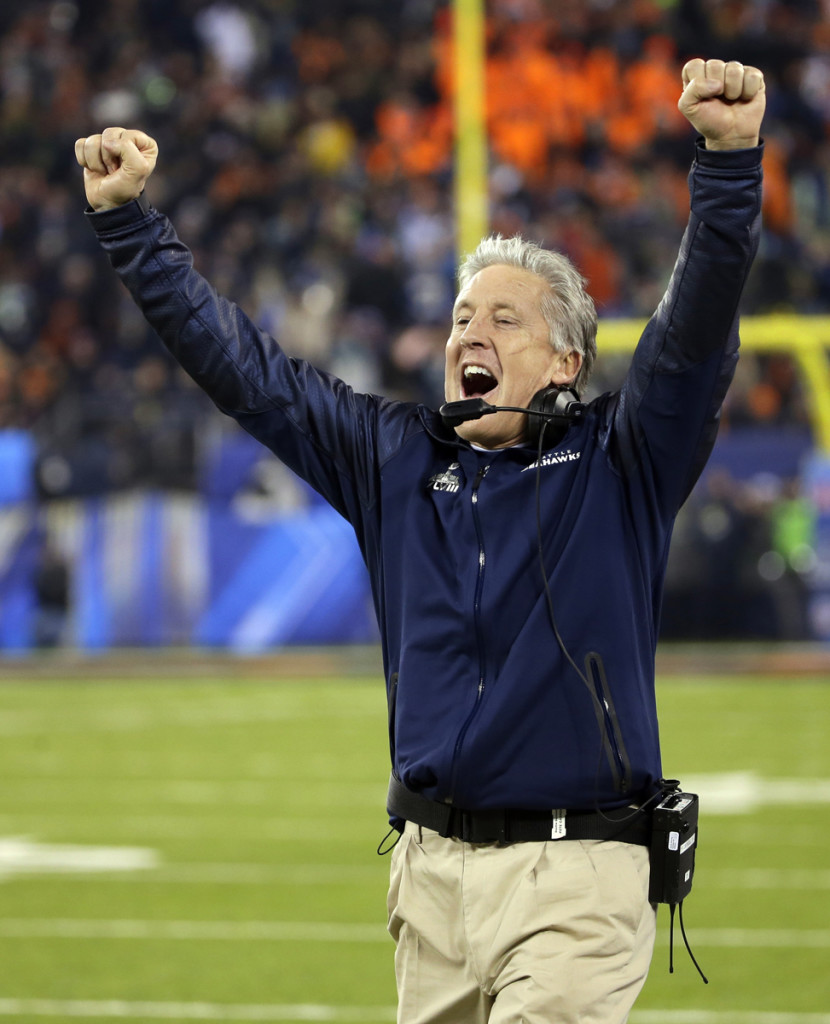 Seattle Seahawks head coach Pete Carroll celebrates as Percy Harvin returns a kickoff for a touchdown during the second half of the NFL Super Bowl XLVIII football game against the Denver Broncos.
Paul Richardson (Round 2, Wide Receiver, Colorado):
Richardson was a three sport star in high school when he attended California Prep, playing football, basketball and track. He missed the entire 2012 season due to a torn ACL but started every game of the 2013 season. He was the team leader in each receiving category, finishing with 83 receptions, 1,343 receiving yards and 10 touchdowns. Richardson was also one of the fastest receivers in the draft, running a 40 yard dash in 4.33 seconds.
Justin Britt (Round 2, Offensive Tackle, Missouri):
Britt played left tackle in high school and was also a wrestling star who went undefeated in 45 matches during his senior season. He started every game in 201,1 but had his 2012 season cut short after tearing his ACL. Like Richardson, he returned to start every game of the 2013 season. Measuring in at 6 feet 6 inches and weighing 325 pounds, Britt will make a great addition to Seattle's offensive line which had certainly been one of the weakest links over the past couple seasons.
Cassius Marsh (Round 4, Defensive End, UCLA):
Marsh's father played 15 games in the NFL as a wide receiver for the Jaguars and Steelers. His brother is currently in the NFL playing cornerback for the Philadelphia Eagles. He was raised in California by a single mother and chose to attend school close to home. As a freshman he managed to get a lot of playing time and had a successful career at UCLA. However, he was suspended and ejected from a few games after participating in some fights on the field. This firey personality could provide for fan entertainment when mixed with that of current player Richard Sherman.
Kevin Norwood (Round 4, Wide Receiver, Alabama):
Through his first two seasons at Alabama, Norwood didn't see much of the ball. However in 2012, he started 11 games for the Crimson Tide, who went on to be the national champions. During the 2013 season he started seven games and finished the year with 38 receptions for 568 yards and seven touchdowns. He is considered to be a very reliable receiver and will likely play special teams in Seattle.
Kevin Pierre-Louis (Round 4, Outside Linebacker, Boston College):
Pierre-Louis started every game as a freshman in 2010. Over the next two seasons he missed a few games from various injuries but started every game that he played in. For the 2013 season, he started every game and won Gatorade Player of the Year honors finishing with 108 tackles, six sacks and an interception.
Jimmy Staten (Round 5, Defensive Tackle, Middle Tennessee State):
Staten played in every game during his college career and started all but one during his senior season. He was an honorable selection for the All Conference USA team.
Garrett Scott (Round 6, Offensive Tackle, Marshall):
Scott first received playing time his freshman year when the players ahead of him got injured. Over his career, he started a total of 35 games at either guard or tackle. He received the honor of All Conference USA second team.
Eric Pinkins (Round 6, Free Safety, San Diego State):
Pinkins is considered to be a late bloomer who is still learning the game. Over his career he has only had three interceptions, but has a lot of athletic ability with regards to speed and strength. He had an impressive pro day, running a 4.44 second 40 yard dash and getting 25 reps on the 225 pound bench press.
Kiero Small (Round 7, Fullback, Arkansas):
Small originally attended a military school after high school, but dropped out to play football at a small community college. He then transferred to Arkansas to receive more opportunities to play. He played in every game of 2013 and had three touchdowns over the final four games.
Overall, the Seattle Seahawks had a relatively good draft. They filled the spots that they needed, both at wide receiver and on the offensive line. It should prove to be exciting to see Richardson's speed compliment the speed of Percy Harvin. The Hawks have had a lot of success with picks in the later rounds, such as Russell Wilson going in the third and Richard Sherman and Kam Chancellor both being picked in the fifth round of their respective drafts. Only time will tell how these selections will play out for the defending champs.
Leave a Comment