Pistorius Trial on Hold For Psych Testing
He is an athlete, an idol and a role model. But is he also a murderer?
Oscar Pistorius is a South African sprinter whose legs were amputated below the knee when he was less than a year old. After winning several races in the Paralympics, he had the opportunity to compete and have great success in able-bodied competitions, including the 2011 World Championships and the 2012 Summer Olympics. Since, his tenacity has served as inspiration for several people around the world.
However circumstances changed when Pistorius shot his girlfriend, Reeva Steenkamp, five times in February of 2013. He is currently on trial in South Africa with the charges of murder.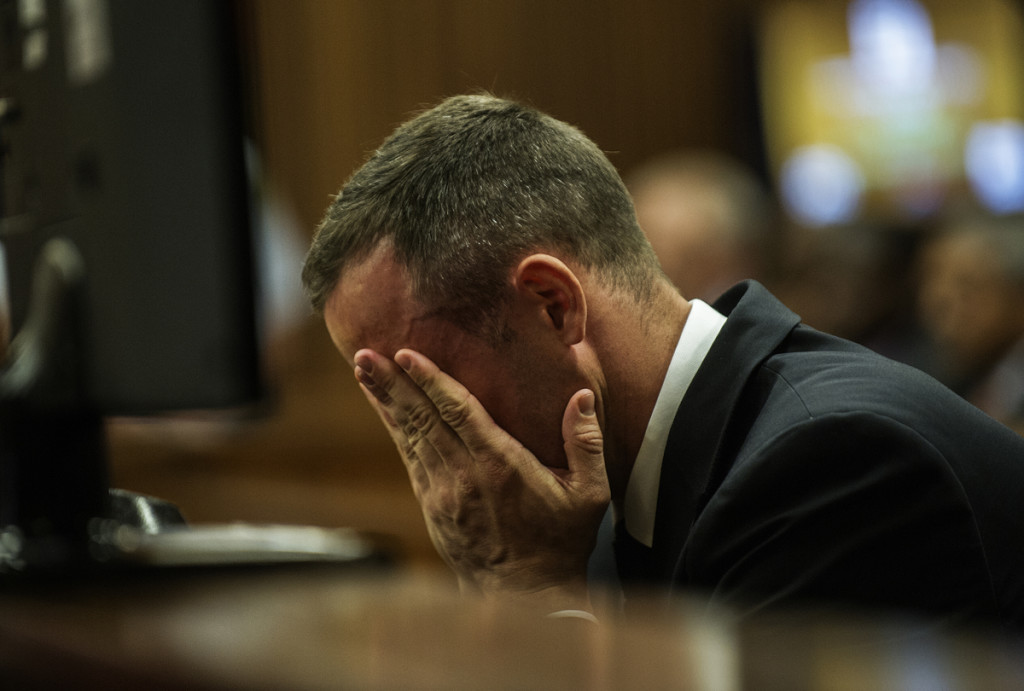 Oscar Pistorius cradles his head in his hands as he listens to evidence during his murder trial in Pretoria, South Africa, Thursday, May 8, 2014.
"It is sad because he was a role model for so many people, an Olympic athlete," said sophomore Michael Larson. "It's a shame to see such an inspirational figure take a turn for the worst."
One important thing to note about the legal system in South Africa is that they do not have trials by jury. The verdict comes from the judge alone. This is a major difference from the legal system in the United States.
Seattle University professor of law Ron Slye explains what this will mean for the case.
"In a jury trial as opposed to a judge, a lawyer will argue the case differently in order to appeal to the people on the jury," Slye said. "With a judge, you will be appearing before that one person and use different language to appeal to that particular judge."
The judge in this case is Thokozile Masipa. She is 66 years old and only the second black judge assigned to her geographic region in South Africa. Masipa has been known for cracking down hard on people accused of committing violence against women, especially in cases of rape. She has previously sentenced a man to life in prison for the raping a woman.
"The case will be interesting in terms of how she handles it," Slye said. "One narrative that came up was that Pistorius was abusive to [Steenkamp]."
The case itself is expected to be put on hold after Judge Masipa ruled that Pistorius would undergo some psychiatric tests to determine if he has any mental problems that would explain his actions. People on the defendant's side have claimed that the murder was simply a result of stress anxiety disorder. Despite this argument, the defense tried to oppose having Pistorius take the tests. This could potentially be due to the fact that taking these tests would change public opinion in a negative way. Having psychological issues known to the public can be unsettling. However, if he is found guilty, and a mental disorder is at play, his sentence could certainly be reduced.
It is possible that Pistorius will be found guilty of first degree murder–meaning that he had the intent to kill. However if mental incapacity was involved in the killing, the sentence drastically changes—where there is no malicious intent, it is greatly reduced.
The fact that Pistorius has been in the public eye has generated a lot of interest in this case. In both the United States and Africa, the media has tried to provide a lot of coverage on the matter due to his fame, potentially changing the nature of the case.
Sophomore Nathan Braaten expressed, "Just because he is an athlete and role model does not mean the case should be treated any differently in terms of the law."
Another important thing to note in cases of this caliber is the quality of the lawyers provided because they can be afforded.
"I think one lesson we can take from this as a Jesuit university is to think of the social justice aspects of the case," said Slye. "It's not that he shouldn't have the higher quality lawyers but we should think about how there are innocent people out there who don't have a lot of money and can't get access to those kinds of lawyers."
For now, the case is being put on hold while professionals determine whether or not Pistorius has any psychiatric problems. The process could take up to 30 days and, until then, Pistorius' fans will have to readjust their opinions of their once role model.
Leave a Comment