E-DUCATION: Seattle U's New Online Classes Bring the Classroom to the Students, Wherever They Are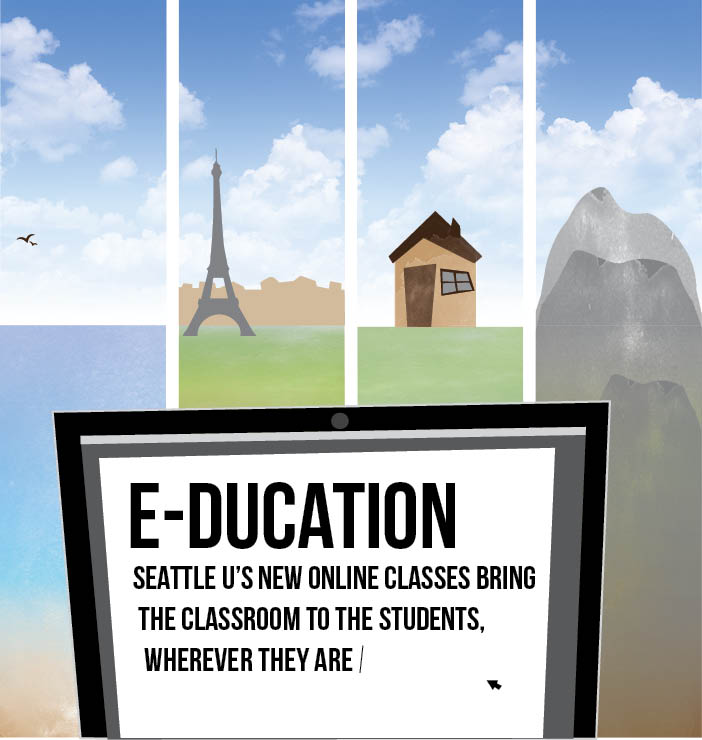 ---
This summer, as long as you have Internet access and your textbooks, you can get the credits you need from your hometown, a Starbucks along an interstate highway, your hotel in a foreign country, or the comfort of your own home. Seattle University's online undergraduate courses will debut this summer. Now, being enrolled in summer school no longer has to dictate students' summer vacations. This marks a huge step in Seattle U's push toward offering more hybrid and online courses for undergraduates. Beyond its implications for Seattle U students, the introduction of hybrid and online courses into the curriculum is representative of some fundamental changes occurring within the educational system at large. While hybrid and online courses have been rapidly increasing in popularity, up until now Seattle U has been holding back from transitioning to digitalized education. Seattle U's history with hybrid courses began during the swine flu pandemic of 2009, when Provost Crawford requested that faculty members look for ways to allow students to keep educational work in progress in case a student or faculty member got sick. In response to this, communications professor Gary Atkins began developing independent online learning modules that could be accessed from home. When Atkins saw that students who missed class for other reasons also benefitted from these modules, he began to add more.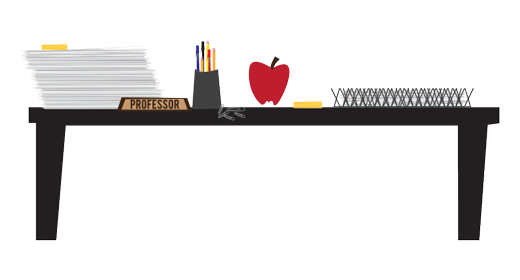 "We live in the 21st century, not the 19th or 20th," said Atkins. "The best education is no longer one with students locked in a brick-and-mortar classroom." Atkins found that many students preferred the freedom of being able to interchange between coming to class and working online. This was true for Samantha Scarvie, a senior who took two hybrid courses from Atkins. "I enjoyed taking hybrid classes because I could spend the majority of the time working at home at my own pace, but I could also verify I was on the right track with occasional in-person classes," Scarvie said. In a typical hybrid class, half of the course is face-to-face and the other half can be completed in an online format. These blended-learning classes also make it possible for students to communicate with others without the pressure of speaking out in the classroom. Such forms of communication include videos, snapshots and group discussion forums. With this "pressure-free" environment, students who fear public speaking can engage with the material at a higher level than they might otherwise. Hybrid courses proved beneficial for a variety of students, many of whom had hectic daily schedules. Junior nursing major Elena Smith is currently enrolled in a hybrid course. Smith is a member of the cross country team, so her class schedule revolves around her team schedule. With her weekly schedule being extremely tight, she was able to find time to expound on her hybrid experience. "My experience has been very positive. I go about learning at my own pace as well as complete assignments around my schedule," Smith said, "I was able to finish a bulk of assignments early on in the quarter before projects piled up so that way I wasn't stressed with a multitude of assignments to complete." Though hybrid courses have been around for years now, Seattle U has held out against completely online classes for years. Some dug their heels in because they assumed online classes were inferior. When online classes were first rolling out, they were often stiff and uninteresting. A common way to create an online class would be for a professor to give their files and syllabus to a program designer, who would take it and make a cookie-cutter class. These classes were academically solid, technically speaking, but it was difficult for professors to express their teaching style in the class. At Seattle U, professors not only put their own stamp on the courses that they teach, but the stamp of a Jesuit education as well. Courses at Seattle U follow a framework based on the Ignatian Pedagogical Paradigm, a method of teaching stemming from the spiritual exercises of Ignatius of Loyola. This paradigm stresses five elements of education: context, experience, reflection, action, and evaluation. It is highly experiential, engaging, deeply thought and multifaceted, and you simply cannot put a cookie cutter around a class designed to follow this framework without making some sacrifices. So, when 10 Seattle U faculty members were recruited to create fully online courses for summer quarter 2014, they knew they would be making sacrifices. Typically, some educational value must be sacrificed for the convenience of an online course, but Seattle U's faculty members were not willing to make that particular sacrifice. Instead,
they have been sacrificing copious amounts of their time engaging in a six-month long course design program.
This course design program is taking place in the Continuing, Online, and Professional Education (COPE) center here at Seattle U. COPE's mission is to broaden access to Seattle U's transformative education, and one initiative they are currently focused on is the creation of selected undergraduate courses for online delivery during summer session. Rather than allowing a program designer to do the work for them, Seattle U faculty members are collaborating with instructional designers at COPE to build their own online courses from the ground up. This process differentiates Seattle U's approach to online education from the rest. Erica Martin, who will teach a fully online version of her Intro to the Qur'an course this summer, has found the COPE center to be incredibly useful. "There is a ton of help and technology available," Martin said, "so we have all the resources at our fingertips rather than having to figure everything out for ourselves." The classes that these faculty members are developing are far from what many would expect of an online course. The vision was for faculty to be empowered to create their own courses in ways that are very individual to them. Jayme Jacobson is one of the instructional designers at COPE who has been working with the faculty throughout the course design. "I've worked at a couple of other institutions and I've never really seen faculty this serious about teaching," Jacobson said. "My work is made a lot easier just by the fact that they're really coming up with brilliant ideas. They care a lot." In the past, online courses have just presented the necessary files for student use. Seattle U's courses hope to provide a space and a way to interact with the information, not just the information itself. The focus is on the students and what they are doing, so students do not end up on the sidelines but instead play a participatory role by interacting digitally with their professor and classmates. Online courses have the potential to be a huge convenience to commuter students, allowing them to opt to work from home rather than make the trek to campus for every class period. "Having online classes would have benefitted me tremendously," said senior commuter student Monica Rodriguez, who balances school with a 30-hour work week. "I think that it would have had the potential to alleviate some of the stresses I have had." That said, Rodriguez said that she would have limited her online course intake to core classes. She said that, given her learning style, the active, hands-on nature of traditional classes would make them better suited for major classes. Certainly, online classes aren't for everyone. "I don't have enough self-discipline to make my own timely commitments on a regular basis," said Patrick Harkey. Other students like Harkey who thrive in structured settings could find the freedom of an online class to be stress-inducing rather than relieving. Traditional education has acclimated many to showing up at a specific time and location and receiving information, rather than pursuing it. In addition, even some commuter students don't mind the commute if it means they can get the full experience of being a college student. Kyla Wanaka, a senior commuter from outside of Seattle, said that the commute is worth it. "Personally, I learn way better in a classroom setting and enjoy the sense of campus community and seeing all my friends," Wanaka said. "Those classes would most likely be beneficial to most commuters but I need learning in a classroom as opposed to online." Seattle U's transition toward digitalized education does not have the end goal of replacing all traditional classes with online ones, but rather to provide an alternative. They are a way for Seattle University to offer a diversity of ways to learn. "It's very much an exploratory thing and very much driven by this idea that these can't just be your standard online courses," Jacobson said. "This should be something that's still quintessentially Seattle U and has all of those hallmarks of Jesuit education, which is experiential and changes you in some fundamental ways." The editor may be reached at [email protected]
Leave a Comment