Admin. Quietly Appeals NLRB Union Ruling
On April 30, the Seattle University administration filed a 50-page appeal of the National Labor Relations Board's (NLRB) ruling that full-time and part-time non-tenure-track faculty may unionize with the Service Employees International Union (SEIU).
Five days earlier, Ronald Hooks, Seattle's regional NLRB director refuted the administration's claim of religious exemption in his ruling, citing the university's lack of religious character. Hooks concluded this after determining that the university does not receive funding from the Catholic Church or Society of Jesus, has a minority of Catholic students, and mandates no religious requirements for faculty.
The university's appeal, or request for review, first takes issue with Hooks' use of the "substantial religious character" test. They argue its requirements are inconsistent and propose that the NLRB replace it with the "bright line" test utilized in a similar case involving the University of Great Falls.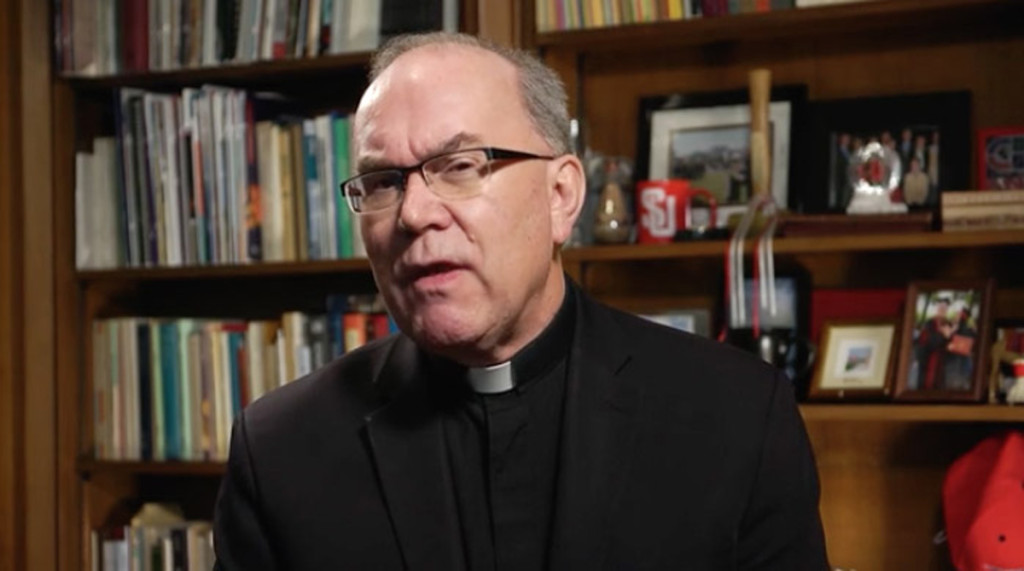 University President Fr. Stephen Sundborg, S.J., in a screenshot from a video message he sent to all university faculty and staff on April 30, 2014. In the message he strongly urged adjunct faculty to vote against SEIU unionization.
This "bright line" test is meant to evaluate the degree of a university's religious affiliation without "delving into matters of religious doctrine or motive, and without coercing an educational institution into altering its religious mission to meet regulatory demands," as it is described in the transcript of the Great Falls hearing.
Among other things, Seattle U's administration's appeal reiterates what the university argues are pervasive Catholic traits.
The university contracted Sebris Busto James, a Bellevue firm specializing in labor and employment law to draft the appeal. The firm boasts on their website, "When a Union comes calling, we strategically plan a legally sound management campaign that maximizes your chances of defeating the organizing effort."
Matthew Lynch, the attorney representing the university, certified the appeal to NLRB secretary Gary Shinners and SEIU attorney Paul Drachler.
On May 8, SEIU fired back by filing their own statement in opposition to the appeal. SEIU defends Hooks' application of existing NLRB law. The document refutes the university's criticism of the "substantial religious character" test by arguing that it is the current mandated NLRB law, which Hooks was required to apply.
SEIU further chides Seattle U's administration for not establishing any "compelling reason" to appeal the ruling.
University administration was criticized by many throughout the unionization effort for excluding non-tenure-track faculty in emails regarding the progression of the dialogue with SEIU. In response to the criticism, administration created a "Unionization-Effort" webpage. The site provides viewers with messages from the president and the provost, an outline of university action addressing employment concerns over the past five years, a "faculty conversations" blog and updates on the on-going SEIU election. Though the election updates section has posts from February to May, it makes no mention of the university's appeal.
University President Fr. Stephen Sundborg, S.J., released a video message to all faculty and staff, urging non-tenured faculty to vote "no" on unionization on April 30. The Spectator spoke with Provost Isiaah Crawford the same day. Though the appeal was also filed on April 30, neither Sundborg or Crawford directly acknowledged that an appeal was underway.
Tenured professor Theresa Earenfight spoke to this perceived silence, saying, "They are very careful with what they want people to know…The university is being very careful about what information it wants to share and what information it chooses not to share…They are being selective."
In response to her controversial anti-union op-ed printed two weeks ago in The Spectator, Jodi Kelly, dean of Matteo Ricci College, hosted a lunchtime discussion on unionization last Thursday, May 15 in the Matteo Ricci office. There attendees, who consisted of non-tenured and tenured faculty, managerial staff and students, engaged in "discourse" on the matter.
The well-attended event quickly grew contentious. The group became emotionally charged, particularly when debating the ethicality of student involvement in the unionization effort and perceived violations of academic freedom.
Kelly, who is an adjunct herself, repeatedly addressed her non-tenure status and her personal belief that a union will not contribute significantly to conditions for her and her peers.
At one point, Kelly was immediately rebuked by a fellow faculty member who explained that he believed a union could bring much-needed security to her employment.
Communication and journalism adjunct professor Louisa Edgerly attended Kelly's event and spoke against the university's quiet appeal filing, saying, "We're here because we want to talk to administration. We want this to be a simple process. Making claims and asserting one's rights is a form of contestation that need not be adversarial. We remain hopeful that they will consider dropping their appeal and allow the votes of the election to be counted."
Ballots for the NLRB election were sent to contingent faculty on May 14 and are due back at the NLRB office no later than June 2. The ballots will then be impounded and the ability for adjunct faculty to unionize will likely not be decided for some time as higher courts of the NLRB examine the university's appeal.
The Spectator attempted to follow-up with two professors who voiced pro-union sentiments at Kelly's lunch but these individuals declined to further comment.
The debate has expanded beyond faculty; students are becoming increasingly more involved in the on-going discussion.
According to a poll administered by SGSU last week, 60 percent of the undergraduate student body supports adjunct and contingent faculty unionization, 8 percent oppose unionization and 74 percent support faculty determining their employment decision themselves.
Leave a Comment