Track Stars Of 'Brooks Beasts' Come To SU
In high school, Mark Weiczorek's dad made him run the Frosty Fun Run 5k in the winter to keep in shape after basketball season had ended. In the homestretch, he was passed. The runner that outkicked him was an eighth grade girl.
Weiczorek (fondly nicknamed "Wizzo" by teammates and coaches) is now a two-time Olympic Trials qualifier and a member of the Brooks Beasts Track Club, a young team of middle-distance track runners based out of Seattle since January of 2013. The Brooks Beasts hope to have found their forever home in Seattle.
"We want to make track meets like going to Seahawks or Mariners games," said head coach Danny Mackey.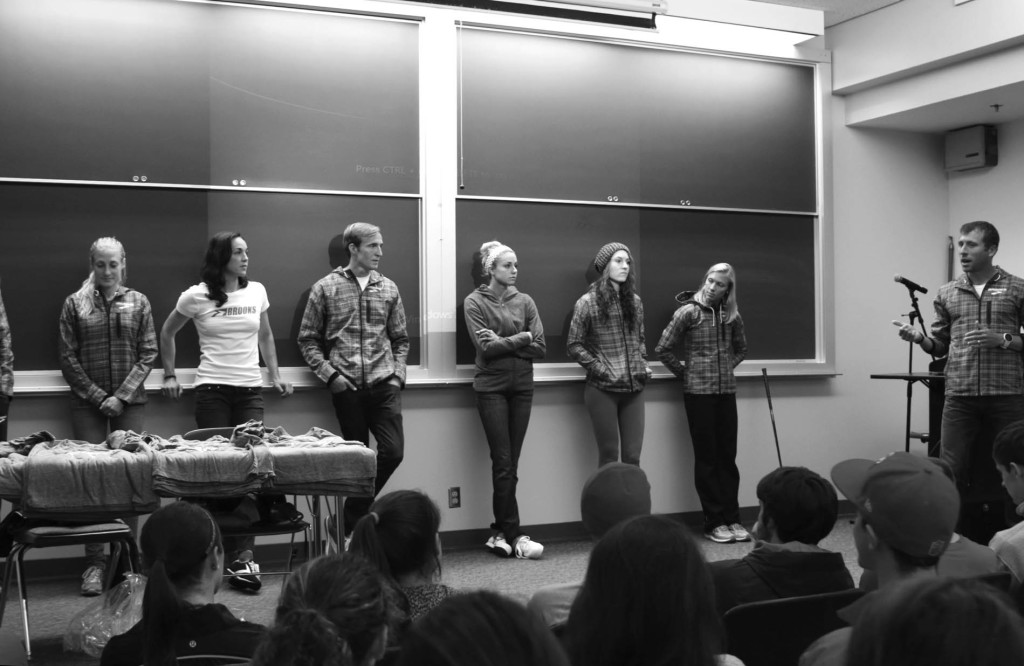 Students listen to a presentation by the Brooks Beasts, a professional running club based in Seattle. The Seattle U cross country team hosted the club on Thursday, May 8.
On Thursday, Mackey and seven of the Brooks Beasts made a trip to Bannan Auditorium to talk to the Seattle University track team, and others, about the lives of the elite runners and to offer advice on topics like diet, injury recovery and training strategies.
These athletes live in a world where being one step behind could cost $8,000 and 100ths of a second really matter. Katie Mackey, wife of head coach and fellow Beast, learned this after taking second place in a 1500 meter race just a few weeks ago. Though they individually run up to 80 miles a week and race in Europe annually, the elite runners offered a human side to the intense sport.
After an exceptionally strong workout, each runner has his or her own personal recovery routines.
"Recovering for us is just watching a disgusting amount of Netflix," said Riley Masters, the 2012 and 2013 NCAA record-holder for the 1500 meter. "I just watched a whole season of The Walking Dead."
When asked about diet, most of the runners talk about the importance of a healthy, colorful plate and the need for a post-workout protein shake with the proper protein to carbohydrate ratio.
"We do indulge," said Erika Moore, who place third in the 800 meter World Indoor Championships in 2012. "I know it's a rough day when I'm in bed with a peanut butter jar."
Despite the college-like patterns in terms of peanut butter consumption, running professionally is much different than running at the collegiate level.
Masters explained that it went from balancing class and practice to focusing entirely on running. In college, you have friends around, all united in school pride. Unless a runner joins a training group like the Brooks Beasts, they're pretty much on their own.
"I'm basically saying that you guys have it really good," said Brie Felnagle, a University of North Carolina school record holder.
The aura of the Beasts is one similar to that of a collegiate team. It's easy to see that they are close, though it wasn't always that way.
Jessica Tebo, a 5000 meter runner and Felnagle were rivals in high school. Tebo and Katie Mackey were rivals in college.
However, any source or rivalry has diminished and the runners make sure to emphasize the invaluable importance of training with a team and the struggle of training alone.
The team offers an expanse of distances and personalities among runners. When asked about their favorite training days, Tebo said she loves any workout days. Moore was quick to claim Wednesday and Saturday as her favorite training days. Ironically, Mackey pointed out that those are the days Moore does not train at all.
All joking aside, each runner is serious about his or her commitment to the team. Mackey explained that training as a team is beneficial on both a functional and physiological level. However, he was quick to turn the success of the team away from himself and believes that once you get a team rolling, the coach steps back and lets it happen.
But, being an elite runner has its struggles.
"Can you share your experience with injuries?" one of the runners asked.
The team laughed as Deborah Maier, who is currently injured, responded, "Oh, for days…"
The runners offered an expanse of advice, such as to not let the injury set you back mentally and to be patient with the recovery time, no matter how hard that may be. Music, podcasts and audio books are recommended during monotonous physical therapy sessions. Maier chimed in that she personally prefers Lady Gaga.
The Seattle U track team laughed, but immediately paid rapt attention when Mackey announced that the Beasts would be happy to run with the any of the Seattle U team over the summer months. The runners' excitement was clear, causing head coach Trisha Steidl to bid the Beasts a warning, "You guys better be ready for a whole flood of emails."
Leave a Comment