Seattle U Rowing Pulls Big Win Over UW
Any other day the Montlake bridge would have been close to empty. This past Saturday, however, was a different story. Not only was the bridge closed, but crowds of people packed together to peer over its sides. Everyone's attention was directed toward the rowing teams below, racing down the river as part of the annual Windermere Cup.
The popular rowing regatta generated a festival-like response this year, with not only athletes but friends and families from the multiple competing schools present. Although fans of the University of Washington (UW) threatened to turn the crowd completely purple, supporters of Seattle U's team were watching the races as well. And they were not disappointed when, close to 11 a.m., the announcer shouted, "And Seattle U is not giving up, but UW is not gonna let them have it, it's a dog fight!"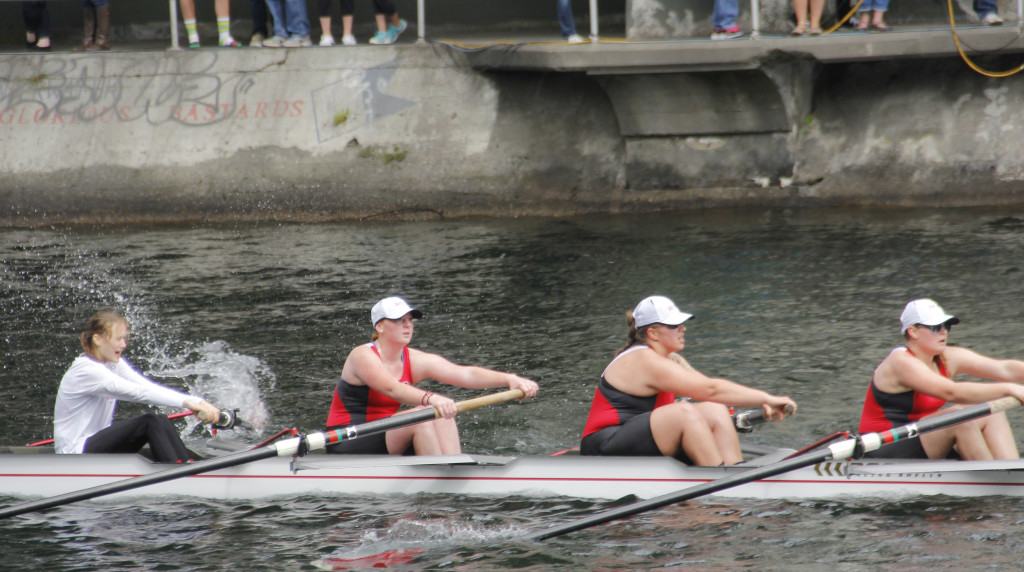 The Seattle U rowing team was successful in the annual Windermere Cup on Saturday at the Montlake Cut. Both the women's varsity and novice eight boats defeated squads from the University of Washington and Western Washington University.
The Seattle U women's varsity eight team went on to prove that UW doesn't always get everything they want, as Seattle U pulled the win. The Redhawks varsity eight defeated not only UW, as they also surpassed a Western Washington University boat. The novice eight also shared some success, as they beat the Huskies' B boat by almost five seconds.
For the seniors on the team, the Windermere Cup marked the end of their collegiate career. Among them is captain Hana Wilder, who has been with the program since her sophomore year and commented before the race that the regatta would be her "last time to race with the team." Wilder stated that the team atmosphere that she found in the program was exactly what she was looking for when
she joined.
The physical exhaustion and effort expended by the athletes was apparent during the event. Yet, when asked if the taxing commitment of the sport–combined with the stress of college education–was worthwhile, sophomore Mariana Osuna responded, "It's a painful sport, and you have to be willing to give it your all, but it's worth it."
Seattle U freshman Tom Forst was in the crowd Saturday supporting the team. "I know they work really hard every day to try and be the best, and to see that pay off for them is really cool." Forst said.
Forst was not the only proud fan present. Head coach Jenny Park, who left the University of Washington to create the Seattle U rowing program, thrilled.
"Watching my athletes succeed is always such a rewarding experience…To see and hear their excitement after winning their last race is so gratifying and fulfilling. I'm very proud of their accomplishments this year."
Leave a Comment