KSUB's New LPFM Permit Makes Waves At SU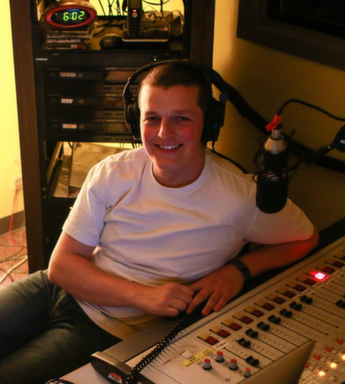 Seattle University's student-run radio station KSUB is about to set to a new frequency: 102.1 MHz, to be specific. The station recently received its Low Power FM (LPFM) permit, allowing KSUB to build its own radio tower and transmitter on campus, meaning the station will soon be able to broadcast throughout much of Seattle. "It will cover all of Downtown, South Lake Union, some Queen Anne, some Belltown, as well as Capitol Hill, Madrona, and a lot of the Central District as well," said KSUB General Manager Bill Koch.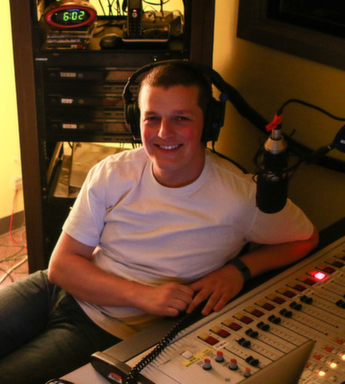 KSUB General Manager Bill Koch in the studio. KSUB recently received its LPFM permit and approval by the FCC to construct a tower and build a radio station with an FM broadcast, allowing for the radio station to get a larger range throughout the Seattle area.
For years, the station has only had a small broadcast on campus. Most students could only listen in on their computers or phones. The LPFM permit is an important step toward getting the station's music heard by a larger audience. "It's opening up a whole bunch of opportunities for us because it's going to help us make stronger connections with the community," said John Carter, the station's faculty adviser. The radio tower will be built on top of Campion Hall in the upcoming months. Once KSUB can prove its tower and transmitter are up to the Federal Communications Commission (FCC) guidelines, then the station can get its LPFM license and begin broadcasting on its new frequency: 102.1 MHz. However, the call letters "KSUB" are already registered to another radio station in Southern Utah. Since no two stations can have the same four call letters, Seattle U's station will have to choose a new name once it receives its LPFM license. To reflect this technical and symbolic shift, KSUB is temporarily changing its name to Seattle University Radio. Once the station gets its LPFM license, its name will likely change again depending on what four call letters the station chooses. "We're calling it Seattle University Radio because we need to make a cut away from KSUB into whatever we're going to be," Carter said. For him, Seattle U Radio is a "more mature KSUB." The transformation has been a long time coming. The station first began gaining university support for an LPFM permit a year ago. Last October, the station submitted its application to the FCC. In a city like Seattle, LPFM licensing is extremely competitive. "The FM band is packed in this area," Koch said. "From where we are, there were two frequencies available and there were about 15 applicants for those two frequencies. We're really lucky to have gotten a frequency; I think we put forward a really good case." Luckily, Seattle U Radio had the support of students, faculty and administrators every step of the way. "It was interesting to see how much excitement there was in the university and the surrounding community for low power radio," Koch said. "It's doing exactly what the FCC wanted it to do, which is to create these unique little cultural centers where each area has its own radio and its own voice." "Students are going to benefit by having a quality radio station on campus where they can learn about communication, they can learn about radio and radio broadcast, they can learn about music and the local music scene," Carter said. "It's going to increase the educational opportunities for students." Seattle U Radio is planning to take full advantage of its new resources. "We're going to upgrade our equipment in the studio and hopefully improve programming and training," Carter said. Seattle U Radio also hopes to broaden its coverage to showcase a wider range of musical perspectives by bringing in more people from the local community. "We can involve the community, we can bring in students from around the area, we can showcase different cultures," Koch said. But the new station will still focus on broadcasting plenty of local
music by playing many local bands' records and continuing to incorporate live music performances. "On Friday nights we have concerts in our lounge where local artists perform and we broadcast them on the radio," Carter said. "So people can not only hear new music from local artists, but they can also hear them play live." Despite all of the minor adjustments that will come along with the LPFM license, the heart of KSUB's original musical mission will not change. "A lot of KSUB will stay the same," Koch said. "We're going to keep focusing on making sure DJs get a lot of uniqueness and individuality in each of their shows. They're going to be able to put who they are into the radio station instead of just spinning the top 40."
Leave a Comment