The Mouthful: Check out Good and Cheap by Leanne Brown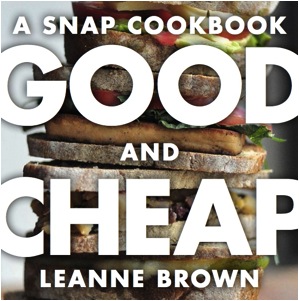 I did an investigation into food insecurity at Seattle University for last week's issue, and what I found was disheartening. Despite all the assumptions that go along with a private school education (and all the "everyone eats ramen in college" trivializations), there are still a good number of students who struggle to make ends meet.
I spoke with resourceful students who have resorted to food stamps and foraging to be able to eat. I spoke with the director of a teen hunger organization in the University District who regularly sees students coming through her doors. Looks like a recent survey that found high levels of food insecurity at certain colleges wasn't worlds away from the reality at our own.
A national dialogue about food stamps has developed alongside these statistics. Following recent widespread food stamp cuts, Fox News's anchors questioned how food stamp recipients (or "abusers," in their words) spend their funds. Needless to say, they were promptly lampooned by Jon Stewart. In a move that will surely piss off those who think food stamps should only be used to scrape the bottom of the barrel (FOX anchor Andrea Tantaros: "You can use EBT cards at the organic market in the East Village… it's insanity!"), Seattle expanded its Fresh Bucks Program in 2012. This program matches the first $10 of EBT money redeemed on market day with $10 in "Fresh Bucks," to be spent on fresh produce at Seattle farmers markets.
It's a spectacular program. Hell, I'd so rather my tax dollars go toward buying local kale for the poor than toward missiles, as they already regularly do without my permission. But many SNAP recipients still struggle to stretch their food dollars. Food can be healthy, cheap, and delicious all at once, but it takes some serious planning and education (and accessibility, but that's another story).
This is where New York University grad student Leanne Brown comes in. For her Food Studies final degree project, Brown created an open-source cookbook, "Good and Cheap," to help SNAP recipients get the most out of a crazy-low budget.
How crazy-low are we talking? Well, the priciest recipe in her book is a mozzarella and sage poutine at a whopping $3.50 per serving (less than half the cost of an order of poutine at Skillet, incidentally). Most of the rest cost mere pocket change, and they're healthy to boot. There are no sad bowls of beans here: think chili-garlic shrimp atop creamy cheddar grits, chewy chocolate coconut cookies, Mexican-style corn on the cob with cotijta and lime. These are recipes that anyone could drool over—I certainly caught myself mentally bookmarking as I read.
Speaking of which, possibly the best thing about Brown's project was her commitment to open sourcing. Her cookbook is accessible in pdf form with one click, and it has a Share Alike Creative Commons license, meaning readers are free to spread the word as long as they give her credit. The same is true of her other cookbook, "From Scratch," which contains easy vegetarian recipes and is also available on her website.
Here's the recipe at the top of my to-make list: creamy parmesan polenta with broccoli rabe, anchovy, and fried eggs. I've long held that polenta is one of the best sounds-fancier-than-it-is budget foods, and I'm glad Brown agrees.
---
Spicy, Cruncy, Creamy Polenta by Leanne Brown
From Good and Cheap: The SNAP Cookbook
(Serves two at $1.75/serving)
½ cup polenta/cornmeal
2 cups water
½ tsp salt
1 tbsp olive oil
4 cups broccoli rabe, roughly chopped
3 cloves garlic, finely chopped
1 anchovy finely chopped
½ tsp chili flakes (or fresh chili)
parmesan, to taste
2 Eggs
salt and pepper to taste.
Bring the water and salt to a boil in a medium sized pot. Once the water is boiling turn the heat down to low and slowly pour the polenta into the water while stirring briskly with a wooden spoon. This is a crucial step that will keep the polenta creamy and smooth—no lumps! Once the cornmeal is in the water and it is smooth and a little thicker, place the lid on the pot with the spoon still in it. This will allow some steam to escape. Let the polenta cook while you prepare the rest of the meal. Occasionally check on the polenta and give it a stir. The total cooking time should be about 25 to 30 minutes. However, if you are in a rush you can eat it after 15 minutes. Chop the broccoli rabe, garlic and anchovy. Set them aside. Put a pan on medium heat. Add a bit of olive oil or butter to it. Let it heat up until you can hear a sizzle when you throw some water onto the pan. Add the garlic, anchovy and chili flakes. Let it cook until you can smell it, about a minute. Add the broccoli rabe and toss it around with a spoon or tongs or just swirl the pan to coat the rabe with the garlic mixture. Let it cook for 3 to 5 minutes until the rabe is tender. Put it in a bowl to wait for your polenta and egg. Once the polenta is about 2 minutes from finishing start with the egg. Clean out the pan roughly with a cloth and place it back on the heat. Put a bit more olive oil in the pan and wait for it to get hot. Crack the two eggs into the pan and cover the pan with a lid. This will steam them so you can have a sunny-side up egg with fully cooked whites. Scoop the polenta into 2 bowls. Add some parmesan and lots of salt and pepper. Layer about half the vegetables over the polenta. Once the white of the egg is cooked remove the eggs from the pans with a spatula and place it straight onto the polenta and vegetables. Top it with the rest of the vegetables and more parmesan.
Leave a Comment