The next time you walk up Pine Street on 12th Avenue, look up. You don't want to miss the small red neon sign that reads "Shibumi," or the delicious offerings within the newly opened Shibumi Izakaya.
Coming from a Japanese background, I am oftentimes disappointed with the quality of Japanese eateries in Seattle. Hence, while I was eager to try Shibumi, I also didn't want to get my hopes up.
I checked out Shibumi last Wednesday night with a friend. Upon entering, a friendly host welcomed
us immediately.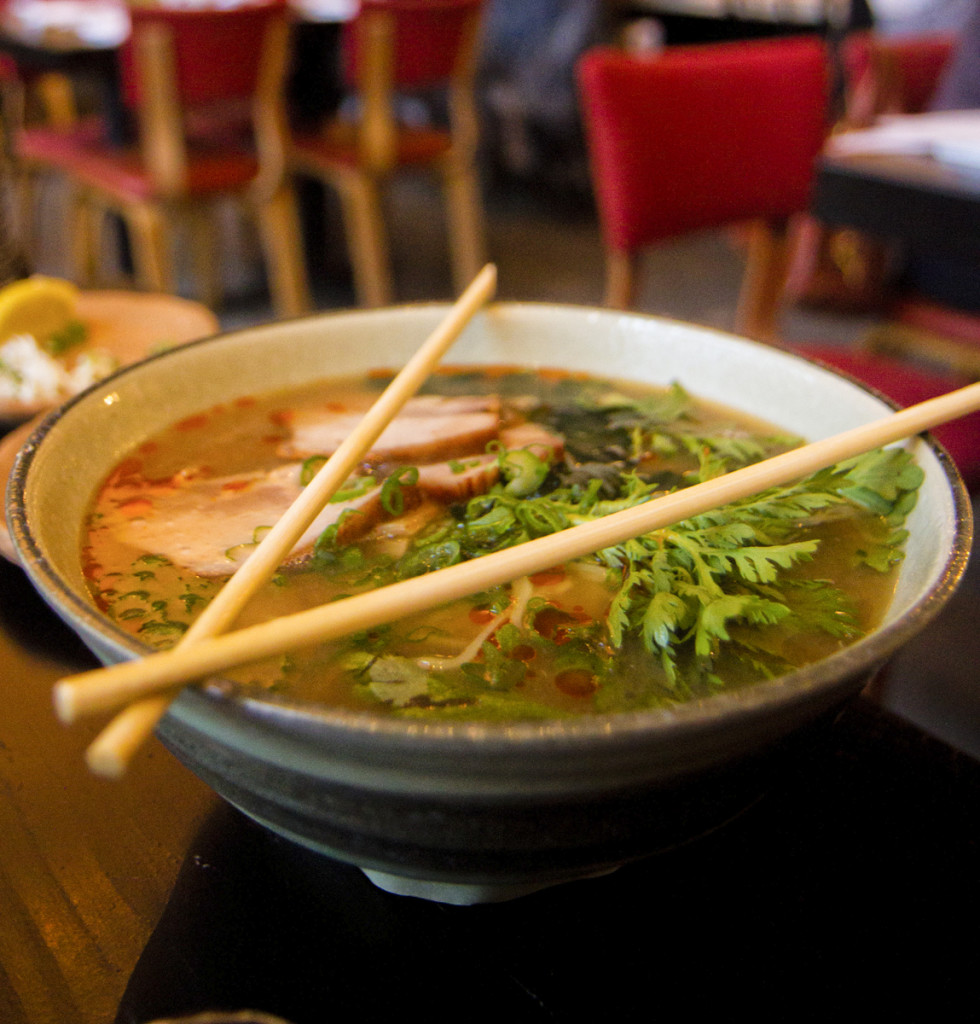 A specialty at Shibumi Izakaya is their ramen. One customer favorite is their tonkotsu ramen, with many flavors and scents.
The interior design is well thought-out, combining elements of old world Japan with the sleek and contrasting color palette of modern architecture and design.
Along with a ramen bar, Shibumi features a sake bar and plenty of table seating. We were seated right away near the ramen bar, where customers can see the cooks hard at work preparing the food.
One of the visible cooks is Eric Stapelman, owner and chef of Shibumi.
Stapelman began training in martial arts at an early age. This, combined with his studies in Japanese history and culture, eventually led him to train in Japanese cooking. He came to Seattle a little over a year ago, searching for a new place to move the already existing Shibumi restaurant he owned in Santa Fe, New Mexico.
"After walking and looking and researching, there's something about the crispness of Capitol Hill," Stapelman said. "The diverseness, the ethnic background, the social background, people in general and people's values … Here we'd have a better acceptance and understanding of what it is we are doing."
And what Stapelman is doing is giving his customers a relaxed and elevated food experience of ramen, izakaya (small plated dishes) and yakitori (Japanese grilled foods).
"I'd like for [customers] to come in and feel comfortable," Stapelman said.
The menu is made up of many izakaya dishes, each around $7, with plates made to share. Along with food, there's an extensive list of beer, sake, spirits and wine.
We began with the pork belly served with lava salt, sea salt, housemade spicy mayo dipping sauce and two wedges of lemon ($8.50). The meat alone was packed with flavors and practically melted in our mouths. We savored each bite of the three pieces thoroughly.
Next, we tried the cod and potato croquette served with a dipping sauce ($8). It was a little crunchy on the outside and not overly soft on the inside. For someone who typically doesn't eat croquettes, I found this one to be very tasty.
But what I was most excited to try was the ramen, which seems to be popular among the customers.
Stapelman said, "We're selling so much soup that I have to come in and work hours and hours. I come in now at 6 in the morning and I'm finishing the soup that I started the day before. As soon as I work on that, then I start the soup for the next day and I have to keep it going."
I decided to try the tonkotsu ramen ($15), which is one of Stapelman's favorites off the menu. The pork was divine—very soft and tender. The broth was flavorful and my noodles were cooked perfectly.
To top everything off, I tried one of the desserts, a white cake, matcha mousse and black sesame dessert served with strawberries on the side ($7). The small portion was nice to satisfy my sweet tooth without overindulging.
Stapelman is also sensitive to his customers' dietary requirements, encouraging his customers to voice any special requests or allergies so the food can be accommodating.
Stapelman already has ideas going forward with Shibumi, which includes a seasonal menu that will change every six to eight weeks. With this, customers can expect new dishes and ramen to compliment the season, including cold dipping noodles for the summer.
Overall, Shibumi surpassed my expectations with the quality and care put into each dish, as well as the overall cleanliness and relaxing atmosphere.
I'll definitely be back.