Swim Away The Stress
With midterms rapidly approaching, I can already see the stress and anxiety beginning to form on my fellow classmates' faces. We are all exhausted and delirious from too many hours spent at the library, having read too many pages and written too many papers.
But do not lose hope! I have a surprising secret that will help you keep your stress levels in check: swimming.
Now of course, we all know that exercise can help relieve stress. But as it turns out, swimming is a particularly effective means of keeping your anxiety at bay.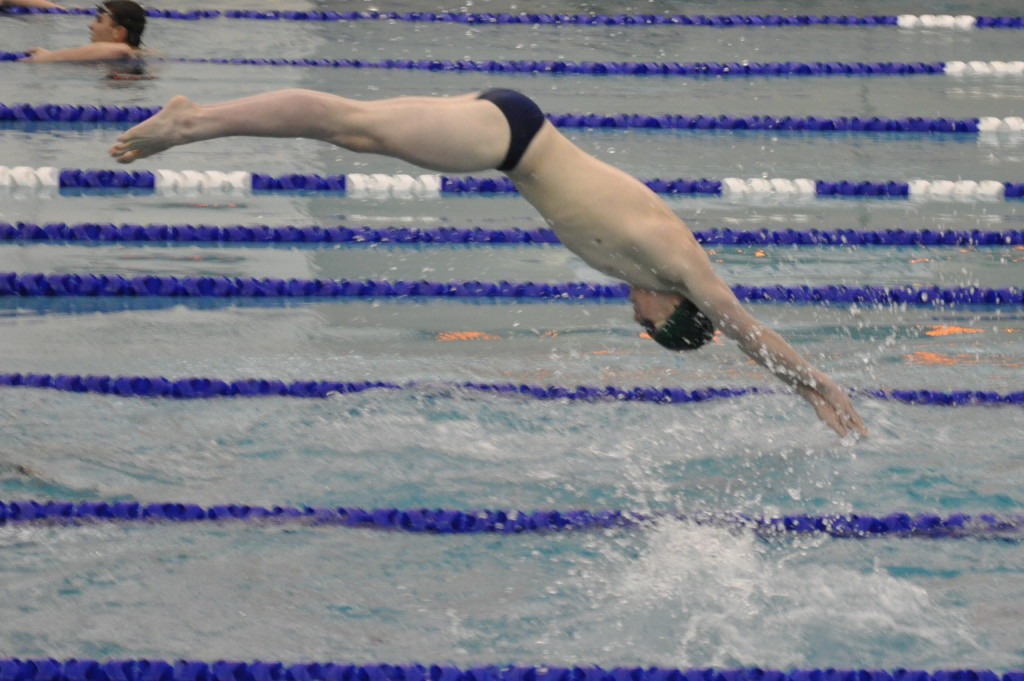 College student Kevin Molloy swims laps to stay fit and stay focused.
When you're stressed out, your cardiovascular system, nervous system, respiratory system and other body systems need to efficiently interact with each other in order for you to respond to the anxiety. Exercising trains these body systems to interact with each other in a healthy way, thus allowing your body to better respond to stress and anxiety whenever it surfaces.
However, swimming is an exceptionally efficient method of exercise because it works all the major muscle groups in your body simultaneously. Furthermore, you will quickly find there are tons of practical real world study applications for all of your newly formed muscles.
For instance, while swimming you are working upper-body muscles like your biceps, triceps and pectorals, thus making you fully equipped to carry all those heavy textbooks to and from your classes. But that's not all! Swimming also works lower-body muscles like your calves, quads, glutes, and hamstrings, so you'll be ready to run to your midterm after you've been cramming in the library up until the last possible moment. Swimming also engages your core muscles, thus making you more attractive and boosting your self-esteem, so you'll be less distracted by self-pity when you should be studying.
Additionally, since swimming is a type of aerobic exercise it helps reduce levels of adrenaline, cortisol and other stress hormones in your body. It also helps your body produce more endorphins, which act as painkillers and mood elevators.
Swimming will also keep your heart rate up, thus pumping more oxygen to your brain and thereby releasing more hormones which help create a nourishing environment for growing new brain cells. Trust me; you'll need those extra brain cells for your midterms.
In addition, the rhythmic flow of repeated action helps to relax and focus your mind. The repetitive nature of swimming and the continuous rhythm created by each stroke is a perfect way to calm your mind and focus your thoughts. Since swimming requires coordination and effort in order to keep your body afloat and moving forward, it can help clear your mind of the everyday stress of your studies.
By centering yourself and focusing your mind on something other than school work for a little while, you will be able to revitalize your brain and, ideally, do better on your midterms.
And guess what? According to a recent study, apparently, swimming can also cut your risk of dying in half.
Just keep swimming!
Leave a Comment