The Mouthful: Lemon Poppy Seed Crepes
These crepes were a happy accident.
I woke up on Easter morning ready to pop a gorgeous pan of lemon poppy seed rolls in the oven, but the dough I'd made the night before turned out all wrong. Though Christ had—by all accounts—risen, this dough most certainly had not, leaving me with a dense, stiff bowl of sadness.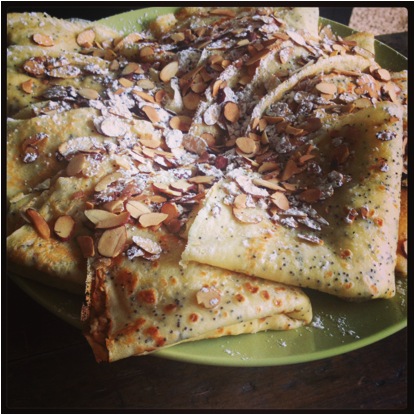 So, with two hours to go until brunch, I made a French press and devised a plan B. Something that wouldn't need advance preparation and would play on the same flavors I'd planned for the rolls. Baked French toast? Nah, that'd need to soak overnight. Gateau de crepes? Closer, but I was also making a frittata, and something about serving two wedge-shaped dishes upset my neuroses. Finally I settled on lemon poppy seed crepes, folded around a boozy Greek yogurt filling, sprinkled with toasted almonds and a dusting of powdered sugar. It came together so much easier than expected, looked so much more impressive than it deserved, and let's just say that nobody complained.
Crepes
1 ½ cups flour
3 tsp sugar
½ tsp salt
3 eggs
2 cups milk
1 tsp vanilla
1 tbl lemon zest
2 tbl poppy seeds
2 tbl melted butter, cooled slightly, plus extra for pan
Filling
½ cup cream cheese
½ cup lemon curd
1 ½ cups Greek yogurt
2 tbl Amaretto, optional
2 tsp lemon zest
2 tsp lemon juice
¼ tsp salt
Sugar, to taste
Garnish
Sliced almonds, toasted
Powdered sugar
Poppy seeds
Whisk together flour, sugar, and salt until fluffy. Set aside. Whisk eggs until they are pale yellow, then whisk in milk and vanilla. Add to dry ingredients and beat briskly until combined. Mix in lemon zest and poppy seeds, then stir in melted butter. Refrigerate as long as your patience will allow.
To cook, melt a small amount of butter in skillet with rounded sides over medium heat. Use a paper towel to spread a thin layer of butter all over bottom and sides of the pan. Pour slightly less than ½ cup of batter (if using a large skillet) or slightly less than ¼ cup (if using a small skillet) into the pan. You may need to stir the batter a bit—some poppy seeds will have sunk to the bottom. Tilt and swirl the pan so batter spreads into a circle. Cook for a few minutes until browned on one side, then use a rubber spatula to get under the crepe and flip. Cook for a few more minutes, then move to a plate or sheet of parchment paper. Repeat for remaining crepes.
While crepes are cooling, beat cream cheese with an electric mixer until fluffy. Add lemon curd and beat until combined, scraping down the sides. Add Greek yogurt and beat until fluffy. Stir in Amaretto, lemon zest, lemon juice, and salt. Taste for sugar. Lemon curd is fairly sweet, so I only added a couple of tablespoons, but you might want more. Once crepes have cooled completely, dollop a spoonful of filling over ¼ of the crepe, fold in half, and then fold in half again in the opposite direction to create a wedge. Place filled crepes on a platter or large plate. Sprinkle crepes with toasted almonds and poppy seeds, then use a sifter to dust powdered sugar over the top.
Leave a Comment