Digital Design Shows A New 'Per Spektiv'
On Thursday, April 24, the culmination of a year's worth of work for digital design students will vest in the opening of the Digital Design Exhibition at Vachon Gallery, and the students could not be more excited.
Juniors and seniors in the program will showcase their print-based design work, time-based media and interactive digital work, something which co-director Jonathan Cardiello describes as a long time coming.
"It's something that happens every year with the cohort that goes through the graphic design sequence together where we showcase the best work we've done at Seattle U," he said.
Cardiello explains that although students are technically allowed to show any of their past work, they typically gravitate toward their more recent projects, seeing as how they grow and improve with each year.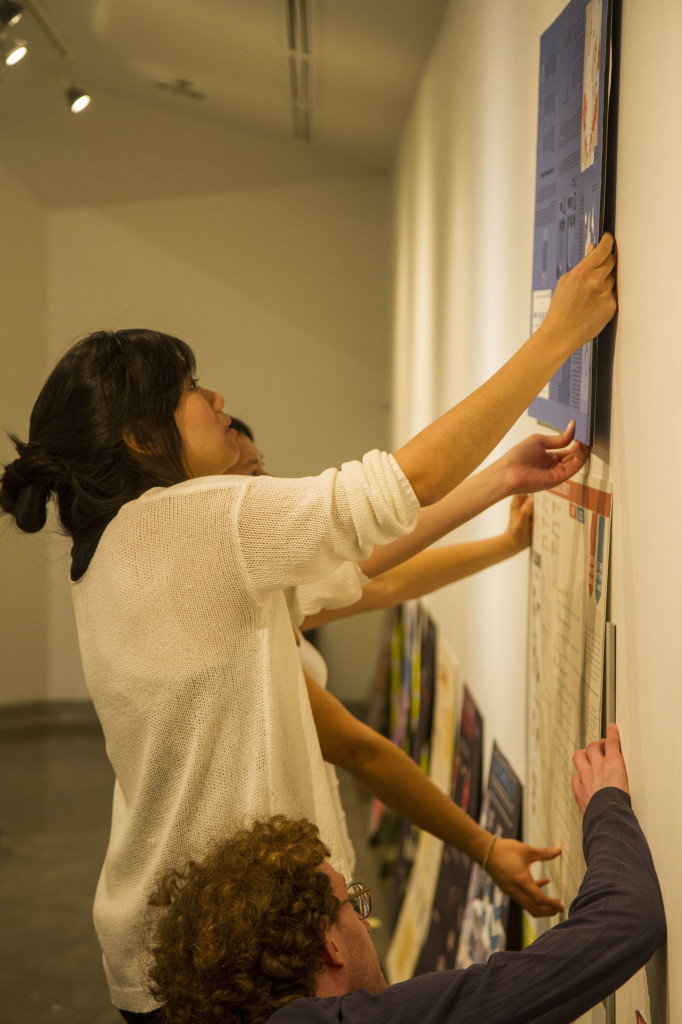 Showcasing junior and senior work in the digital design program, the "Per spektiv" exhibition is largely focused on the students' print design work, time-based media, and interactive digital work.
The showcase, titled "Per spektiv," is accompanied by the slogan, "individuals creatively interpreting the world around us." The showcase is also identified by an icon: a three dimensional letter "i," which co-director Kelli-Anne Ho said is intended to reflect individual perspective.
"Within our class, each of us perceives things differently and it shows through our designs, so it's really important for us because that's how we tell stories—through visual ideas," Ho.
This year's cohort also used their icons in a way that previous cohorts hadn't done before: everyone in the class took the general "i" and illustrated it to their taste. They then used a different student's personalized icon each day to promote the event page on.
"Those were really fun," Cardiello explained. "I did mine with patterns and a mountain silhouette because I really love mountains, and some people used different themes like pancakes or shoes."
The group plans to use these icons in the showcase. Each student involved will have a sticker of their personal "i" next to their work so visitors can differentiate between the artists.
Each member of the cohort will show at least three projects in the showcase, some of which are chosen by each artist and some that have been assigned. The info-graphic, for example, is a project everyone must include.
Cardiello explained that, for the info-graphic assignment, each student researched a topic and created a visual representation of that information to promote their cause.
"It's kind of like a research paper, and then, since it's graphic design, we're expected to take all of that and simplify it into visual data," he said.
Ho notes that, as a class, the cohort narrowed down topic ideas to ones that would be conducive for change, whether it be social, nutritional, financial, etc. Every chosen topic went below the surface level and meant a great deal to the person researching it.
"I did my infographic on sex-trafficking in Seattle, and then America, and then the rest of the world, so just kind of a brief overview on those statistics," Ho said. "I guess I decided to do it because for me, I really want to pursue design as something that can really make a difference somewhere rather than just advertising or marketing."
Professors Naomi Kasumi and Alex Mouton are the curators of the event, and decided to take more of a backseat rather than control the entire process.
"Each year I let the students come up with the idea, instead of me being in the authoritative position to command everybody," Kasumi explained. "I don't like that kind of way of teaching, and I want to create a space for students to express freely so that they can be strong without always, always a top-down type of command."
The entire process was virtually all student-run, and, with a class of 19, everyone was able to take on different roles and work with different teams. From the installation team to the PR to the accountant to co-directors Ho and Cardiello, Kasumi describes this group of students in a couple of words.
"Very competitive, very unique, and full of potential. I see this group as more individualistic than last groups. And maybe the theme naturally came out that way," she joked.
The students have been working up to this showcase for years now, and Ho stresses that because the digital design program is still fairly new and growing, school support would be widely appreciated.
"It's celebrating the work we've been doing for the past couple years because we're all super passionate about it and we've had a lot of fun together as a cohort, so it'll be a really good opening night," she said.
The exhibition's opening night will be held at Vachon Gallery on Thursday, April 24, beginning at 4:30 p.m. The works will be on display through May 16.
Leave a Comment