SU Baseball Sweeps Northern Colorado
Mac Acker's complete game helped Seattle University open their series with Northern Colorado on Friday in a 3-1 victory. It was the first time any Redhawk pitcher threw a complete game this season. "Mac Acker was the real deal tonight," said head coach Donny Harrel. Acker finished the game in under 100 pitches at 96, of which 66 were strikes. He allowed seven hits and one run while striking out four with no walks. If a Northern Colorado hitter made contact, it usually went for a pop fly or a ground out.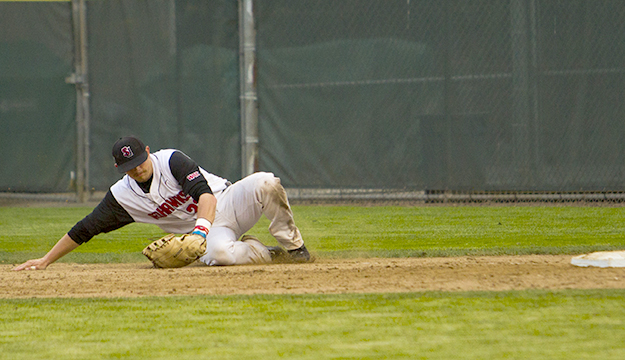 Grant Newton, first baseman for the Redhawks made a diving grab that led to an out that helped keep N. Colorado from scoring more then one run. The Hawks won 3-1 on Friday April 11th 2014.
"I was just trying to attack with my fastball and my cutter, that was the big thing was getting ahead of them," said Acker. He was also supported by a tight defense that turned in three double plays on the night. After two scoreless innings, Northern Colorado scored one run off an RBI single in the top of the third. The next batter would pop out to a double play for the Redhawks. In the bottom half of the frame, Griffen Andreychuk and Chase Fields each hit a single with one out. A ground out advanced them to third and second base. After the following batter
was walked, catcher Brian Olsen came to the plate with bases loaded. On a 3-2 pitch, Olsen smashed a 2RBI double down the left field line that scored Andreychuk and Fields which gave the Redhawks a 2-1 lead. In the bottom end of the fifth with one out, Olsen hit a solo home run to extend the lead to 3-1. "Brian Olsen was our offense when we needed it," Harrel commented. No runs would be scored for the rest of the game as Acker kept the Northern Colorado hitters quiet with only three hits the rest of the way. "Just not letting them breathe, I mean we didn't give up any freebies on his part," said Harrel. "No walks with the complete game is just outstanding." The Redhawks followed up Friday's victory with a 4-3 win Saturday afternoon. The winning run came when Brock Carpenter was struck by a pitch with the bases loaded in the bottom of the seventh. Seattle U cruised in the series
finale on Sunday 6-0, earning the sweep. "Our energy, confidence, and just every aspect of the game was better, so that's good going into the latter part of the WAC," said Harrel. The three straight victories brought the Redhawks overall record up to 15-15 (5-3 in WAC). Their next matchup will be an away contest with the University of Portland on Tues. April 15th
Leave a Comment