The Mouthful: Check Out Roux's Beignets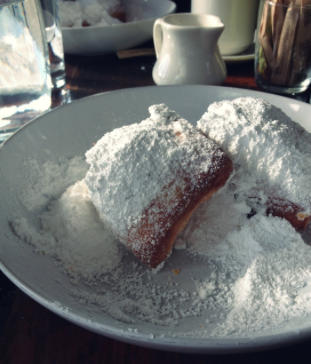 Beignets are having a moment.
RN74, Dahlia Bakery, Witness, and Cafe Flora all have them. Oddfellows' come coated with cinnamon sugar. Michou in Pike Place Market sells a Tunisian version flavored with orange blossom.
I'd chalk it up to Seattle's recent preoccupation with Americana kitsch, often of a vaguely Southern persuasion (I'm looking at you, Kingfish Cafe). And it doesn't get much more southern than beignets—these deep-fried squares of choux pastry are most famously sold at Cafe du Monde in New Orleans, just blocks from the edge of Lake Pontchartrain, invariably washed down with a chicory-laced cafe au lait.
I'm calling it: nobody's beignets are more classically New Orleans than Matt Lewis's. No surprise—the renowned chef, previously of Toulouse Petit, grew up in Louisiana and took years to perfect his technique in his popular food cart, Where Ya At Matt?.
These same beignets are now available every morning at Lewis's new digs, the brick-and-mortar restaurant Roux. Roux's dandelion-yellow facade stands out on an otherwise ordinary residential stretch of Fremont Avenue, as if beckoning the under-caffeinated and possibly-hungover masses to come on in and settle with utter Southern hospitality.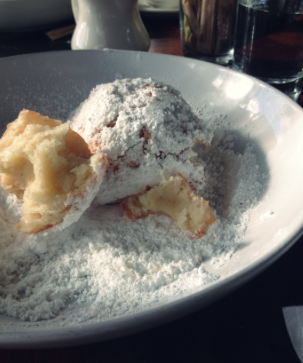 Lewis's beignets—served in threes under a perfectly immodest snowdrift of powdered sugar, just like those at Cafe du Monde—eschew the overly-precious, conceptual approach Seattle restaurants often take on Southern cuisine. A bit of the sugar melts into the hot outer layer of the beignets, but plenty remains powdery. A tip: don't exhale when you bite into these things.
The restaurant serves only coffee (without chicory by default, though a waitress said it's available upon request) and beignets from 8 a.m. until lunchtime Monday through Friday. Three beignets with coffee will run you about $7.
Finish with a stroll at the nearby Fremont Vintage Mall—if your full, contented belly will allow.
Leave a Comment