Starving Artists: How Seattle U Could Be Failing its Creative Community
* An Editor's note is appended to this article.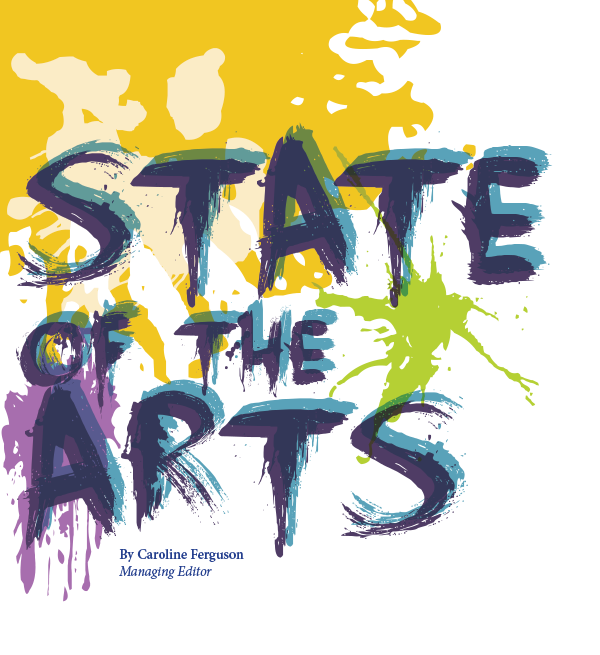 Last Friday afternoon, I sat down with a creative writing student for a one-on-one interview about the department. Or at least that was the plan.
Before the interview even started, another student joined, assuring me that he'd have more than enough to say about his experiences in the program.
A few minutes later, one more. He too had been antsy to discuss the department.
Partway through the interview, one more. The group grew one by one. Students flocked like moths to light to share their stories.
Some would say they're being wronged by their program, wasting thousands of dollars and years of their lives with nothing to show for it. Others would call them entitled, expecting accolades for historically thankless work.
Perhaps they just didn't do their homework before they mailed in their decisions. Then again, who can blame them? Seattle's art scene is downright vibrant; one could only assume that Seattle U's would be too. More and more students are growing frustrated with the school's stagnant creative spirit and disconnect from the surrounding artistic community. Maybe they're right to be concerned. Or maybe the responsibility to get connected should fall to them.
Either way, if an interview group suddenly quadruples because students are just that eager to air their grievances, something's up.
S
enior creative writing major Ben Porter has a way with words.
"College is an investment," Porter opined in a group interview that had passed the point of thorniness about 30 minutes prior. "And right now we've invested in shit stock."
His candor was disarming—and uncommon, particularly in a small-school environment where it doesn't take much effort to know everything about everyone. I've encountered more than my fair share of resistant and self-conscious interviewees in my time at The Spectator—Porter's openness was very much an exception, not the rule. His peers were similarly candid and jumped at the chance to offer input.
Unrest and frustration toward Seattle University's perceived artistic apathy have long simmered just under the surface of the student body's discourse du jour. Four years ago, The Stranger's article "What's Wrong with Art in Seattle?" called Seattle U's art department "sleepy," but admitted that it was in the process of "steadily inventing itself." Students seem to range from neutral to negative on whether it actually has. The issue isn't quite as inflammatory or immediate as many that have recently drawn students' attention (divestment and unionization come to mind); nevertheless, it doesn't take much prodding for students' long-held resentments to come to the fore.
T
he alleged weakness of Seattle U's creative writing program may have something to do with the fact that it's not, strictly speaking, a major. English students receive a literature-centric education and those who wish can do a creative writing concentration. The mentality—one that's oft-repeated within the department, whether it's during classes or on the website—is that good readers make good writers.
The mantra is hard to argue with. But some students say it's not enough.
Creative writing classes "end up being seen more as a supplemental thing to do, instead of something that needs a lot of attention," said sophomore Scott Broker.
"I'm pretty conflicted right now as to why I'm actually in this program." – Matt Pritchard (Junior)
Consequently, many students feel as if they're not learning the skills they expected to learn.
"I took [four classes] and now I'm done. And I can go out into the world and be like, 'I have a creative writing degree.' Which is bullshit," Porter said.
While most upper-level classes are closed off to non-majors, or at least require prerequisites, anyone who wants to can take a creative writing class at Seattle U. This results in watered-down classes that place undue focus on remedial skills and leave no time for serious portfolio-building, which is not required in the
current curriculum.
"You get people who are more ambitious and more driven and genuinely trying harder… [then] you get half the class who is saying they've never written a poem," Broker said.
Judging by the group's prolonged riff on the difference between a metaphor and a simile, they end up hearing the same things over and over again–and in a quarter system, every second is precious.
"Within the classes, you don't produce that much," Broker said. "[In] Narrative Poetry, I think we had to officially turn in five or six poems for a whole quarter. That makes absolutely no sense."
The issue, they admitted, is a structural one. A meager staff of two full-time faculty and a sprinkling of adjuncts just doesn't have time to review an anthology's worth of poems every night.
Two years ago, Dr. Susan Meyers became the English department's first full-time creative writing hire. She has since tried to work alongside students to enact curricular changes and create a more vibrant program. One such attempt was the PEP Talk series, which brought people working in creative writing fields to Seattle U to engage in conversation with students.
The PEP Talks have been "a failure," according to senior creative writing major Danielle Pappo. "No one cares."
"The professors come out of some moral obligation. Oftentimes they come late," Broker added. By and large, students don't come at all.
T
herein lies the rub. While its programs undoubtedly could be better, Seattle U's potential artistic community has proven notoriously hard to rouse, even when opportunities present themselves.
"I was honestly surprised at how there is very little artistic energy," Broker said. "I always thought it was just an untapped resource of abundant wealth, but it turns out it's pretty dismal as far as I can tell."
Discussions about fine arts in higher education often lead to one central debate: should schools do all they can to provide networking opportunities, foster creativity, and teach the skills that students need to succeed? Or is learning how to thrive in an apathetic creative environment a necessary skill in and of itself?
"If an artist wants to be a professional artist after art school, their entire job is getting their own shows. Why is it the art school's responsibility to give them a place to show?" said Jeremy Buben, who writes for the city guide website Art Nerd Seattle.
"I would put a lot of it on the students," said senior music major Cyrus Fiene. "Is it really a teacher's job to drag everyone's ass to [events]?… let me tell you something about fine arts majors: they like to complain."
T
hat said, students pay big money for the kind of holistic liberal arts education that Seattle U has to offer. And most rightly expect career dividends from such an investment.
"Transferring into [the creative writing program] I thought I was going to feel empowered. Now I just feel crestfallen and dejected," said junior Matt Pritchard, who has contributed to Axis, the school's online literary and art magazine, in the group interview.
The interviewees fell silent for a moment after he said this, before bursting into laughter at the sheer bleakness of it all.
"I've spent four years of tuition here, I have loans now," Porter added. "It's $160,000 down the drain."
V
isual artists shared similar concerns to their literary counterparts; many feel unprepared to enter the world as working artists. But their dissatisfaction isn't due to their academic experience—all the students I spoke with were more or less satisfied with their classes.
As they shared their thoughts, a realization dawned on me: oh my god, where is all the student art on this campus?
Hedreen Gallery, arguably the most renowned on campus, doesn't show student work. The department does offer an exhibition space for students in Vachon Gallery within the Fine Arts Building, but in many ways this space is limiting; only fine arts majors are likely to be in the building in the first place, so student artists who exhibit there are more or less preaching to the choir.
"That space is not a landmark on campus to anyone," said junior creative writing and visual art major David Strand. "Being in the fine arts building is really isolating. Fine arts majors see this, but where's the reach beyond that?"
As it stands, there's little to no opportunity for student artists to display their work anywhere else on campus.
"When you get taken on a tour here, you see all this beautiful art in the Student Center, you see all this beautiful art in the library and in Bellarmine… why isn't there student artwork in there? In the buildings you spend all your time in, in the Admin Building and the Casey Building, there's framed posters in there," said junior art history major Kaya Payseno. Her tone grew more fervent with every word, until she eventually couldn't help but gesticulate. "Framed posters!"
Professor Francisco Guerrero insisted that he hasn't been approached by students looking to display their art.
Nevertheless, the school does stumble on fundamental levels: it doesn't consistently participate in the Capitol Hill Art Walk. It also lacks a purchase award program for seniors. This is a common practice among large institutions—university officials will buy a student piece to join the university art collection, which creates a visual catalog of student work for the school. Not to mention it's a nice feather in the cap of one lucky graduate.
"You see all the beautiful art in the library and in Bellarmine… Why isn't there student artwork there?" – Kaya Payseno (Junior)
Guerrero didn't have high hopes for the feasibility of such a program at Seattle U.
"In five years, you have five pieces. Where are they gonna go?" Guerrero asked. The school has no museum space; curating student work, finding space for it on campus, and general upkeep all take time, effort, and money—things that Seattle U's creative departments simply don't have.
H
olistic education is one of Seattle U's go-to branding buzzwords—in fact, several student artists named this as the main reason they didn't decide to attend Cornish.
"I came here because I really liked the idea of educating the whole person and it really aligned with my beliefs around art," Payseno said.
But Seattle U's well-rounded curriculum may result in a lack of focus. By design, Seattle U doesn't exactly encourage students to throw themselves wholeheartedly into one thing. By the time students have done their homework, made their connections, gotten sufficiently involved on-campus, explored Seattle top to bottom, and attempted to maintain their mental health, who has time to build a portfolio and actually think about how to make this professional artist thing work?
When it comes to preparing students to become working artists "we're not doing that. But we've never purported to be that kind of institution. Our mission is to teach kids in a liberal arts tradition," Guerrero said.
P
erhaps Seattle U just isn't a good fit for artists.
"We all chose to come here. Maybe we didn't do our homework, maybe we didn't transfer in time if we were unhappy with the program," Porter said.
Sure enough, of the students I spoke with, one was looking to transfer. At least one regretted not having done so soon enough. One already had transferred and was happily earning an exercise science major at the University of Washington. One was considering dropping out altogether.
"I'm pretty conflicted right now as to why I'm actually in this program," Pritchard said.
The widespread apathy might just be part and parcel of the small school experience: we're inherently disconnected from the big leagues.
"There's 12 of us. There isn't really that peak level, you know? That's what's missing. At a school where there's like 60 musicians in the department, there's a sense of competition. That's something that's missing at this school," Fiene said. "I have to seek external resources to really see what the other level is."
T
hat said, the student group Yours in Art has started holding regular exhibition nights to give students opportunities to show their work. A small space near the Bistro has been turned into a student art display and Student Activities is currently accepting submissions for new work. And despite his criticism of the creative writing program, Porter is 60,000 words into a novel.
Guerrero was quick to remind me that, compared to many other academic programs, the school's art scene is still very much in its youth. And while Seattle U's creative community may not be the stuff of promotional brochure fantasy, it's not exactly a wasteland either.
Whether this generation of Seattle U graduates will include a vibrant community of artists remains to be seen. After all, college is an investment—and some investments take time to pay off.
Caroline may be reached at [email protected].
*Editor's Note
Over the past few weeks, The Spectator received an overwhelming response to our last issue's cover story "Starving Artists: How Seattle U Could Be Failing Its Creative Community." We received five letters in response to the article that can now be viewed on our website; links are provided below.
The Spectator pursued this story in response to two incidents: The Stranger reported that the Cornish School of the Arts faced budget cuts of $2 million, and a creative writing student at Seattle University pitched a story about his program, which he felt was inadequate. When a Seattle U student speaks out against a program or organization they are currently enrolled or involved in, I feel it is our responsibility, as a paper printed for students and by students, to take notice. This event, combined with Cornish's financial troubles, prompted us to take a closer look at Seattle U's own relationship with the arts. As it turned out, this student was not alone in his feelings about his program or his desire to speak up.
What we found was both thought provoking and controversial, and the resulting article left many feeling frustrated with our coverage. Some chose to share these concerns with us directly as well as the whole of Seattle U.
I feel it is imperative that all five Letters to the Editor we received in response to "Starving Artists" are given the space necessary to advance the discussion, as it is one that many members of this community are passionate about. Although the circumstances that prompted this particular discussion are not perhaps ideal or wholly positive, it is encouraging to see members of Seattle U engaging not only with their student newspaper, but with each other.
Thank you to those who took the time and energy to challenge our work as writers and further a larger dialogue at Seattle U.
– Kellie Cox, Editor-in-Chief
The letters can be accessed through the links below and on our Opinion page:
View Comments (2)