Seattle U Basketball Honors Senior Stars
The Seattle University women's basketball team capped off their regular season with a 12 point victory over Chicago State. It would be the last game in the Connolly Center for seniors Sylvia Shephard, Kacie Sowell, and Ashley Ward who were honored both before and after the game. Seattle U improved to a 9-7 conference record.
The Redhawks opened the game with a 16-5 run by converting turnovers into transition baskets. The run was capped by five quick points from guard Alexis Montgomery who sank a three-pointer and then returned with a lay-up after a steal at the 12:53 mark. They would never look back.
The lead bloomed to 16 late in the first half, but by halftime Chicago State ha trimmed it 43-32. At the start of second half, Sowell grabbed her 1000th career rebound—making her only the fourth player in program history to accomplish that feat.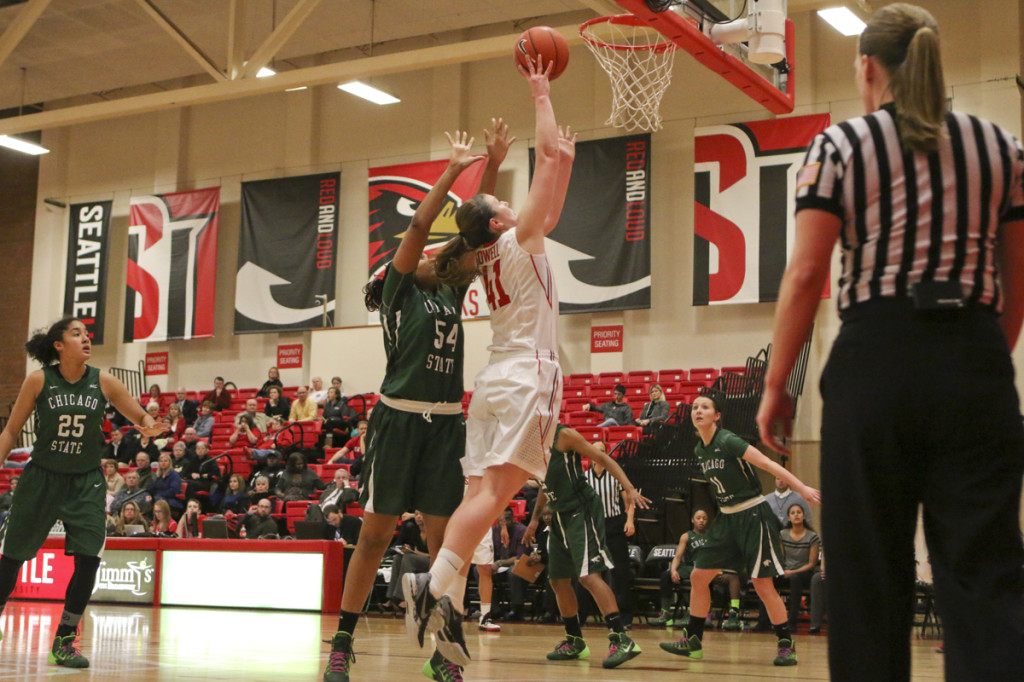 Senior Kacie Sowell powers past a defender. The women's basketball team defeated Chicago State 75-63, on Senior Day this Saturday.
"The energy we brought today… we've got to bring it every day and into the next games because those are the ones that really matter to win a championship," Shephard said.
Both teams traded baskets for much of the second half until the Redhawks extended the lead to 17, ending the game with a final score of 70-53. Montgomery ultimately chipped in nine points total, while Ward totaled seven.
"I think we can improve defensively as far as not allowing as much penetration, but overall I thought it was a good win," said head coach Joan Bonvicini. "It was nice to finish the regular season here at home with a win and go into the conference tournament with some momentum."
The senior trio of Shepard, Sowell, and Ward are also the top three Division I scorers in the women's program. All three also agreed that the best memory of their careers was winning the WAC regular season championship over Idaho last season.
"These three seniors helped change the culture of the program," said Bonvicini. "They've worked really hard and have had great improvement over their careers. They've also had great teammates and staff and the most rewarding thing as a coach is to watch them grow."
"Ashley, Sylvia, and I didn't know each other before we got here and now we've grown into friends and roommates the past three years. They're my support system up here and my sisters away from home," said Sowell.
The Redhawks have earned the number three seed for the Western Athletic Conference (WAC) tournament this week. They will take on sixth seeded Kansas City on March 12, hoping to revenge an overtime loss from last Thursday and extend their season.
Leave a Comment