When he gives admission's tours, junior Robert Gavino makes sure to tell prospective students about St. Ignatius—our chapel's namesake—and his famous tagline: "God in all things." For Gavino, it is essential that students understand that this phrase is central to Jesuit tradition and the mission of Seattle University.
"God in all things. All things are sacred," he said. "All perspectives are sacred and you need to give proper attention to everything."
While surrounding Catholic and religious communities and organizations have not always agreed with this ideal, Seattle U has remained a place of diverse dialogue and complex thought.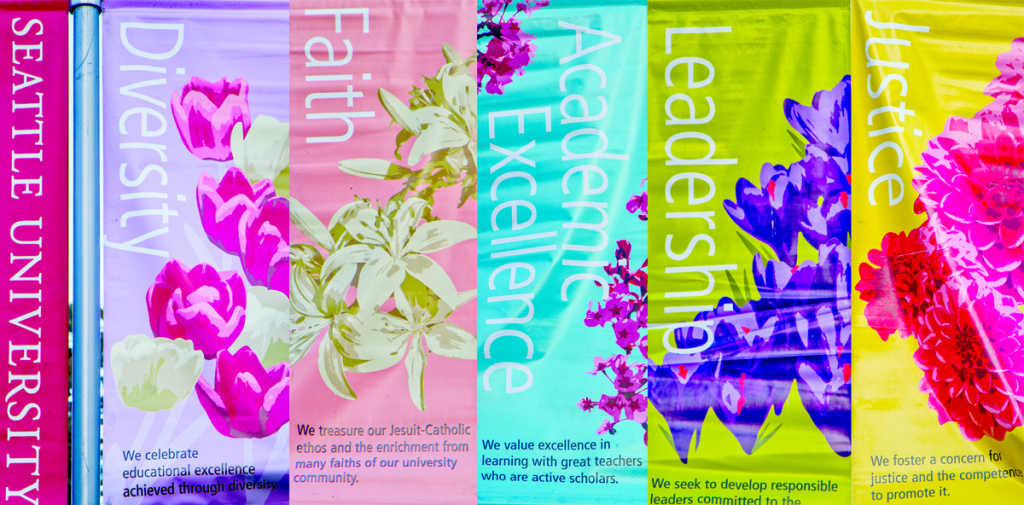 Banners sharing Seattle University's values greet students onto the campus. These values sometimes are the source of tension between tradition and cultural thought.
"We are a university community, after all, so there is room for divergent points of view—and in fact that's how we grow," said Vice President for Student Development, Michele Murray.
For decades, Seattle U has received response and backlash from the surrounding Catholic community—letters, emails, phone calls and petitions have rained on the school for welcoming controversial topics of conversation. Events such as The Vagina Monologues and the Drag Show, classes and discussions on sexuality, and panels about transgender or abortion rights have been protested in the name of Catholic identity.
And this year is no exception. The annual Drag Show has sparked a petition from TFP Student Action—an organization based out of the East Coast that works to "defend traditional moral values on college campuses," according to their website. For the TFP Student Action director, John Ritchie, Seattle U is forgetting what it means to be Catholic. St. Ignatius would probably not even recognize Seattle U as a Jesuit institution anymore, he said.
"The vices of pride and sensuality run wild in our culture," Ritchie told The Spectator in an email. "That's why anything goes…As you can see, our hypersexualized culture in general has become coarse, empty and depressing in many ways."
For Ritchie, we have to choose between serving God and serving the world because "we can't serve God and the world at the same time," he said.
But returning to the phrase "God in all things" means we have to navigate this tension between tradition and culture very carefully, Murray said. Since the founding of the Jesuits, the community has worked to hold that tension of being faithful to the Church and keeping the respect and dignity of other cultures and ideas.
Context and culture cannot be ignored when we talk about Catholic identity, said Catherine Punsalan, a professor of theology and religious studies at Seattle U. Punsalan is also the director of the Institute for Catholic Thought and Culture (ICTC)—a space for studying and building upon Catholic tradition and encouraging dialogue.
According to her, the ICTC is here to facilitate conversation around Catholic thought and its intersection with culture and the world. This is hopefully a space where Seattle U can grapple with "the meaning of the tradition for our context," she said.
With that goal in mind, events like the Drag Show are something we ought to engage with in conversation because that is the culture of the students and a reality of our context, Punsalan said.
"From the very early times of the early Jesuits they have been about going to different cultures and engaging these cultures with a confidence that God is to be found there," she said.
And that can be challenging, said student and campus minster, Monica Allen. She too feels there is tension in the Seattle U mission.
"I feel like the university hasn't figured out exactly how to be Jesuit Catholic and be serving a majority non-Catholic student population. It is hard," she said.
But the identity of inclusion and diversity is deeply important to students at Seattle U, said student body president Eric Chalmers—in a way that often pushes boundaries. Such inclusion comes in many forms, including, but not limited to, the Drag Show, he said.
Chalmers is organizing a letter from Seattle U students and Student Government of Seattle University (SGSU) in response to Eastside Catholic High School dismissing vice principal Mark Zmuda for his same-sex marriage—another example of how Seattle U students embrace the diversity value.
Chalmers and Executive Vice President Mallory Barnes-Ohlson wrote in the letter to Eastside Catholic that "We, the students of Seattle University, believe unequivocally that we are a catholic school, we do support the teachings of the Church, and we work and live with many outstanding people just like Mr. Z." Chalmers sees that actions like this letter and events like the Drag Show are in line with Jesuit mission.
But, while students see this sort of voice as inclusive, Ritchie would consider it a stray from Catholic virtue. And this, he said, can never be positive.
"TFP Student Action conducted a survey and found that over one hundred Catholic colleges and universities have student clubs or resource centers that promote the agenda of the homosexual agenda," Ritchie said. "That's nearly 50 percent of all Catholic institutions of higher learning, which is very sad. It's spreading like a rash."
Ritchie said that we do have a choice between right and wrong. If we are choosing right, he said, "we find God."
However, Chalmers said, the word Catholic means universal. As a church, Catholicism expresses social teaching about love and the dignity of the human, but we don't always see it reflected within the Church, he said.
This shows us there is a diverse perspective of what it means to be Catholic, Gavino said. Gavino grew up in a very conservative Catholic family, and said he might have been in the same mindset as groups such as TFP Student Action many years ago. But he has since become active in the Catholics for Marriage Equality campaign and has explored conversations of the intersection between religion and sexuality. Things he finds important to the context of faith today.
Because of his upbringing, he can imagine how difficult it must be for more traditional Catholic organizations to see mainstream thought becoming more pro-queer rights. It must feel like them against the world, he said.
Gavino hopes these groups and organizations will try to understand why Seattle U continues to do things the way we do. He is also confident that Seattle U won't be deterred by negative outside opinion.
"We can look forward to having a brave approach to Jesuit education on this campus," he said.
Tyler Topenio, the lead student coordinator for this year's Drag Show describes a similar viewpoint. Topenio said the purpose of the Drag Show is to promote social justice by bringing attention to a culture of oppressed people—a people that are often left out of public conversation and thought, he said.
According to Topenio, the Drag Show isn't just for entertainment, which is something he wants people to realize. Concern with human rights issues is connected to Jesuit value.
"One of the things I learn in class, especially theology, is the grounds of giving fairness to everyone," he said.
Fellow student, B Lightbown, who is also involved in the Drag Show and Seattle U Triangle Club, agrees that the Drag Show is a place for exploration and conversation. Lightbown feels Seattle U has a more holistic view of faith that not all areas of Catholicism agree with. The Drag Show does coincide with that holistic ideal, she said.
"Triangle Club isn't just about being LGBTQ, it's about bridging everything together and being able to talk about it. And that's what we're supposed to do in class," Lightbown said.
Essentially, we can't ignore these issues, Gavino said. So more and more, people are talking about them. Gavino was raised Catholic and has attended Jesuit high school and now Seattle U. For him, Seattle U is doing it right.
"I can't think of anything more demonstrative of Jesuit identity than the fact that they are willing to have drag shows, the fact that they're willing to bring in Angela Davis, the fact that they're willing to have a Trans liberation panel," he said. "The fact that administration here at a Jesuit institution, including a Jesuit president, have faced all this backlash…The fact that all this administration is bold enough to say no, we're going to do this for the students. We're going to embrace diversity, we're going to embrace dialogue, we're going to give students the opportunity to make this decision for themselves—that is really characteristic of Jesuit identity for me. And also makes me very proud to be a student here."