Chamber Brings Beethoven To Backyard
This Thursday, March 13, Seattle University's Chamber Music Program will celebrate the life and work of Ludwig van Beethoven through music. The group, which has been preparing since fall quarter, will perform an all-Beethoven concert.
Dr. Quinton Morris, director of chamber and instrumental music, has helped the students prepare four diverse Beethoven compositions: String Trio No. 1 in E-flat major, String Trio No. 5 in C minor, Duo for Viola and Violoncello in E-flat major (nicknamed the "Eyeglass Duo"), and String Quartet No. 11 in F minor, also known as the "Serioso."
"We're playing a lot of different stages in Beethoven's life and work," said freshman Grant Hanner, a violinist performing the String Trio in C minor and the "Serioso."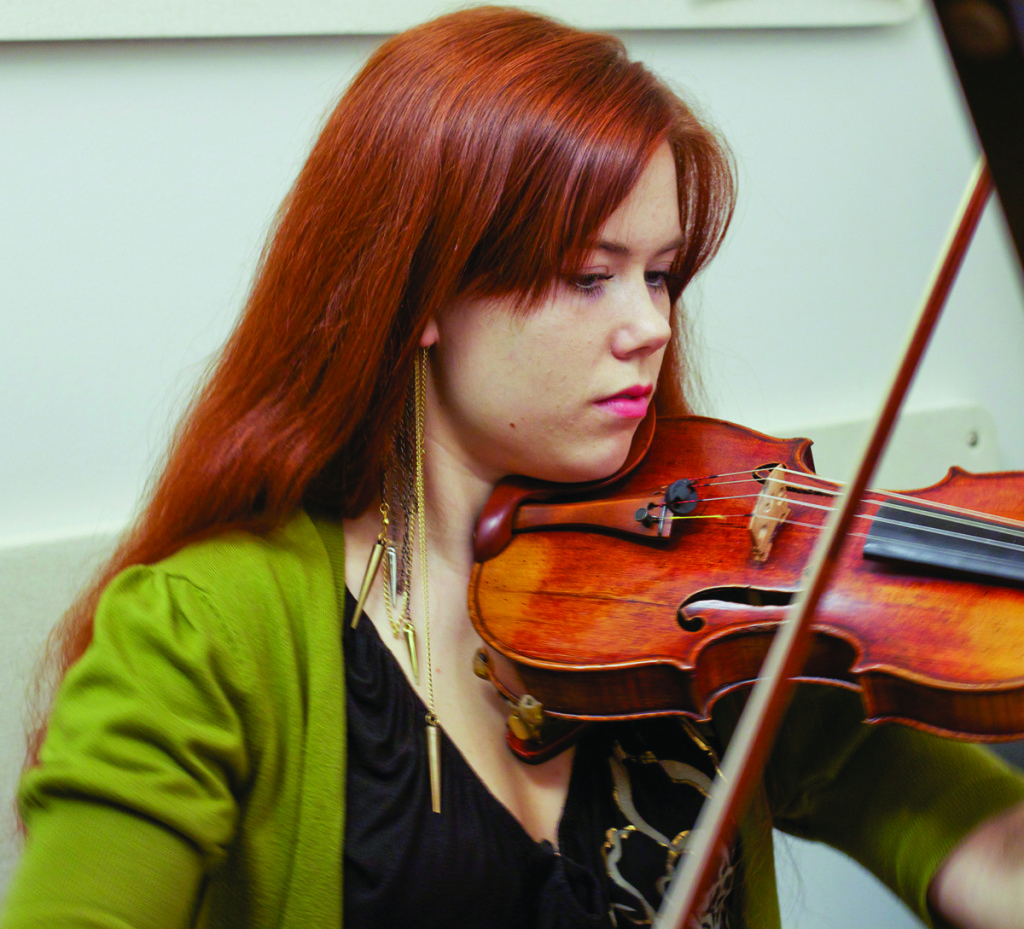 Sophomore Mariya Ksondzyk practices in preparation for the upcoming Chamber Music Program concert on March 13. The concert, led by Dr. Quinton Morris, will be focused on four compositions of Ludwig van Beethoven.
"Even though [Beethoven] has different characters within the pieces, among the pieces you can see the connections and ideas that remain consistent," noted freshman Dahae Cheong, a cellist performing the String Trio in C minor.
The students are all string performance majors in Morris's advanced chamber music class. They rehearse together six hours a week and also have additional performances and community outreach projects.
"The students have worked so hard," said Morris. "It's very mature repertoire and it's very advanced. It has challenged everyone in the class to their absolute fullest potential and it has been such a joy to see the growth and development in everyone."
The group has carefully crafted the details that bring each piece to life. All the dynamics, articulation markings, and expression markings in Beethoven's sheet music are
very deliberate.
"Every practice, we would have a different thing to work on," Cheong said. "One day we would do technique, one day we would do intonation, another day we would just slowly try to match up with each other's styles."
The concert features works spanning across Beethoven's life. The String Trio in E-flat Major, for instance, was written early in his career when he was studying under Joseph Haydn.
"This trio is a lot like Haydn," said sophomore Mariya Ksondzyk, a violinist performing the piece. "It's very classical, so we focused on keeping a light bow stroke, working on spiccatos and bringing out a lot of characters." Spiccatos are light, bouncing bow strokes.
"It takes a lot of patience and attention to detail to play this piece," she added.
"It's definitely harder than any sort of chamber piece I've played, but it's also one of my favorites," said sophomore Milena Marlier, a violist performing the same piece. She said there are many "different styles and characters and emotions" within the composition.
The more Romantic "Serioso" quartet, by contrast, was written later in Beethoven's life while he was going deaf.
"The 'Serioso' is very intense," Ksondzyk said. "It's just very emotional."
Hanner said the "Serioso" was written during Napoleon's second occupation of Vienna, when Beethoven had "lost faith in Napoleon and the French Revolution and feared for his own life."
"It reflects his emotional state at that time so closely that he only wanted a room full of connoisseurs to hear it, as opposed to a general public audience," Hanner added.
The groups learned about the historical significance of their pieces and incorporated this understanding into their stylistic expression.
"We are most proud of our ability to interpret the piece at a high level," said junior Aaron Hauser, a cellist performing the "Serioso." "But we also hope to bring our own unique energy to the piece," he said.
"Beethoven is very expressive," Hanner noted. "Each part gets more of a voice, more of a soloistic part within the whole."
For this concert, the music students are collaborating with students from Seattle U's German program, who are giving a pre-concert lecture on the historical and political context in which Beethoven was writing.
"I'm proud that we're able to pull this all together in a way that we feel is honoring Beethoven," said sophomore Chyna Mapel, a violist who will perform the "Serioso."
Morris noted the repertoire for this concert is usually performed at major music institutions and professional music concerts.
"There is some really extraordinary playing that is going on right now," Morris said of the group. He has watched Seattle U's chamber music program grow and advance dramatically over the past seven years since he began working here.
"Just as we're celebrating the history and the music of this great composer, I think it's also important to celebrate the history of who we are as a music program and what our aims and our goals are for the future," Morris said.
The concert is on March 13 in Pigott Auditorium. The pre-concert lecture begins at 7 p.m., and the performances begin at 7:30 p.m. Student tickets are $5.
Leave a Comment