Walk-In Tech Center Clicks with Students
Download complete.
The new Help Desk with walk-in services is now up-and-running in the engineering building, room 302. The center offers services ranging from tech support to campus card support.
Before the Help Desk began walk-up services, students had to call the Help Desk for any technological issues such as trouble connecting to Seattle University's wireless networks. The Help Desk would then give instructions by phone to the student, or have them go to their office for help.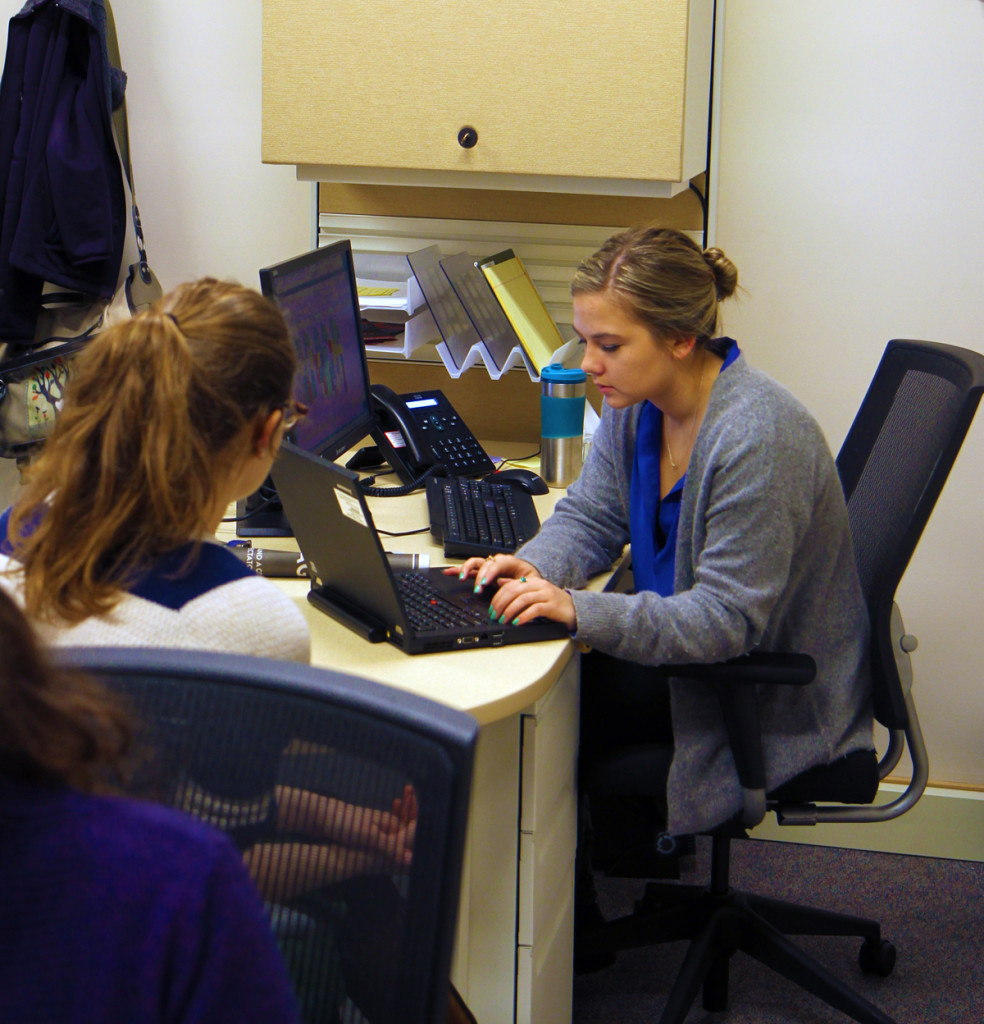 The OIT Help Desk is in full swing, allowing people to come in with network related issues and help them work through them. The 24/7 hotline is also still available if a student needs help while the Help Desk is closed.
This wasn't always the most efficient, though. Having a fully functional room open for most of the day should make it much easier for students to get the support they need when they need it. One of the biggest benefits of having walk-up services is being able to interact with someone in person while receiving help.
"It is much better to sit down with someone who knows what they are talking about rather than looking at a website for instructions," said Help Desk employee Mattie Ringstad.
One student was very pleased with his experience using the new walk-up services.
"I thought it was going to be a hassle and it wasn't," said sophomore Alex Buescher. "They were very helpful and knew what they were doing. I needed to get my campus card working so I could get into Xavier for one of my classes. It only took five minutes—I was a little surprised."
There is certainly an added convenience factor to being able to immediately receive help. With the new walk-up function, though, students can still ask for help in other ways.
"We accept requests by email, walk-ins or calls," said employee and Seattle U senior Alora McGavin.
So far, the Help Desk has helped several students who have had trouble connecting to wireless networks or have gotten locked out of their accounts. According to sophomore employee Nicole Martin, student account access has been the main issue from students seeking help.
However, since the center has just opened, there still are several students who do not know about the new services available to them.
"Right now the work day is pretty slow," Ringstad said. "We are in the process of opening. We get around 15 to 20 students a day. They are still in the process of learning we are on campus."
In order to manage all requests, the Help Desk uses the Service Now program which is a computer program that allows the employees to keep everything organized. It uses a categorical record system by assigning tickets to each request. With the system the employees are easily able to keep up with all requests and follow up with people to make sure they have been helped.
Employees hope more students know about the Help Desk services.
"It's very convenient having an actual place to go for this stuff," said sophomore Joe Arguinchona. "It makes getting these issues resolved a lot easier."
The Help Desk will be open every Monday through Friday from 7 a.m. to 5:30 p.m.
Leave a Comment