While the book series and the HBO series both spark a great deal of interest, "Game of Thrones'" fans now have another medium through which they can celebrate the fantasy series.
Ltd. Art Gallery opened its doors Saturday evening to mark its new "Game of Thrones" themed exhibition, titled "Winter is Coming." Works of the exhibition are inspired by author George R.R. Martin's "A Song of Ice and Fire" series, which has been entrancing readers since the first volume's release in 1996. Since then, more than 24 million copies of the books have been sold worldwide in over 20 languages. Sales increased greatly after the HBO television adaptation, which first aired in 2011.
For the new exhibition, Martin himself gave his official seal of approval for the show to gallery owner James Monosmith.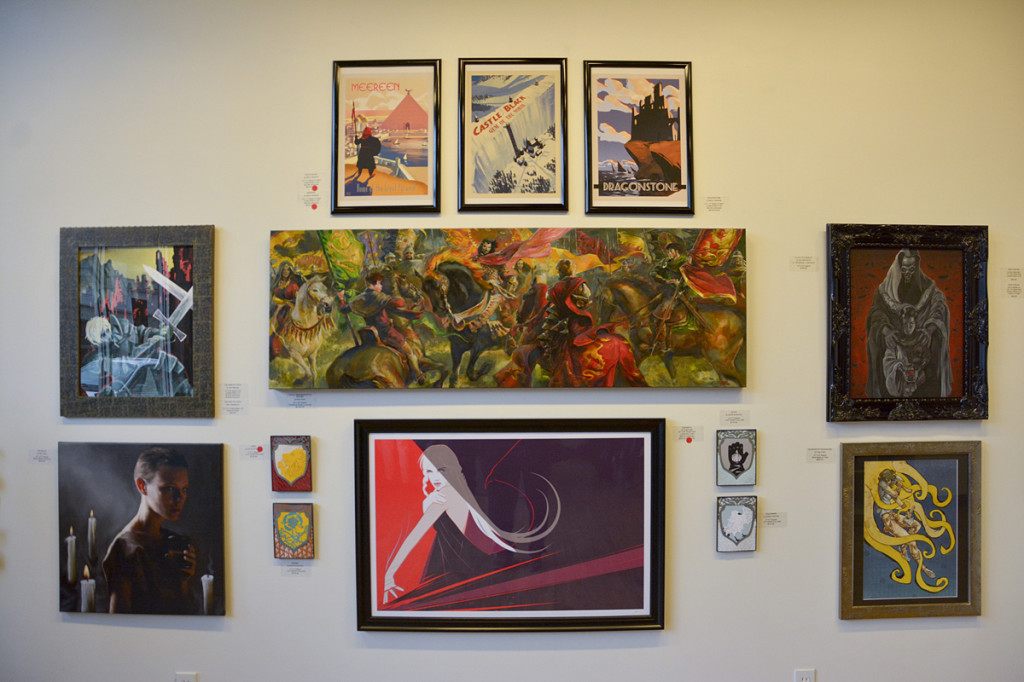 Approved by George R.R. Martin himself, Ltd. Gallery's new "Winter is Coming" exhibition gives fans of the "Game of Thrones" series another medium through which to celebrate the fantasy world.
"I've been a huge fan of the books for over a decade, and thought this show would be a wonderful idea," Monosmith said. "I found [Martin's] email on a forum and asked him what he thought of the gallery idea, and he replied within a couple weeks saying he was on board."
The exhibition, which features local artists as well as world-renowned pop artists, has been drawing a lot of community buzz and anticipation.
"We got the most confirmations ever on our Facebook event and have received all kinds of local press coverage," Monosmith said. Martin's website also made an official promotion for the exhibition. The gallery was packed throughout the entire opening on March 1, which lasted from 6 to 10 p.m.
"I was absolutely blown away by the turnout for the opening reception. I love the thematic cohesiveness of the show—the passion of Martin's amazing creation and the fans who love it certainly brought an amazing atmosphere and energy to the gallery," said Maj Askew, whose artwork is part of the exhibition.
The featured art relies heavily on the books as opposed to the HBO series—so, if attendees of the gallery have only watched the show, there may be spoilers. Yet, there is without a doubt something in the exhibition for every fan of the series to enjoy.
The gallery features pieces from varied media, with the majority displayed on paper or canvas. The walls of Ltd. are absolutely packed with artwork, and the numerous images present a true celebration of the world Martin has created. It's a mesmerizing experience to relive some of your favorite moments from the series evoked in the different mediums.
"It's amazing to create something from another's vision but in your own style," said featured artist
Braden Duncan.
Duncan, who also runs the Seattle Arts Coalition, had her watercolor piece "A Song of Ice and Fire" displayed in the gallery for the exhibition. Her painting is a depiction of Bran's dream, the three-eyed crow and his direwolf.
"Few writers have the talent to create full characters like Martin," Duncan said. "The way he juxtaposes fantasy and reality, life and death, fascinates me. It really lends itself to an artist."
Another favorite piece is Askew's "MILKBLIND." The artwork utilizes oil and giclee on canvas portrait to showcase our favorite young needle-stabbing heroine, Arya Stark.
"Arya has an absolute and increasing determination. Hers is an incredible strength. She is a creature made entirely of will," Askew noted.
The exhibition turns reading into a wonderfully communal experience. We get see how others have envisioned Martin's lush world and share in their interpretations.
"I love how such a comprehensive literary world can provide an interesting look at how one person's world building can affect so many people in so many different— and sometimes largely similar — ways," Askew said.
Some of the more ironic works were a few giclee posters done on paper made by Marco Caradonna. The works depicted the locations Castle Black, Meereen and Dragon Stone as vacation destinations in a 1950s style. It was funny to imagine a few of the most frigid and/or war-ravaged regions of Westeros and the Free Cities as travel destinations. Each location looks grand in its own nature, Castle Black in its icy blue, and Meereen in an arid beige, appearing beautiful. But fans familiar with the series know they contain so much death and destruction… not the best vacation activities.
Any fans—either of the book or television series—should take the time to peruse this encapsulating collection at Ltd. Art Gallery. Note for the television series' fans: Just don't ask too many questions and you can probably avoid the spoilers. I mean after all, words are wind.
"Winter is Coming" will be on display at Ltd. Gallery through March 23; the gallery is open Tuesday through Sunday. More information can be found at their website, ltdartgallery.com.