Seattle University lost a beloved member of its community when Eddie O'Brien passed away on Feb. 21 at the age of 83. Eddie was a former student-athlete, coach and athletic director.
Caught up in the madness of Seattle University's homecoming weekend basketball game, with zealous students covered in red and black body paint and fans of all ages gathered at Key Arena, it's easy to forget that Seattle U was not always as well known in the world of Division I sports as it is today. Eddie was instrumental in Seattle U's rise to the top.
Eddie came to Seattle U in the early 1950s with his twin brother Johnny. The O'Brien twins were recruited by basketball coach Al Brightman and played both basketball and baseball for Seattle U, although they were known best for their skills on the basketball court. According to President Fr. Stephen Sundborg, S.J., it was the O'Brien twins' athletic reputation that made Seattle U well known for the first time in history.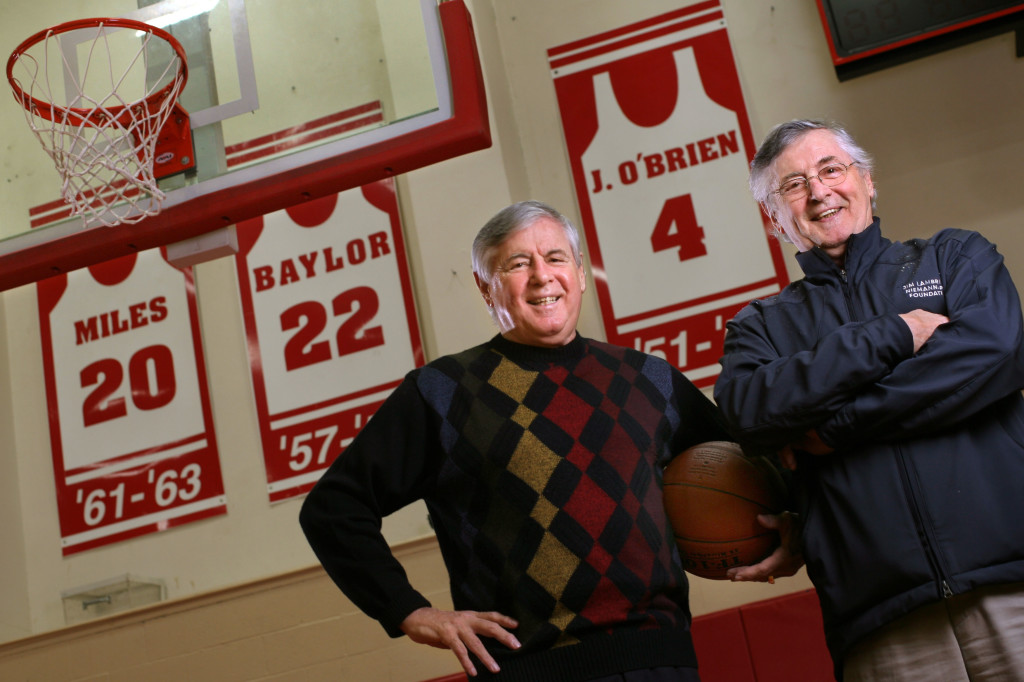 Twins and former Seattle University basketball players Ed, left, and Johnny O'Brien in front of Johnny's retired jersey in 2006 at the Connolly Center.
"He made Seattle U known throughout the country," said Sundborg. "Seattle U wasn't known…before they played—people wouldn't have known about Seattle U beyond Seattle. It was just another school. But the O'Brien twins and what they were—they were so phenomenal, they made people sit up and look…The O'Brien twins in some ways put Seattle U on the map athletically."
According to Sundborg, the O'Brien twins, along with basketball star Elgin Baylor, were two of Seattle U's top three athletes of all time. Eddie's affiliation with Seattle U, however, didn't end when he graduated. The twins went on to play Major League Baseball for the Pittsburg Pirates in 1953. After his baseball career ended, Eddie returned to Seattle U where he worked as athletic director from 1958 to 1980 and coached baseball for 13 years.
Steve Fantello, a Seattle U alum who knew Eddie through the Seattle U community, had only good things to say about Eddie's reputation. "His support, his dedication, his tireless work through the community and his graciousness [all contributed to Eddie's impact on Seattle U]," said Fantello.
Eddie's support of the transition to Division I is another of his legacies that should not be overlooked. According to Sundborg, when Seattle U dropped out of Division I in the 1980s, thousands of people dropped their connection with Seattle U. The O'Brien twins, however, stayed strong in their support of the school. When the school transitioned back to Division I in 2009 under athletic director Bill Hogan, it was Eddie's support and his ability to garner the support of the entire Seattle U community that helped make the transition a success.
In the years after his time as athletic director, Eddie stayed deeply involved in the Seattle U community. He hosted luncheons, attended golf tournaments, and was notorious for showing up at Seattle U basketball games.
If it's any testament to the enormous impact that Eddie had on Seattle U, this week The New York Times published a tribute to Eddie's life.
"Perhaps the most remarkable victory in the O'Brien twins' era at Seattle came in January 1952, when the Chieftains (now the Redhawks) stunned the Harlem Globetrotters, who were not clowning around, in an 84-81 exhibition game victory," writes The New York Times.
Sundborg, however, wanted to remind the Seattle U community that Eddie was more than a great athlete and successful athletic director.
"I don't think that Eddie should be remembered only for being a great athlete who made Seattle U known," Sundborg said. "He should be known for his kindness, he should be known for his patience, and that no one seems to have turned to him to ask for help that he didn't give it. He was a very very generous person."
If anything can be learned from Eddie's story, it is that it takes a loyal, selfless, and joyful person to help build a university's athletic reputation. Eddie O'Brien was all of these things and more and his legend will be remembered in the Seattle U community for many years to come.