Fashionable Ways to Warm Your Legs
I have not worn pants in three and a half years.
That's right. I have worn nothing but skirts, dresses and the occasional leggings since I was a senior in high school. Year after year I have persevered through the relentless Seattle rain, and I once even survived an icy Chicago winter in only dresses.
People always ask me how I manage to stay warm despite my supposed lack of warm clothes. Here is my secret: I collect warm legwear.
That's it. That's the whole secret. I am an expert in finding warm leg wear.
Although it is nearly March, there is still no end in sight to the 40-degrees-and-raining Seattle weather and yet, shops around the city are already clearing out all their winter wear and filling their shelves with new, lightweight clothing for spring.
Now is the perfect time for you to stock up on all of the old winter legwear that stores are selling at discounted prices. Often times, you can get these winter accessories for as low as a quarter of their original price. Here are some of my favorite legwear options to keep your legs warm in this unrelenting Seattle rain.
---
Sweater Tights
I am convinced that sweater tights are actually warmer than pants. Plus they come in such a wide variety of colors, patterns, and fabrics! Wool or cashmere tights are perfect for really cold, windy days, or you can wear cotton sweater tights if you are looking for something a little bit more lightweight. Sweater tights last much longer than normal sheer tights and are much less likely to rip or run.
---
Fleece-Lined Tights
I'll admit I was a bit skeptical of fleece-lined tights at first. I thought they would be too thick and bulky to wear underneath my cute winter dresses. However, one particularly frigid winter changed my perspective.
When I moved to Chicago for a year, my mom bought me a pair of fleece-lined tights and let me tell you, those tights were the only thing that got me through that cruel Chicago winter. Fleece-lined tights are so warm and cozy that it feels like you're wearing a blanket around your legs. And they aren't even bulky! To the untrained eye, they just look like normal tights. It is truly a work of fashion magic.
---
Leg Warmers
If you are as fond of the 80s as I am, then you will agree with me when I say leg warmers never go out of style. I regularly wear leg warmers over the top of my tights on cold days. However, I do acknowledge that many people are hesitant to embrace this ultra-80s fashion trend.
If you are worried about your leg warmers looking like a tribute to Cyndi Lauper, just tuck them into your boots and they will look like tall, cozy socks. I would also recommend sticking to leg warmers in a subtle color such as black or brown. This will give you more outfit options, plus it will prevent your legwarmers from looking too dated.
---
Leggings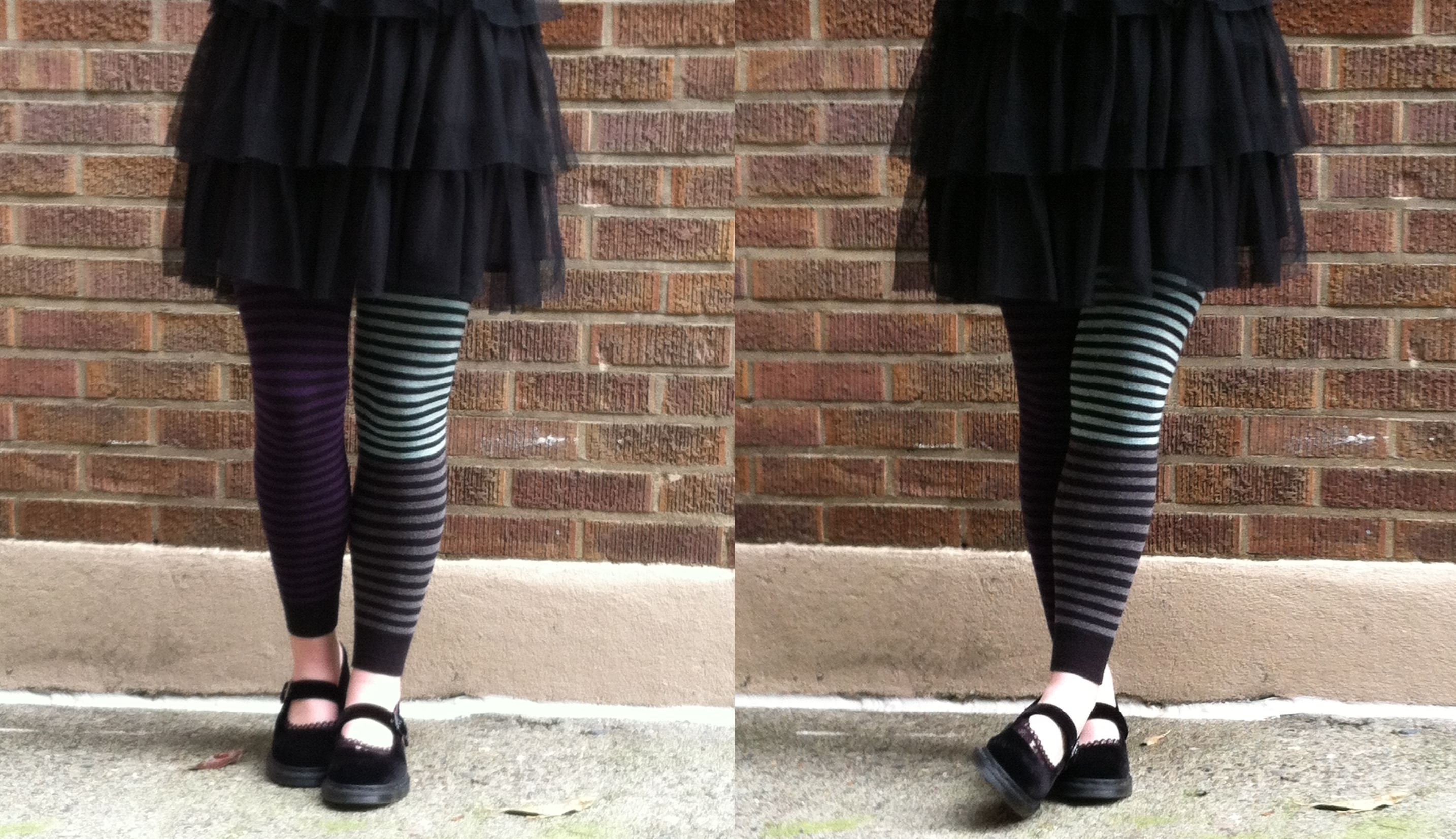 Sweater tights and leggings are just a couple of the most popular legwear options to keep you warm. Get creative with fun patterns and don't be afraid to mix and match!
Leggings are another fun option; they come in a variety of eclectic prints and patterns, plus they are way more comfortable than jeans. They also offer you a huge variety of outfit options! You can wear them with a long shirt or put them on under your dresses and skirts. Leggings can also be a lifesaver when you are wearing a dress that is just barely too short.
---
Socks
Never underestimate the power of warm socks. I wear socks everyday underneath my tights when I have on boots because if my feet get cold, the rest of my body will feel cold as well. Even wearing a short pair of ankle socks underneath your boots can make a difference.
Fortunately, there are also countless opportunities to accessorize with socks. I like to wear black thigh-high socks over my tights in the winter. They are surprisingly warm and they add some extra interest to your outfit. You can also mix and match tall socks, wear lace-trimmed socks, or slip on wool socks if it's a really cold day.
---
I hope these warm legwear suggestions give you some fun fashion ideas! Now get out there and take advantage of all those discounted prices. Stay warm this weekend!
Leave a Comment