Seattle Proposes Face 'Lyft' For Rideshares
Talk of imposed regulations on the popular rideshares such as Lyft and Uber has fueled debate among the Seattle community.
If you're a college student or young adult living in a large city like Seattle, chances are you use taxi services occasionally or maybe even rely on them to get to and from work. And even if you don't make use of taxis and other car services, you have probably seen cars with giant pink mustaches cruising around the city and wondered where they came from.
No, those pink mustaches are not just a quirky Seattle trend. Those cars are a part of Lyft, just one of several popular car services such as Uber and Sidecar that have taken over Seattle and several other big cities.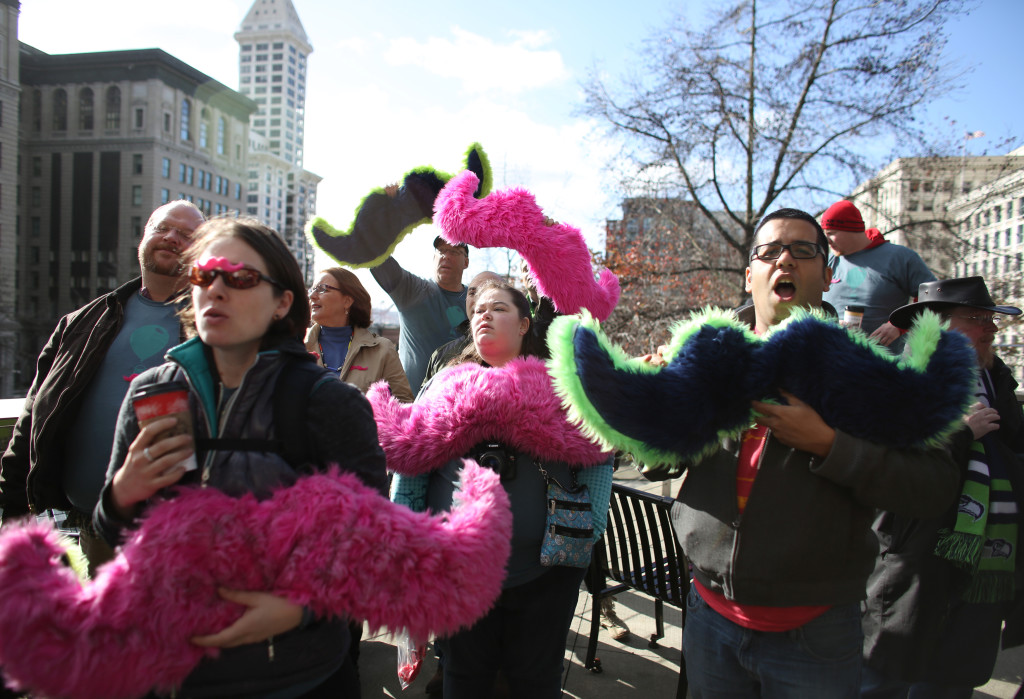 Drivers and riders for the rideshare company Lyft show their support during a rally for ridesharing services in Seattle, Wednesday, Feb. 12, 2014. The Seattle City Council is considering regulations for the companies and drivers that provide the service.
Though many Seattle University students use these services, some are unaware of the controversy that has arisen over the legality and regulation of these car services. Seattle City Council has been debating enforcing a cap on the number of cars. It is unclear how changes might affect students, but it is likely that prices would rise.
"Some of the regulations vary by city, but Seattle is attempting to crack down on ridesharing services due to Lyft having cheaper rates than the traditional taxi service," said Bryan Jung, a University of Washington student and Lyft student ambassador. "Ridesharing is a unique experience in that it is a different style of transportation. With Lyft specifically, the drivers are more engaging and entertaining, being your 'friend' for the ride. A smartphone app is the main way to find a nearby ride and stay in contact with the driver to know about their status. Some of the city's regulations may be in regards to safety concerns, but Lyft has its own bylaws and liabilities to ensure customer safety, leading to a great customer experience."
Seattle U students have grown accustomed to using these alternative taxi services.
"We hardly use traditional taxis, we use Uber almost every weekend," said Jackie Nguyen, a Seattle U student, of her and her friends. According to Nguyen, a typical ride from the University District to Seattle U will cost about $15.
"Because I have an account set up, it's so easy," said Tommy Conroy, another Seattle U student. "I've had no negative experiences with Uber, and I tell other people to use it, too."
Conroy said that in his experience, Uber is usually less expensive than a cab ride, but the drivers do charge higher prices at night or during busier hours.
Despite, and possibly due to, the popularity of these alternative taxis, the Seattle City Council is currently debating over a potential cap on the number of private rideshare drivers and enforcing regulations on the private companies—such regulations already exist for traditional taxis.
Many customers, including Seattle U students who use private rideshare companies, appreciate the convenience of the new rideshares.
Proponents of non-regulation of rideshare services say that to impose limits on the number of these cars and their availability during the week would prevent innovation and growth and inconveniences customers for the sake of protecting traditional taxi companies.
"Seattle's draft policies, which are scheduled to be discussed by a council committee Thursday, blatantly favor the established cab industry," wrote guest columnist Gary Shapiro in a special for the Seattle Times. "Under the new rules, non-taxi services would have to pay an annual license fee of up to $50,000; they would not be allowed to operate more than 100 cars in the city; and their cars would have to undergo a 19-point inspection."
According to an article by KOMO News, over 700 Uber drivers have signed a petition to prevent new regulations. And as tensions continue to mount, an estimated 100 people gathered outside City Hall on February 12 to rally in support of the rideshare services.
On the other side of the argument, there are several good points to be made in support of new restrictions. None of the three private vehicle companies, Uber, Lyft, or Sidecar, pay fees to the city to cover city inspections of cars and drivers and are not subject to caps on the number allowed vehicles as traditional taxis are.
Some proponents of enforced regulations argue that these rules are necessary to protect the traditional taxi industry, and the workers who rely on the taxi industry for work. These workers say that they are losing business because they can't compete with the prices and innovation that new car services have to offer.
The latest announcements reports that the final decision by the city council will be a compromise between the two sides. According to KOMO news, the city will make a decision on the rideshare debate on Feb. 27.
View Comments (1)